Summary
Alberta's casinos provide an unparalleled atmosphere, fusing excitement, anticipation, and camaraderie for both novices and experienced players. Patrons often share tales of exhilarating victories, friendly interactions, and the captivating allure of the lights, reflecting the lively ambiance and collective passion found in these establishments. Embrace the excitement, relish distinctive entertainment, and luxuriate in the amenities. With each step onto the floor, every play unfolds fresh exhilaration and possibilities. In sum, Alberta's casinos transcend mere gaming, delivering an unforgettable adventure.What you can expect:
Exceptional Accommodations and Unrivaled Amenities
Thrilling Casino Experiences with a Variety of Games
Culinary Delights and Entertainment Extravaganza at Alberta Casinos
Besides being premier gambling venues, these establishments serve as significant contributors to the province's economy and have a considerable impact on tourism and employment.
In Canada, Alberta's gaming industry plays a crucial role, substantially contributing to the province's economy. For instance, this sector generated a net revenue of over $14 billion annually from 2016-2019; revenue that goes towards funding government projects and initiatives.
This article will guide you through various aspects of the top casinos in Alberta, such as their locations, gaming options, amenities, dining, and entertainment offerings. With Canada being a leading country in the casino industry, it is no surprise that this province offers an experience that rivals those found in other gambling hotspots worldwide.
So, get ready to explore the best casinos for Alberta players. Whether you are a seasoned gambler or a curious visitor, this article serves as a valuable resource for planning an unforgettable visit.

A Tour of the Best Casinos in Alberta
Let's take a tour of the best casinos in Alberta, Canada. The thrill of the dice, the allure of the slot machines, the strategic appeal of the table games - there's something for everyone in these entertainment powerhouses. Let's dive in!
River Cree Resort

300 East Lapotac Boulevard, Enoch, AB T7X 3Y3

Nestled in the picturesque Enoch, the River Cree Resort stands tall as one of the best Alberta casinos. This esteemed destination has garnered the admiration of both Canadians and tourists alike. Let's dive into what makes River Cree an worth checking out:

Location: Situated in Enoch, this resort offers easy accessibility for visitors from all over the province.
Dining Delights: Indulge your taste buds at Sage, a renowned restaurant known for its fine steaks and seafood. The Kitchen Buffet Bistro awaits with live cooking stations, and Tap 25, a sports bar, serves up gourmet burgers and pub grub.
Slot Extravaganza: River Cree boasts over 1300 slots, including the captivating Titan 360, making it the best casino for slots. You'll also find classic table games like blackjack, roulette, and baccarat to keep you entertained.
Entertainment Galore: This premier destination hosts globally recognized entertainers such as Jay Leno and Kenny Rogers, ensuring a memorable experience.
Awards and Recognitions: River Cree's outstanding offerings have earned it accolades and a reputation as a top-notch destination for tourists and residents of the province alike.

Starlight Casino

8882 170 St NW #2710, Edmonton, AB T5T 3J7

Prepare to step into a world of opulence and excitement as you enter Starlight Casino Edmonton. Let's explore what sets Starlight apart:

Location: This dazzling establishment is nestled within the West Edmonton Mall, providing an unmatched blend of luxury and entertainment.
Expansive Environment: Following a remarkable $57 million refurbishment and expansion, Starlight Casino now packs a sprawling 120,000 square feet of space, making it one of the best casinos for Alberta players. With 32 tables, an 8-table poker room, and 777 slot machines, there's something to cater to every Canadian.
Gastronomic Delights: Starlight boasts six distinct restaurants, including the popular MATCH Eatery & Public House and ATLAS Steak + Fish, offering a culinary experience like no other.
Unforgettable Entertainment: Step back in time and immerse yourself in the 1930s-themed Big Band Supper Club, Halley's Club, where live bands set the stage for an unforgettable night.
Notable Achievements: Starlight has earned its place among the best casinos in Alberta, thanks to its exceptional offerings and memorable experiences.

Pure Casino Edmontonn

7055 Argyll Rd NW, Edmonton, AB T6C 4A5

Get ready to experience betting in its purest form at Pure Casino Edmonton, a casino in Alberta that recently underwent renovations to enhance its visual appeal. Let's explore Pure Casino Edmonton, one of the best Alberta casinos on the roster:

Location: Situated near downtown on Argyll Road in Sherwood Park, Pure Casino Edmonton offers convenience and easy access for Edmonton residents and tourists.
Aesthetically Pleasing Atmosphere: The recently renovated 63,000 square feet facility boasts an inviting and visually appealing gambling environment, making it one of the best casinos in Alberta.
Range of Options: Pure Casino Edmonton offers 34 table games, including American Roulette, Caribbean Stud Poker, Mini-Baccarat, Blackjack, and Craps. The variety of roulette variants available make this the best casino for roulette enthusiasts in Canada.
Gaming Machines Galore: With 860 slot machines available, slot enthusiasts are in for a treat.
Notable Promotions and Special Events: Pure Casino hosts poker tournaments and provides a wide range of gambling options to cater to diverse preferences.

Stoney Nakoda Resort

888 Nakoda Way, Kananaskis, AB T0L 1N0

Discover the jewel of the Rockies at Stoney Nakoda Resort, where exceptional service and premium amenities await amidst breathtaking natural surroundings. Let's delve into what makes Stoney Nakoda an unforgettable destination:

Location and Surroundings: Situated near Banff and Canmore, Stoney Nakoda Resort offers a perfect mix of nature and entertainment, with stunning mountain vistas as the backdrop.
Diverse Options: Stoney Nakoda Resort offers a range of traditional and unique attractions, including the intriguing Casino War. With over 18 table games and 250 themed slot machines, this resort caters to both seasoned Canadian players and those looking for unique gambling experiences in Alberta.
Noteworthy Partnerships: Stoney Nakoda also has the Winner's Edge rewards program, providing various benefits to loyal customers.
A Perfect Retreat: The resort's exceptional location, combined with its pet-friendly rooms, ensures a memorable experience for guests seeking both nature and entertainment.

Century Casino

24 Boudreau Rd, St. Albert, AB T8N 6K3

Experience a blend of modern convenience and classic gaming at Century Casino in St. Albert, one of the best casinos Alberta has to offer. Let's explore the timeless charm of this renowned operator:

Location and Ambiance: Situated in St. Albert, Century Casino features a captivating atmosphere that combines modern convenience with the allure of classic gaming.
A Wealth of Gaming Options: Century showcases an assortment of modern slot machines, Video Lottery Terminals, and classic table games like blackjack, poker, and roulette.
Live Shows and Special Events:Immerse yourself in the entertainment provided by live shows and special events, ensuring an unforgettable experience for visitors at one of the best casinos in Alberta.
Community Involvement: Century actively contributes to the local community through various initiatives and events, fostering a sense of community among players and residents alike.

Great Northern Casino

10910 107 Avenue Grande Prairie Alberta T8V 7R2

Experience the charm of nostalgia at Great Northern Casino, a captivating destination in Grande Prairie. Let's discover what makes it a unique gambling retreat:

Location and Setting: Great Northern has an inviting atmosphere imbued with a hint of nostalgia, transporting visitors to a bygone era.
Specialized Experiences: Great Northern is renowned for unique offerings like Chase The Flush, providing a distinct and memorable gambling experience.
Community Contributions: As a hub for special events and parties, Great Northern plays a significant role in contributing to the local community and fostering a sense of togetherness.

Camrose Resort

3201 48 Ave, Camrose, AB T4V 0K9

Experience southern charm at its finest in the heart of Camrose, at the captivating Camrose Resort. Let's uncover the distinctive offerings of this charming destination:

Location and Surrounding Attractions: Camrose Resort is situated in Camrose, providing a gateway to explore the local attractions and vibrant community.
Architectural Gem: The resort's casino is an architectural marvel, capturing the essence of southern charm and creating a unique atmosphere for gambling enthusiasts.
Standout Options: Camrose Resort brings an array of standout gambling options within this architectural gem, providing an immersive gambling experience for visitors.
Memorable Events: The resort hosts live shows and themed musical evenings, ensuring an exciting and memorable visit for anyone seeking entertainment in Alberta, Canada.

Eagle River Casino

Corner of HWY 43 & 32N, Whitecourt, AB T7S 1N3

Discover a plethora of gaming options amid the picturesque beauty of Whitecourt, at Eagle River Casino. Let's explore the allure of this casino in the wild:

Location and Natural Backdrop: 'Eagle River' is located in Whitecourt, offering a diverse range of entertainment options amidst the region's breathtaking natural beauty.
Special Events and Promotions: Eagle River entices visitors with its special events and promotions, such as the March Madness promotion, ensuring a memorable experience for all guests.
Contributions to the Local Community: As a prominent destination in the area, this operator actively contributes to the local community, hosting events and initiatives that foster a vibrant and inclusive environment.

Jackpot Casino

4950 47 Ave, Red Deer, AB T4N 6P8

Experience the thrill of winning at Jackpot Casino, a popular choice among locals and tourists in Red Deer. Let's see what this destination has to offer:

Location and Popularity: Jackpot has earned a reputation as a go-to destination for both locals and tourists, drawn by the allure of potential record-breaking wins.
Modern Gaming Venue: The facility provides a modern environment, offering a wide range of slot machines, table games, and other exciting options.
Community Involvement: The operator actively contributes to the local community through various events and initiatives, making a positive impact on the region's entertainment and social scene.

Grey Eagle Resort

3777 Grey Eagle Dr, Calgary, AB T3E 3X8

Nestled amidst the natural beauty of Calgary, Grey Eagle Resort has a harmonious blend of luxury and gaming. Let's explore the allure of this establishment:

Location and Natural Beauty: Grey Eagle Resort is ideally situated near downtown Calgary, surrounded by captivating natural landscapes that enhance the overall experience for visitors.
Iconic Floor: With an expansive 84,000 square foot floor, this Calgary casino provides a variety of gambling options, catering to the preferences of every player.
Amenities and Entertainment: The resort features an array of amenities, including a fitness center, indoor pool, outdoor hot tub, and dining options. The establishment's entertainment venues, such as the Century Showroom and Yuk Yuk's Standup Comedy Club, provide additional entertainment options for guests.
Community Involvement: Grey Eagle Resort Calgary actively engages in community initiatives and charitable efforts, making a positive impact on the local community.
By checking out these vibrant destinations, you'll discover a world of entertainment and gaming options that will leave you with lasting memories. From the premier experience at River Cree Resort to the southern charm of Camrose Resort, casinos in Alberta offer an array of unique experiences. These establishments are a testament to the rich Canadian culture, making them some of the best casinos in Alberta, Canada.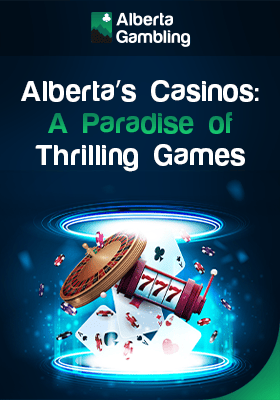 Exciting Games at Alberta's Casinos
One of the most attractive aspects of casinos in Alberta is the myriad of game offerings. This vast variety caters to the preferences of a wide array of patrons from Canada and all over the world, providing an unforgettable gambling experience. So let's delve into what makes this province's gambling so enticing!
Slot Machines in Alberta Casinos
Slot machines are an undeniable staple in these casinos. With over 4000+ slot machines available, these captivating slots draw in crowds with their distinctive themes and features.
Slot Themes: Popular slot machine themes range from fantasy to mystery, with slot machines like Diamond Millions Multi Spin™ and Jackpot Junction offering thrilling narratives and slick design.
Unique Features: Slot machines in these casinos are packed with engaging features. The Alberta Gold series, for instance, includes the mesmerizing Lock It Link® feature and the SuperLock Jackpot Wheel, spicing up gameplay with surprise prizes and free games.
Average Payouts: The typical payout percentage for slot machines in Alberta casinos is a competitive 92.4%, keeping Canadian players on the edge of their seats in anticipation of big wins.
With alluring jackpots starting from $20,000 in Alberta Gold to $1,000,000 in Diamond Millions Multi Spin™, every spin is a chance to hit the jackpot.
Table Games in Alberta Casinos
The allure of table games is hard to resist. The rhythmic flip of cards, the spinning roulette wheel, and the anticipatory roll of dice make them a mainstay of this industry.
Popular Offerings: Casinos in Alberta deal out a mix of classic and contemporary table games. Popular ones include Blackjack, Roulette, Vegas 3 Poker, Ultimate Texas Hold'em, and EZ Baccarat.
Game Variations: Each offering comes with unique rules and variations, like the exciting Craps, the straightforward EZ Baccarat, and the thrilling Free Bet Blackjack.
House Advantage: The games are designed with a house advantage. Baccarat holds the lowest at 1.1%, while Slot Machines and VLTs have higher percentages, up to 12% and 8% respectively.
With bets ranging from as low as $0.01 to as high as $1,000, these establishments cater to players with various risk preferences, providing an inclusive experience.
Poker Rooms and Tournaments in Alberta's Casinos
The betting in this province is about more than just regular gambling, with dedicated poker rooms and tournaments adding a competitive twist to your experience.
Poker Rooms: The province houses 108 tables across 19 poker rooms, featuring a wide selection of games such as Texas Hold'em and Pot Limit Omaha.
Tournaments: Tournaments are frequent affairs at these facilities. The WSOP Circuit Calgary, for example, brought together enthusiasts nationwide for a shot at the record-breaking $1.8 million prize pool.
These events are hotspots for strategic gambling, bringing poker enthusiasts together in a quest for supremacy.
Sports Betting and Unique Casino Offerings
Alberta's casinos are more than just hubs for traditional gaming. They also feature a range of alternative betting opportunities, with sports betting being a popular choice.
Sports Betting: Since the passage of Bill C-218, sports betting has grown in popularity in Alberta. PlayAlberta now allows single-game sports betting, with popular choices including hockey, NFL, and CFL.
Other Attractions: Along with the regular games, Alberta casinos are always introducing unique gambling options and attractions to keep the experience fresh and new.
Embarking on a gambling journey in Alberta's casinos brings endless possibilities to the table. With a wide array of categories, these establishments cater to diverse gaming interests, featuring everything from classic table games to state-of-the-art slot machines.

Dinging and Entertainment at Alberta Casinos
Alberta's casinos boast a lot more than just gaming fun; they are your gateway to a whole world of gourmet dining experiences, pulsating live entertainment shows, and a bustling nightlife that adds an extra dash of excitement to your visit. Dive into this dynamic world and discover a wide array of culinary and entertainment options.
Fine Dining Options in Alberta's Casinos

These establishments are culinary destinations in their own right, featuring a rich tapestry of dining experiences that cater to diverse tastes and preferences. Whether you are seeking world-class cuisine or local specialties, these casinos have a lot to offer.

Little Chief Restaurant at Grey Eagle Resort

Nestled in the Grey Eagle Resort Hotel, this restaurant offers a family-friendly dining experience that extends from breakfast through dinner.

Crafted by chef Willow Eaglespeaker, the menu blends modern and traditional Indigenous-inspired dishes, with popular options like Pan-Roasted Kuterra Salmon, Juniper-Braised Beef Chuck Flats, and Pow Wow Taco Poutine.
The 134-seat dining area, which includes an outdoor patio, caters to a relaxed dining experience.
Reservations can be made via email at [email protected] or by calling 587-390-1400.

From Edmonton to Calgary, the dining scene is a culinary journey that promises to tantalize your taste buds and leave you craving more.

Entertainment and Live Shows at Alberta's Casinos

These destinations are pulsating with live performances that are as diverse as they are thrilling. You can find a unique blend of live music, comedy shows, and high-stakes poker tournaments that keep the excitement level sky-high.

Pure Deepstack Tournament: Taking place three to four Sundays a month throughout 2023 from Edmonton to Calgary, this tournament is a major draw for poker enthusiasts.
Cash Casino's 2023 Poker Tournaments: This Calgary-based operator is renowned for its tournaments hosted at the Nevada Poker Room.
Pure Casino Calgary's Poker Room: Known for its professional environment and high stake tournaments, this venue is a must-visit for serious poker players.
Cowboy's Casino Poker Room: This Calgary-based venue features regular games and is set to host the Cowboy's Poker Open in 2023.
Grey Eagle Poker Room: This Calgary-based operator features 24/7 games and tournaments, with the Grey Eagle Poker Tournament being a highlight in 2023.
MUAY THAI WORLD CUP 8: This highly anticipated event is taking place at the Grey Eagle Event Centre on June 17th.

From Edmonton's high-energy poker tournaments to Calgary's pulsating Muay Thai events, the entertainment options at these facilities have an eclectic mix of experiences to ensure your visit is never short on excitement.

Nightlife and Bars in Alberta's Casinos

A trip to these casinos isn't complete without immersing yourself in the vibrant nightlife they have to offer. The diverse range of bars and lounges provide the perfect setting to unwind after an exhilarating day at the gaming tables.

The Black Dog Freehouse: This laid-back pub in Edmonton offers a variety of drink specials and a popular rooftop patio. Signature drink: Pineapple Crush Martini.
Woodwork: Known for its impressive menu of gins and whiskies, this Edmonton hotspot serves inventive cocktails. Signature drink: VITAL DUFOUR.
The Pint: A popular sports bar with locations in Edmonton and Calgary, The Pint is known for its signature caesar cocktails served in a glass boot! Signature drink: Forever Young.

From Edmonton to Calgary, the vibrant nightlife at these casinos brings a unique blend of fun, entertainment, and relaxation that adds to your memorable experience. So come explore what the province has to offer and discover the wide array of culinary and entertainment options it has to offer.

Premier Lodgings and World-Class Facilities
This section shines a spotlight on Alberta's best casinos and resorts that fuse luxury, wellness, and function seamlessly to offer an experience that you won't forget. Let's explore some of the luxurious accommodations, wellness havens, and state-of-the-art conference/event spaces.
Luxury Lodgings
Experience unparalleled comfort and extravagance at some of the best casinos in Alberta. These establishments have spared no expense to ensure their guests receive the best in accommodation and in-room services.
The River Cree Resort, for instance, nestled in the heart of Edmonton, boasts 249 exquisitely designed guest rooms, including 11 premium suites. Each room provides:
Climate control facilities
Spa-like bathrooms with a bathtub and shower
High-speed Internet access
In-room entertainment through Cable TV and movies
Essential appliances such as a coffee maker, microwave, mini-fridge, and a hairdryer
Special features like alarm clocks, desks, and telephones
Exclusive access to the on-site pool, whirlpool, fitness centre, and a 24/7 in-room dining service.
Moving south to Camrose, the Camrose Resort, a part of the BW Premier Collection, offers 113 thoughtfully curated rooms. These include 26 single King rooms, 76 double Queen rooms, and 11 spacious suites tailored to different needs and preferences. Every room boasts:
A 42" flat-screen HDTV
High-speed WIFI
A microwave for reheating food
A fridge for storing perishable items
Personalized coffee and tea service
Spa and Wellness Retreats
Casinos in Alberta are not just about high-stakes thrills. They also have rejuvenating wellness facilities for the weary traveller.
The Deerfoot Inn, located in Calgary, brings spa services right to your room with their extensive range of in-room mobile spa services. Guests can select from various treatments including:
Customizable relaxation massages
Deep tissue massages for muscle relief
Soothing hot stone massages
Organic Eminence facial treatments
Body scrubs to exfoliate and hydrate your skin
A well-equipped fitness center, open 24/7
Over at the Camrose Resort, the Inspirations Salon & Spa offers a plethora of facilities:
A relaxation lounge and steam room
A fully equipped nail and hair salon
Massage therapy center
Skincare center that offers a range of treatments tailored to your wellness needs
A fitness center that caters to all types of workout regimens with an assortment of cardio machines, strength training equipment, and exercise balls
Conference and Event Spaces
Over the years, casinos have evolved into significant hubs for social and corporate events, offering unparalleled facilities and expert event management services.
Calgary's Deerfoot Inn dubs itself as a premium hotel and conference centre. With 188 luxurious guest rooms and over 17,000 square feet of Convention Facilities, they are equipped to handle events for groups ranging from 5 to 500.
Whether you're planning a wedding reception, fundraising event, or cocktail party, the professional catering and banquet team ensures an unforgettable experience.
Meanwhile, the Camrose Resort in Camrose stands as an ideal location for meetings, conferences, weddings, or receptions. With a Regal Ballroom that can be subdivided into two smaller ballrooms and a Harvest Board Room for more intimate gatherings, they provide the flexibility to tailor the event space to your requirements.
A variety of audio-visual equipment is on hand to enhance your event experience. Their commitment to customer service ensures you meet with success at every event.
These establishments are just a glimpse of the world-class accommodation, wellness, and event facilities that the best Alberta casinos have in store. Whether you're in Edmonton, Calgary, or any other part of the province, you're never far from an extraordinary experience.

Tips for Visiting Alberta's Casinos
These establishments offer a dynamic environment filled with a diverse range of entertainment options. From the best times to visit to understanding dress code and etiquette, and making the most out of your experience, this guide provides essential tips to enhance your visit.
Best Times to Visit
When it comes to visiting these casinos, timing is essential for a more personalized and enjoyable experience. Consider the following factors:
Peak vs. Off-Peak Seasons: The province's peak tourism season runs from June through August. The middle-year months not only bring comfortably cool weather but also play host to a series of events and festivities. During this period, expect higher accommodation prices and larger crowds.
Notable Events: Consider planning your visit around events like the Sugar Burlesque Rodeo, Afro-Caribbean Festival, and Calgary Night Market. These events bring a unique touch to your experience.
Off-Peak Visitation: For a quieter experience, off-peak hours (between 10 a.m. and 5 p.m.) typically have fewer visitors. However, not all table games may be open during these hours.
Evening Visitation: If you prefer table games, the evening hours are ideal as most will be open until late. Expect more crowded tables during peak evening hours.
Dress Code and Etiquette
Maintaining the right dress code and etiquette can significantly improve your experience and interaction with other visitors and staff. Here's what to consider:
Dress Code: Casinos generally maintain a casual dress code. However, some establishments require a more specific attire. It's always wise to check the dress code beforehand.
Etiquette and Rules: In addition to your attire, maintaining proper etiquette and following the operator's rules is essential. These include:

Respect towards staff and other patrons
Arriving sober and maintaining a composed behavior
Avoiding loud conversations or excessive noise
Refraining from using electronic devices at table games
Observing specific rules on ID requirements, weapon restrictions, smoking areas, and policies for unattended children, pets, or outside food and beverages
Maximizing Your Experience
Whether you're visiting a casino in Calgary or Edmonton, consider these tips to maximize your overall experience:
Choosing Games: Your selection should match your skill level and preferences. Slot machines or roulette might be suitable for beginners, while poker or blackjack could be a more enjoyable choice for experienced players.
Budgeting: Good budgeting and bankroll management can greatly enhance your gambling experience. It's crucial to decide on a gambling budget beforehand, take breaks and set time limits to manage your spending, and most of all, stick to your budget.
Utilizing Amenities: These establishments are about more than just gambling. Don't miss out on the wide range of amenities and additional services available. These can include luxury lodgings, wellness facilities, dining options, and live entertainment.
In conclusion, by incorporating these tips into your planning, you can make your visit a more enjoyable and memorable experience.

Conclusion
As we've seen, Alberta's casinos offer a dynamic blend of entertainment and luxury. From the lively tables to the exclusive amenities, these establishments promise an unforgettable experience. Let's recap some of the highlights and look at how you can prepare for your adventure.
Recap of Alberta's Top Casinos
Alberta is home to several prestigious casinos, each providing a distinct blend of gambling, entertainment, and hospitality.
River Cree Resort: Situated on the outskirts of Edmonton, River Cree Resort is known for its variety of games and high-energy environment. With an impressive mix of entertainment options and picturesque surroundings, this establishment offers an inviting atmosphere for gamers to immerse themselves in.
Cowboys Casino: Nestled in the heart of Calgary, 'Cowboys' isn't just about playing; it also features dining facilities, live entertainment, and a vibrant nightlife. Since its establishment, it has grown significantly, becoming one of the province's must-visit destinations.
PlayAlberta.ca: Let's not forget that PlayAlberta.ca offers an equally engaging online casino experience. This platform enables players to delve into their favourite games from the comfort of their homes, making it an integral part of the province's vibrant betting culture.
Preparing for Your Visit
Here are some final tips to ensure you're well-prepared for your casino adventure:
Budgeting: Establish a budget for your casino visit. This includes setting aside a certain amount for gambling and other expenses like dining, entertainment, or accommodations.
Essential Items: Remember to bring your valid government-issued ID, preferred payment method(s), and any other essentials for a smooth visit.
Mental Preparation: Casinos are exciting, energetic environments. Approach your visit with a positive mindset, and remember that the goal is to enjoy the experience, not necessarily to win.
Embracing the Alberta Casino Experience
The casinos in Alberta offer an atmosphere that's unparalleled, blending excitement, anticipation, and camaraderie. Whether you're a novice or a seasoned player, the sense of adventure is tangible.
Patrons often share anecdotes of thrilling wins, friendly banter with fellow players, and the alluring charm of the lights. These personal stories capture the vibrant atmosphere and the shared passion for play found within these casinos.
Embrace the thrill of the play, savor the unique entertainment offerings, and enjoy the indulgent amenities. From the moment you step onto the floor, every play brings new excitement and potential.
In conclusion, Alberta's casinos are more than just a place to play—they offer an unforgettable adventure!
FAQ
What are the top-rated casinos in Alberta?

The top-rated casinos in Alberta include River Cree Resort and Cowboys Casino. Both are distinguished for their wide assortment of games, superior entertainment options, and exquisite facilities.

What types of games can I play in Alberta's casinos?

These facilities have a variety to cater to all preferences, including slot machines, as well as table games like poker, blackjack, roulette, and baccarat. They also provide online platforms for those who prefer to play from the comfort of their homes.

What are the best dining and entertainment options available at these casinos?

Alberta's casinos feature diverse dining options, ranging from casual fare to gourmet cuisine. The entertainment options are equally diverse, with live music, shows, special events, and festivals regularly scheduled to complement the experience.

How does Alberta promote responsible gambling in its casinos?

Alberta promotes responsible gambling through a variety of initiatives such as mandatory age restrictions, promoting awareness about gambling addiction, and providing resources for individuals who need assistance. The Alberta Gaming, Liquor and Cannabis Commission enforces strict guidelines to ensure a safe and responsible gambling environment.