Calgary boasts a total of 12 distinguished establishments where individuals can engage in various forms of gambling. Among these venues, 7 are esteemed as traditional casinos, 3 are recognized as bingo halls, and the remaining 2 cater to enthusiasts of horse racing. The esteemed establishments within Calgary's gambling landscape are as follows:
List of Calgary Casinos
Map of the Best Calgary Casinos
Key Aspects of Calgary Casinos
The city's casinos are also renowned for hosting various events, such as poker tournaments and live entertainment shows, that heighten the gaming experience. Beyond gaming, Calgary's gambling establishments are also embedded in complexes that provide various other entertainment and leisure options.
Many of them house fine-dining restaurants, buffets, and bars to satiate your palate after hours of gaming. Several venues are part of larger resort structures offering luxurious accommodations, spa services, and other recreational facilities. Therefore, whether you're a gaming enthusiast or simply looking for a unique night out, this place presents an appealing proposition. Read on as AlbertaGambling.ca guides you through the gaming industry in Calgary.
Understanding the Calgary Casino Landscape
To fully appreciate the richness and diversity of the entertainment scene here, it is important to understand the overall landscape. This involves delving into the legal framework that governs these establishments in Canada, understanding the impact of casino tourism on the city, and acquainting oneself with the leading establishments in the area.
The Legal Framework
Gambling in Alberta is extensively regulated and entirely legal, with the Alberta Gaming, Liquor and Cannabis Commission (AGLC) being the overseeing authority. The province has adopted a charitable gaming model, wherein a substantial portion of the revenue generated from various forms of gambling is used to fund numerous charitable organizations.
As per AGLC reports, a net gaming income of over $1.4 billion was generated between 2018 and 2019, a major part of which was utilized to finance different programs for the benefit of Albertans.
Key facts about Alberta's legal framework include:
The province hosts 28 establishments, numerous bingo halls, VLT venues, and lottery kiosks.
Under licenses granted by the AGLC, charitable groups conduct bingo, lottery, and raffle events multiple times a week.
The minimum gambling age in Alberta is 18, which is lower than in most other Canadian provinces.
Online gambling via licensed and regulated sites, such as PlayAlberta.ca, is entirely legal in Alberta.
An Overview of Casino Tourism
Casino tourism, a niche within the broader tourism industry, refers to the influx of visitors who the city's gaming establishments attract. With more than 25 land-based casinos and racetracks operated by the country's leading companies, Calgary is a significant hub for this type of tourism. Visitors are drawn to the city's betting offerings, which include a broad selection of games such as slots, VLTs, table games, off-track race betting, and much more. Some of them even feature dedicated poker rooms, which are a major draw for tourists. The economic impact of tourism is considerable, contributing significantly to the city's revenue and job creation.
Top Gambling Establishments in this Area
Exploring the vibrant gambling scene in Alberta, Calgary involves a visit to some of the city's top gaming establishments. Every place in Calgary is lauded for its broad selection of games, excellent customer service, and overall superb gaming experience. Here are a few notable establishments:
Grey Eagle Resort and Casino
Cowboys Casino
Deerfoot Inn & Casino
Each of these venues offers a unique combination of slots, VLTs, and table games like blackjack, roulette, craps, and baccarat. In addition, some feature dedicated poker rooms that host daily cash games and weekly Texas Hold'em poker tournaments. When you step into the place, you're entering a world of diverse gaming experiences tailored to satisfy every preference and level of expertise.

A Closer Look at the Casino Venues
This section aims to delve into the specifics of venues in Calgary, Alberta. Through detailed descriptions of their key features, amenities, and gaming options, visitors can choose the perfect destination for their entertainment needs.
Grey Eagle Resort and Casino: An Entertainment Hub

Grey Eagle Resort & Casino, an oasis of adult entertainment, offers a range of amenities and attractions just minutes away from downtown Calgary.

A Gaming Paradise: With an 84,000-square-foot gaming floor, over 900 slot machines, and 40 table games, Grey Eagle offers an extensive and diverse gaming experience.
State-of-the-art Amenities: The resort boasts a state-of-the-art fitness center, an indoor pool, an outdoor hot tub, and even bicycle rentals, ensuring guests' comfort and convenience.
Exquisite Dining: Grey Eagle Casino houses four premier dining venues, offering a wide array of culinary delights. From the diverse menu of the Little Chief Restaurant and the sumptuous buffet to the entertaining Stage Bar and the gourmet Blaze Bar, there is something for every palate.
Endless Gaming Options: Besides traditional table games and slot machines, this place offers Ultimate Texas Hold'em, roulette, three-card poker, craps, and bingo, available seven days a week, making it a true gem among other for winners.

Pure Casino Calgary: Modern Gaming Redefined

Part of Pure Canadian Gaming, Pure Casino Calgary Alberta redefines the overall experience with its modern and dynamic environment.

Sizable Gaming Floor: This place has an impressive 57,000 square foot gaming floor and is home to over 850 slot machines and 22 video lottery terminals (VLTs), catering to every slot enthusiast's preference.
Variety of Live-action Tables: Pure Casino Calgary features 26 live-action tables, offering popular games such as blackjack, roulette, baccarat, and poker.
Diverse Dining Options: This establishment offers various dining options at the Meridian Central Station venue, serving everything from pre-game snacks to Asian delicacies and classic dishes.

Cowboys Casino: Where Gaming Meets Fun

Cowboys Casino, in the vibrant Victoria Park area near Calgary Stampede Park, offers a unique blend of gaming and entertainment.

Massive Gaming Space: Cowboys Casino's 96,000 square feet of gaming space, home to over 350 slot machines and 33 tables, offers an immersive gambling experience.
High-limit Action: The exclusive Six Shooter Slot Lounge is a tranquil oasis for high-rollers, offering baccarat, blackjack, and Tile Pai Gow in a separate area.
Dynamic Poker Room: The poker room, equipped with HDTVs, sports channels, and even masseuses, offers a range of poker games, including Texas Hold'em and Pot Limit Omaha.
Eclectic Dining: This place provides three dining options: the casual Melrose Café, the Asian-inspired Zen 8 Grill, and the Centre Bar. These venues cater to various tastes and are perfect for refuelling between games.

Ace Casino: Airport & Blackfoot

Located conveniently near the airport and Blackfoot Trail, Ace Casino offers an enjoyable gambling experience.

Extensive Gaming Space: With over 350 slot machines featuring popular titles and the chance to win large progressive jackpots, Ace Casino is a hotspot for slot lovers.
Table Games Galore: This place offers a variety of table games, including blackjack, roulette, craps, and Pai Gow Tiles, alongside an electronic gambling pit.
Exclusive High-roller Lounge: High-rollers can indulge in baccarat, blackjack, and Tile Pai Gow in the exclusive Six Shooter Slot Lounge, set apart from the main floor, for a more private experience.
Engaging Poker Room: The poker room features 12 tables and various games, complete with amenities like HDTVs, sports channels, and complimentary meals.
Diverse Dining Options: From the casual Melrose Café to the Asian-inspired Zen 8 Grill and the lively Centre Bar, Ace Casino offers dining options to suit every palate.
As an integral part of the vibrant scene in Calgary, Alberta, these establishments offer something unique to their patrons. Whether it's the extensive gaming options, the lavish amenities, or the exquisite dining options, these establishments offer a comprehensive entertainment experience.

Calgary Bingo Halls
Bingo halls in Calgary, Alberta, have become the cornerstone of local entertainment, offering not just games but a sense of community and fun. With their unique atmosphere, these venues provide an experience that differs from traditional casinos in Canada. Here, let's explore some of the most popular bingo halls in Calgary.
Bingo Barn: Enjoy Bingo in a Fun and Friendly Atmosphere

Located at 1107 33 St NE #10, Calgary, AB T2A 6T2, Canada, Bingo Barn sets itself apart with its cheerful ambiance and extensive bingo offerings. Not just a place for traditional bingo, this venue also provides various games and amenities.

Versatile Bingo Offerings: Bingo Barn offers both paper and electronic bingo, along with event tickets, cashboards, and even lottery games. Additionally, VBingo, a virtual version of the game, can be played from the comfort of your own home, with cards available for purchase at the venue daily from 11 am to 9 pm.
Flexible Schedule: Bingo games are offered seven days a week, with afternoon games starting at 11:45 am, evening games at 5:45 pm, and late-night games on Fridays at 10 pm. VBingo is also offered on specific days and times.
Full Concession Services: Bingo Barn boasts a comprehensive food menu from snacks to full meals, ensuring players can refuel without leaving the venue.

The Bingo Palace: Exciting Bingo Experience

The Bingo Palace is a well-known bingo hall in Calgary, renowned for its vibrant atmosphere and generous prizes. A hub for the community since 1983, The Bingo Palace caters to both novice and experienced players.

Community Connection: The Bingo Palace is home to the Calgary Community and Sports Bingo Association and sponsors several local communities and organizations. They take pride in using their venue to raise funds for various causes.
Friendly Atmosphere: Providing a unique, adult-only bingo experience, the hall encourages spending time with friends and family, making for an enjoyable day or evening out.
Commitment to Players: The Bingo Palace is dedicated to enhancing the player experience and maintaining an open-door policy for feedback and suggestions.

Five Star Bingo & Pub: A Social and Entertainment Experience

Five Star Bingo & Pub offers a unique blend of gaming and social activities, setting it apart from other bingo venues.

Non-Profit Gaming: Five Star is a non-profit society dedicated to organizing fundraising activities for local charities, reinforcing their community ties.
Wide Variety of Games: Open seven days a week, the venue offers both afternoon and evening bingo events. Additionally, they feature five Video Lottery Terminals (VLTs) and year-round darts, rounding out the entertainment options.
Community Focused: Many not-for-profit groups and charities use the Five Star facility to raise funds for their respective causes, making it a vital part of the local community.
Social Experience: With satellite sports stations and a welcoming environment, Five Star Bingo & Pub promotes a unique social and entertainment experience, differentiating it from typical gambling venues.
Bingo halls in Calgary provide a unique blend of gaming, community, and entertainment. Whether you are a seasoned bingo player or new to the game, these venues offer something for everyone.

Understanding Casino Games and Etiquette
The key to an enjoyable gambling experience in Canada lies in understanding the games and etiquette. Whether you are a novice player or a seasoned gambler, familiarizing yourself with the rules of the games and proper behaviour can enhance your casino visits, ensuring you and those around you have a great time. This is especially crucial in this type of scene, where various fun experiences await.
Popular Games and Their Rules
In Canada, some of the most popular casino games include blackjack, roulette, and baccarat. Understanding the basic rules of these games and the table limits and variations offered here can dramatically increase your chances of success and enjoyment.
Blackjack: This is a card game where the aim is to get a hand total as close to 21 as possible without exceeding it. Establishments in Calgary often offer a unique variant known as Free Bet Blackjack, where players can double down and split without placing additional money at risk.
Roulette: A game of chance where players place bets on a number, a range of numbers, red or black, or whether the number will be odd or even. The outcome is determined by a small ball spinning around a wheel.
EZ Baccarat: A variation of the traditional Baccarat, EZ Baccarat eliminates the 5% commission after every winning Bank hand. It involves betting on the player, banker or specific side bets like Dragon and Panda.
Craps: A dice game where players wager on the outcome of the roll. Betting options include the Pass line, where a 7 or 11 means a win, or the Don't Pass line, where a 2, 3, or 12 means a win.
Four-Card Poker: Players receive five cards to make their best four-card hand, playing against the dealer's hand. The best hand wins, with wagers required on the Ante spot and optional on the Play spot.
Those who love these places should also consider the house advantage, which is the edge of the casino over the players. This is calculated as a percentage of the player's wager, affecting the average loss per wager. Therefore, knowing the house advantage can help players manage their expectations and strategize their plays.
Essential Casino Etiquette: Dos and Don'ts
Casino etiquette plays a significant role in providing an enjoyable experience for all patrons. While different places have different rules, some common guidelines should be followed in this area.
Dress Appropriately: These places generally have a relaxed attitude towards attire, but patrons should avoid offensive or overly casual clothing. Shoes and shirts are mandatory.
Behave Respectfully: Loud, abusive language or disorderly behaviour is not tolerated. Respect other players and the staff.
Use Electronic Devices Responsibly: Use of electronic devices, including cell phones, is generally prohibited at table games.
Adhere to Age Restrictions: Valid Government issued ID is required, and persons under the age of 18 are prohibited from entering.
Maintaining appropriate behaviour and respect for others contributes to a pleasant casino environment.
Strategies for Enhancing Your Gaming Experience
Smart strategies can enhance your gaming experience at the best casinos in Calgary. Here are some tips:
Bankroll Management: Determine your gambling budget before you start playing and stick to it. Never gamble money you can't afford to lose.
Maximize Rewards: Many wagering establishments offer loyalty programs. Be sure to join these programs and take full advantage of the benefits.
Minimize Losses: Understand that losses are part of gambling. Take a break or try a different game if you're on a losing streak.
Learn the Games: Spend some time learning the rules and strategies of the games. This can greatly improve your chances of winning and make the games more enjoyable.
In conclusion, whether you're visiting a gambling venue here or anywhere else, understanding the games, following proper etiquette, and employing smart strategies can significantly enhance your overall gaming experience.

Delving into the World of Slot Machines
Slot machines have been integral to the overall experience since their invention in the late 19th century. These machines have maintained their popularity here due to their simplistic, engaging gameplay and the potential for substantial payouts. In the best casinos in Calgary, players are met with a myriad of slot machine options, offering a myriad of themes and opportunities for big wins.
Types of Slot Machines
You can find diverse slot machines to cater to every player's tastes. Here are some popular types:
Classic Slots: Also known as fruit machines, these traditional 3-reel slot machines often feature classic symbols like fruits, bells, and lucky sevens. They are beloved for their simplicity and nostalgic charm.
Video Slots: Modern slot machines use advanced graphics and animations to create immersive gaming experiences. Video slots often have a multitude of paylines and bonus features, contributing to more engaging gameplay.
Progressive Slots: These slots contribute a portion of each bet to a communal jackpot pool. As a result, progressive slots can provide massive wins. Games like Diamond Millions Multi Spin™ and Jackpot Junction are examples of popular progressive slots.
In these places, the average payout percentage for slot machines is 92.4%, which is a competitive rate that increases the chances of a good gaming session.
Understanding Slot Machine Rules and Strategies
When it comes to playing slot machines, one of the first things to understand is that while the outcomes rely heavily on chance, a basic grasp of the rules can greatly improve your gaming experience.
One crucial aspect to keep in mind is bankroll management. Before you start playing, it is essential to determine a budget for your gaming session. The purpose of playing should be to enjoy the experience, and sticking to a predetermined budget helps ensure that you can do so without financial stress.
Another important concept to understand is paylines. Paylines are the lines on which winning combinations of symbols need to align. Modern slot machines often have multiple paylines, providing more chances to win. However, larger bets are needed.
Many slot machines nowadays offer bonus features such as free spins, bonus games, and multipliers. These features can enhance the gaming experience and increase the chances of securing substantial wins. To take full advantage of these features, make sure you understand how they work. This involves reading the information screens on the slot machines to familiarize you with the specific rules and payout structures.
With this foundational knowledge and strategies in mind, you'll be better equipped to maximize your enjoyment and potential winnings when you next visit a casino in Calgary, Alberta.
High-Paying Slots
A highlight of playing in a casino in Calgary, Alberta, is the opportunity to try your luck on high-paying slots. Some notable examples include:
Diamond Millions Multi Spin™: This game includes a U-Spin™ Wheel with three concentric wheels! Spinning the wheels could result in winning credits, Free Games, or even a jackpot. The wide area progressive jackpot starts at an impressive $1,000,000!
Jackpot Junction: This game offers three Mystery Prize tiers with a chance to win up to $250,000. Any play can reveal the Mystery Jackpot, providing added excitement.
Alberta Gold: This game has four themes – Cats, Hats and More Bats®, Eureka Reel Blast!®, Flower Fortune™, and Piggy Bankin®. Each theme incorporates the Lock It Link® feature and the Alberta Gold Wheel, providing opportunities for Free Games, cash prizes, or progressive jackpots. The wide area progressive top prize begins at $20,000.
Truth being said, these places are slot enthusiasts' paradises, offering a diverse range of games to suit every player's preference. With a little luck, your next visit could result in a life-changing win!

Exploring the Poker Rooms in Calgary
Calgary, a vibrant city in Alberta, is known for many things, and its active casino scene is definitely one of them. The city's parlors offer a variety of games to cater to different preferences, with poker being a top choice among many visitors. Let's dive deeper into the dynamic world of poker rooms in Calgary.
Overview of Poker Games Available
Calgary is a true paradise for poker enthusiasts. With a whopping 108 poker tables spread across 19 poker rooms, Calgary offers a diverse range of poker games, ready to cater to all skill levels and styles.
No-Limit Texas Hold'em: The most popular form of poker globally, you'll find it in abundance here.
Limit Holdem and No Limit Holdem: These variations adjust the betting structure, offering unique strategic opportunities.
Pot Limit Omaha: A high-action game that's gaining popularity, where players receive four-hole cards instead of two.
Crazy Pineapple: A fun and exciting variation of Texas Hold'em that provides players with more potential hand combinations.
Dealers' Choice: This game allows the dealer to choose which poker variant will be played, adding a new layer of unpredictability.
Tournaments: Regularly scheduled, these events bring players together for competitive play and large prize pools.
Additionally, there are various table limits and game variations to suit both casual players and high rollers. The variety of poker games makes a visit to a Calgary casino an exciting proposition for any poker enthusiast.
Poker Tournaments and Events in Calgary
Calgary is more than just a place for casual poker games. The city is also known for hosting numerous poker tournaments and events, attracting players from all over Canada.
In 2022, the city hosted the WSOP Circuit Calgary event, a prestigious tournament that made headlines for its record-breaking $1.8 million prize pool. It was the biggest prize pool the city had ever seen, drawing Canadian poker players in record numbers to compete for the enormous pot.
This event is a testament to the city's vibrant poker scene, demonstrating that Calgary is a destination of choice for serious poker players looking to compete on a grand stage.
Top Tips for Poker Players in Calgary
Whether you're a seasoned poker player or a beginner looking to improve, here are a few tips and strategies to enhance your poker game:
Learn From the Pros: Calgary's casinos often host professional players. Paying attention to their playing style and strategy can provide invaluable insights.
Bankroll Management: Like slot machines, managing your bankroll is crucial in poker. Set a budget and stick to it to avoid losses you can't afford.
Table Etiquette: Respect your fellow players and the dealer. Abiding by the rules and maintaining a friendly demeanour ensures a positive gaming environment for everyone.
Understand Your Opponents: Poker isn't just about the cards in your hand. Paying attention to other players' behaviours and patterns can give you a strategic edge.
Remember, while the aim is to win, the most important thing is to enjoy the game. When you enter a Calgary casino, you're entering an experience filled with excitement and camaraderie.
Play at Similar Casinos in Alberta
Visit Other Cities in Alberta with Casinos

Entertainment and Dining
While Calgary casinos are popularly known for their gaming offerings, they also provide a spectrum of entertainment and dining experiences that complete a holistic leisure package. From world-class restaurants to vibrant entertainment events, these establishments are about much more than just gaming.
Top-Rated Restaurants in the Area
One of the premier dining experiences in the Calgary casino scene can be found at the Little Chief Restaurant located within the Grey Eagle Resort & Casino. Known for its Indigenous heritage and locally sourced ingredients, the restaurant, under the expert guidance of Chef Willow Eaglespeaker, serves up a range of dishes that blend traditional and modern elements.
Cuisine: Dishes inspired by the indigenous community.
Notable Dishes: The selection of dishes consists of Pow Wow Taco Poutine, Juniper-Braised Beef Chuck Flats, Pan-Roasted Kuterra Salmon, and a comforting Hamburger Soup. Accompanying these main courses are the classic Fry Bread and Bannock, served with delicious Saskatoon berry jam.
Ambiance: With a family-friendly dining atmosphere, the spacious restaurant can seat 94 people, while its heated outdoor patio offers seating for 40 people.
Whether you're indulging in breakfast, lunch, or dinner, Little Chief Restaurant ensures a memorable dining experience in one of the best casinos in Calgary.
Entertainment and Event Options in Calgary Casinos
Casinos in Calgary, Canada, are also popular venues for various entertainment events such as live shows, concerts, and special tournaments. The schedule for 2023 is packed with exciting events.
The Ace Casino, arguably the biggest place here, is renowned for hosting the Annual Calgary Classic Poker Tournament, a notable event that draws players nationwide with its substantial prize pool.
Pure Casino Calgary and Cowboy's Casino also host regular poker events, including the Pure Poker Championship and the Cowboy's Poker Open, respectively. In contrast, the Grey Eagle Casino, known for its round-the-clock poker room, hosts the anticipated Grey Eagle Poker Tournament.
These establishments provide a diverse selection of entertainment options, with highlights such as the Grey Eagle Event Centre's Professional Muay Thai event. Enthusiasts of the sport can anticipate an exciting lineup, featuring the highly anticipated semi-finals of the $100k Road to ONE Tournament and the intense battles for the WBC National Muay Thai championship titles, scheduled to occur on June 17th.
Accommodation Options at Casino Resorts
Catering to guests who prefer to stay overnight or for extended periods, the resorts offer a range of room types and amenities, ensuring a comfortable and enjoyable stay. Detailed guest reviews speak volumes about the high quality of service and accommodation provided, enhancing the appeal of these places as complete leisure destinations. Whether you're there for the gaming, the food, the entertainment, or a cozy bed for the night, casinos in Calgary, Canada, offer something for everyone.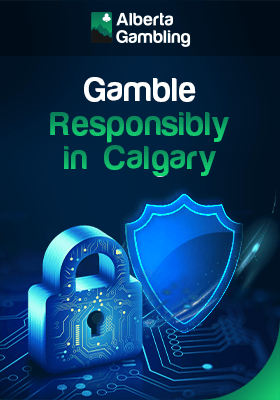 Responsible Gambling in Calgary
It's essential to keep responsible gambling at the forefront when it comes to enjoying the various offerings at a casino in Calgary, Alberta. Establishments for gambling in this place emphasize the significance of responsible gambling and undertake numerous initiatives to promote it. Ensuring a fun, safe, and responsible gambling environment is of paramount importance to them.
Understanding the Importance of Responsible Gambling
Responsible gambling, also called safer gambling, is an initiative carried out by various stakeholders in the gambling industry, including operators, government regulators, and vendors. This initiative is designed to ensure fairness in operations and promote awareness of potential harms associated with gambling, such as gambling addiction.
Several components are included within responsible gambling. Here are some of the key measures adopted:
Self Exclusion / Time Out: This tool allows players to take a temporary hiatus from their gambling account.
Reality Check: Periodic pop-ups are triggered to remind players to take a break from playing.
Time Limits: These can be used to set strict time limits on playing sessions.
Deposit Limits / Account Tracker: This tool enforces a limit on deposits.
Permanent Account Closure: Players can use this to close their account and cut off all contact with the gambling operator.
Credit Card Restrictions: Customers can request that their bank block internet access.
These measures, when implemented, go a long way in promoting responsible gambling, thereby limiting potential harm to individuals and communities.
Resources for Responsible Gambling in Calgary
In Calgary, several resources are available to assist individuals with responsible gambling. One is the Alberta Gaming, Liquor and Cannabis (AGLC) initiative, which encourages Albertans to use their GameSense when gambling.
The Self-Exclusion Program, a key feature of this initiative, enables gamblers who are gambling too much to exclude themselves from all Alberta casinos and racing entertainment centres. Research has shown that this can be an effective way to stop gambling when combined with professional support.
Moreover, various gambling providers offer many resources, tools, and videos to encourage healthy gambling behaviours, all accessible via the GameSense website.
Initiatives by Calgary Casinos for Responsible Gambling
Gambling parlours here have implemented several responsible gambling initiatives to ensure a safe and enjoyable environment for all patrons. The Deerfoot Inn & Casino and the Grey Eagle Resort & Casino are excellent examples of such establishments.
Deerfoot Inn & Casino: This place promotes responsible gaming and is one of the first in Calgary to implement an AGLC-staffed GameSense Information Centre (GSIC). They also provide the option of voluntary self-exclusion through the province's Self-Exclusion program.
Grey Eagle Resort & Casino: The resort is committed to responsible gambling. Patrons are encouraged to view gambling as entertainment with associated costs, set limits, and recognize the potential problems of uncontrolled gambling.
Both have partnered with GameSense, a program that provides players with responsible gambling tools and information to help them make informed choices. GameSense Info Centres, available at all Alberta casinos and racing entertainment centres, provide hands-on demonstrations of randomness, cost of play, odds and house advantage. They also provide support and access to resources for Albertans wanting help with at-risk or problem gambling behaviours.
By implementing such measures and working closely with organizations like GameSense, the biggest casino in Calgary, Alberta, they ensure the well-being of their patrons and promote a culture of responsible gambling.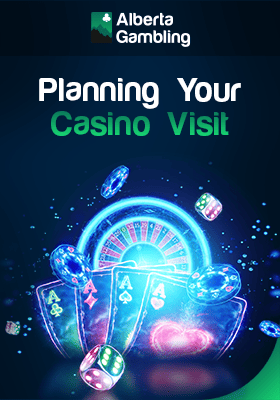 Planning Your Casino Visit in Calgary
Visiting a casino in Calgary, Alberta, can be an exciting experience filled with thrilling games, delicious food, and lively entertainment. Planning ahead is crucial to ensure the most enjoyable visit. From deciding on the best time to visit to understanding the casino etiquette, here's a guide to help you plan your visit effectively.
Best Time to Visit Calgary Casinos
The best time to visit the best casinos in Calgary depends on your preference for crowd levels, weather, and special events. June to August is the busiest season for tourism in Calgary, marked by comfortably cool weather and the most precipitation. This period might see higher accommodation costs and larger crowds.
However, the atmosphere during these peak months can be incredibly vibrant and worth experiencing. If you prefer a quieter environment, visiting during weekdays or off-peak seasons might be more suitable.
Things to Consider When Planning Your Casino Visit
When planning your visit to a casino in Calgary, Alberta, several factors need to be considered to ensure a smooth and enjoyable experience:
Etiquette: Maintaining good social etiquette is essential when visiting any land-based establishment. Be polite to staff and other patrons for a great time.
Casino Timings: The opening and closing times of these places can vary. While some operate 24/7, others might have specific operating hours. Nighttime visits often provide a comprehensive experience, allowing you to enjoy dining or drinks after playing games.
Budgeting: Before heading out, determine your budget. These places are flexible and cater to different budgets, allowing for low bets on games like slot machines and roulette tables. Remember, the primary rule is to gamble with only what you can afford to lose.
Alcohol Consumption: While a couple of drinks can be part of the casino experience, avoid drinking excessively before and during gambling, as it can lead to reckless decisions.
Safety Measures
Gambling establishments take the safety of their visitors very seriously and have implemented several safety measures to provide a secure environment.
Security Protocols: Gaming venues have strict security protocols in place, including the presence of security personnel throughout the premises to ensure patrons' safety.
Surveillance Systems: They utilize high-tech surveillance systems, including cameras and other monitoring equipment, to maintain a safe and secure environment for all visitors.
Responsible Alcohol Service: To promote responsible gambling and ensure the safety of all guests, these establishments adhere to responsible alcohol service policies.
By considering these factors, you can ensure a fun, safe, and memorable visit to the best casinos in Calgary. Whether you're a seasoned gambler or a novice seeking a new experience, a well-planned casino visit can provide an enjoyable night out filled with entertainment and excitement.
The Future of the Casino Industry in Calgary
The gambling industry in Calgary continues to evolve, adopting the latest trends and leveraging technology to enhance the gaming experience and streamline operations. This ever-changing landscape presents an exciting future for casinos in Calgary, characterized by technological innovation, economic potential, and immersive gaming experiences.
Emerging Trends in Calgary Casino Industry
The overall gambling landscape is shaped by several emerging trends, promising a more engaging and immersive gaming experience. These include:
Virtual Reality Gaming: Virtual Reality (VR) technology is changing the landscape here, offering immersive gaming experiences that mimic the thrill of physical casinos. Players can enjoy their favourite games in a more engaging and realistic environment.
Mobile Gambling: With the proliferation of smartphones, mobile gambling has become more prevalent. This trend allows gamers to play their favourite games anytime, anywhere, enhancing convenience and accessibility.
These trends indicate a future where technology and innovation continue to enhance the gaming experience at casinos in Calgary, Canada.
Impact of Technology on Calgary Casinos
Technology plays a pivotal role in shaping the future of Calgary Casinos. It's not just about enhancing the gaming experience; it's also about streamlining operations and making gambling more accessible and convenient. Some key technological impacts include:
Mobile Applications: Many places here now offer mobile applications, allowing patrons to play games, book reservations, and stay updated on the latest events and promotions, all from their mobile devices.
Cashless Gaming: Cashless gaming options have emerged as a significant trend. They provide a more secure and efficient transaction method, reducing theft risk and making it easier for players to manage their gambling budgets.
Data Analytics: Casinos leverage data analytics to better understand player behaviour and preferences. This information is used to tailor offerings and promotions, improving customer satisfaction and retention.
These technological advancements underscore the commitment of Calgary casinos to adapt and innovate, ensuring they stay relevant in an increasingly digital world.
Economic Outlook of the iGaming Industry
The economic outlook of the casino industry in Calgary is promising, with several factors contributing to its continued growth:
Tourism: Gambling establishments are a significant tourist attraction, drawing visitors worldwide. This influx of tourists boosts local businesses and contributes to the city's economy.
Employment: This industry provides employment opportunities for thousands of Calgary residents, contributing to the city's job market.
Revenue Generation: Casinos in Calgary, Canada, contribute significantly to the local economy through tax revenue and direct economic activity. This revenue supports public services and infrastructure development.
The industry's contribution to the local economy and its potential for growth and innovation suggests a positive economic outlook for casinos in Calgary. As the industry continues to adapt and evolve, it is poised to play an increasingly important role in the city's economy.
Conclusion
In this comprehensive guide, we have explored Calgary's vibrant and dynamic casino landscape. This tour has taken us from understanding the importance of planning a visit to appreciating the robust safety measures in place for patrons. Considering crowd levels and special events, we discovered that the best times to visit Calgary gaming venues are during the less crowded weekdays or off-peak hours. The emphasis was on enjoying the casino experience respectfully and financially responsibly, practicing good etiquette, and calculating budgets wisely.
Further, we have looked at the impressive commitment to security at the casinos in Calgary. Visitors know their safety is the top priority, with robust security protocols, high-tech surveillance systems, and responsible alcohol service policies all part of the package.
We also had a glimpse into the exciting future of the game industry in Calgary. The city's establishments increasingly embrace the digital revolution, with virtual reality gaming and mobile gambling becoming more prominent. Technology, we discovered, is enhancing the gaming experience and revolutionizing the operations of casinos in Calgary through mobile applications, cashless gaming options, and data analytics.
The guide also took us through the economic significance of the casino industry in Calgary. Beyond providing entertainment, the industry significantly contributes to Calgary's economy, generating tourism, providing employment, and adding to local revenue.
In summary, as detailed on AlbertaGambling.ca, Calgary's casino scene promises an exciting mix of traditional gaming, modern technology, and diverse entertainment options. Whether you are a seasoned gambler or a first-time visitor, you can look forward to a memorable experience at any casino in Calgary. Always remember to practice responsible gaming and enjoy all the unique experiences the dynamic Calgary casino scene offers.
FAQ
What are the best casinos to visit in Calgary, Alberta?

Calgary offers several top-notch casinos like the Deerfoot Inn & Casino and the Grey Eagle Resort & Casino. Each offers a unique experience with diverse gaming options and entertainment activities.

How is the casino experience in Calgary different from other cities?

Here, these places stand out for their strong commitment to responsible gambling and their innovative use of technology in gaming. Moreover, they offer a blend of traditional casino games and modern amenities in a warm, welcoming environment.

What are the legalities around casinos in Calgary?

Casinos in Calgary are strictly regulated by the Alberta Gaming, Liquor and Cannabis Commission (AGLC). The AGLC ensures compliance with laws, promotes responsible gambling, and oversees all gaming and liquor activities in the province.

What non-gaming amenities can you enjoy at Calgary casinos?

These places have various non-gaming amenities, including fine dining restaurants, bars, live entertainment shows, and hotel accommodation facilities. Some casinos also host special events and concerts for an all-rounded entertainment experience.

What's the future of Calgary's casino industry?

The future of Calgary's casino industry looks promising, with technology playing a central role. Virtual reality gaming, mobile gambling, and data analytics are all expected to enhance the gaming experience and streamline operations in the industry.