This comprehensive guide from the expert team at AlbertaGambling.ca provides a detailed exploration of casinos in Alberta, equipping you with all the facts you need to make informed decisions about betting in this Canadian province.
When considering the Alberta, Canada casino landscape, Calgary stands out. This city is renowned for hosting some of the best casinos in Alberta, where residents and tourists alike can play an exciting array of table games.
The casinos in Alberta provide an avenue for socialization and recreation, which contributes significantly to the overall quality of life in communities. Additionally, Canadian casinos host numerous charity events throughout the year, leveraging their popularity to support local initiatives and causes.
According to the Alberta Gaming, Liquor and Cannabis Commission, the Alberta casino industry generates over a billion dollars in gross revenue annually. This income contributes substantially to both Canada and the province's economy, providing revenue that is used to fund various public services and initiatives.
So no matter whether you're a seasoned player or a novice, this guide is for you. Let's jump right in!
List of Alberta Casinos
Map of the Best Alberta Casinos

Navigating Alberta's Casino Terrain
Dive into the captivating world of Alberta's casino industry, where history, present dynamics, and future prospects come together to form a captivating narrative.
This section will provide an in-depth analysis of the evolution of Alberta's casinos, the current state of the industry, and the potential future trajectory of gambling in this Canadian province.
The Genesis and Evolution of Canadian Casinos in Alberta
Gambling in Alberta is nothing new. It's been around for decades, so let's take a look at how the Alberta casino industry has evolved over the years.
1970s-1980s
The landscape of Canadian casinos in Alberta began to take shape in the mid-1970s. A service club in Edmonton, Canada established the first not-for-profit casino in 1975, pioneering a new era for betting in Alberta.
This was followed by Alberta's first permanent privately operated charitable casino opening in Calgary in 1980, and a second one opened in Edmonton a year later, marking significant milestones in the industry.
Mid-1990s
Fast forward to 1995, a major step in the consolidation of this industry occurred with the creation of The Alberta Gaming and Liquor Commission (AGLC). The AGLC, an amalgamation of several regulatory bodies in Canada, aimed to efficiently manage the responsibilities and operations of Alberta's betting sector.
By 1996, this industry underwent further evolution. Slot machines made their debut in Canada, enhancing the variety and appeal of the offerings at these establishments.
That same year saw the launch of satellite bingo and the formation of the 'Racing Corporation' to revitalize the horse racing industry in the province. The Baccarat Casino also opened its doors in Edmonton, further diversifying an already vibrant landscape.
Alberta's Casino Industry Today
Fast forwarding to the present, the casino industry in Alberta is a bustling hub, with 25 establishments operating across the province. A glance at the revenue figures reveals an industry that, while experiencing fluctuating fortunes, plays a substantial role in the provincial economy.
From 2016-2021: Casinos in Alberta generated billions in net revenue, though the numbers experienced a dip in the final year likely due to the global health crisis.
The influence of the casino industry in Canada extends beyond revenue. It is also a major source of employment, sustaining over 43,000 jobs across the province. With cities like Calgary and Edmonton being central hubs for betting, the industry has a significant socio-economic impact on Canada as well.
Recent trends include an increased focus on responsible gambling and the development of new options that cater to the diverse needs and preferences of players. The offerings range from traditional table games like blackjack, poker, and roulette, to modern digital variants, offering something for everyone.
The Future of Gaming in Alberta
Alberta's casino industry shows promise for the future. A testament to this is the planned expansions and new developments in the region.
For instance, U.S.-based VICI Properties recently acquired four Canadian casinos in Alberta from PURE Canadian Gaming for $271.9 million.
In another significant development, the Bear Hills Casino and Travel Resort has broken ground south of Edmonton. This new resort, set to open in late 2023, promises to provide entertainment, dining, gas options, and more, making it a unique destination on the Canada tourism circuit.
As for emerging trends in this industry, AB is keeping pace with global developments. The future will see a greater emphasis on responsible gambling, an increase in live dealer options, a rise of cryptocurrencies for payments, and an increase in esports betting.
These developments point towards an evolving and progressive future for Alberta's casino industry.

A Tour of Alberta's Casinos
In the lush, vibrant landscape of Alberta, Canada, where breathtaking natural beauty meets bustling urban life, there is a long list of casinos in Alberta for you to check out.
This section will guide you through Alberta's casino map, showcasing the glamour, entertainment, and extravagance of its top-rated establishments in Calgary and Edmonton.
Luxurious Retreat: Elbow River Casino

Welcome to Elbow River Casino, an exquisite retreat nestled in the heart of Calgary, Canada. With its opulent ambiance and a myriad of entertainment options, this premier establishment offers a luxurious experience for all gambling enthusiasts.

Sophisticated Dining

Treat your taste buds to an array of dining options that showcase culinary excellence:

The Dining Room: Experience an elegant setting and savor a menu featuring exquisite international dishes.
The Lounge: Unwind in a stylish atmosphere and enjoy a selection of small plates and handcrafted cocktails.
The Deli: Grab a quick bite or a gourmet sandwich made with the finest ingredients, perfect for a casual dining experience.

Live Entertainment

Immerse yourself in the vibrant energy of live performances at Elbow River:

Showroom Stage: Delight in live music, comedy acts, and captivating shows in the grand Showroom Stage venue.
Piano Bar: Enjoy the soothing melodies of talented pianists while sipping on handcrafted cocktails in a sophisticated setting.
Patio Entertainment: Experience open-air entertainment on the Patio, featuring live music and a relaxed atmosphere.

Luxurious Accommodations

Elbow River Casino offers luxurious accommodations for a comfortable and rejuvenating stay:

Premium Suites: Retreat to elegantly designed suites equipped with modern amenities and breathtaking views.
Spa and Wellness: Pamper yourself with spa treatments and wellness services, ensuring relaxation and rejuvenation during your stay.
Fitness Center: Stay active and maintain your fitness routine in the state-of-the-art fitness center, fully equipped with modern exercise equipment.

Gaming Extravaganza

Elbow River offers a diverse range of options to suit every preference:

Slot Machines: Try your luck on a vast selection of slot machines, ranging from classic slots to the latest interactive slot titles, developed by renowned software providers.
Table Games: Engage in thrilling table games like blackjack, roulette, and poker, showcasing your skills and strategy. Table games also give you the chance to mingle with other patrons in a fun, competitive setting.
Poker Room: Join the excitement in the dedicated poker room, featuring a variety of poker variants and poker tournaments for all levels of players.

Exclusive VIP Experience

For a more personalized and elevated experience, Elbow River offers an exclusive VIP program:

High Limit Gaming: Access the special high limit area, providing a private and intimate atmosphere for VIP players.
VIP Events and Rewards: Enjoy exclusive events, promotions, and rewards tailored to VIP members, adding extra excitement to your experience.

Discover the epitome of luxury, entertainment, and impeccable service at Elbow River Casino in Calgary, where every moment is an unforgettable experience.

A Stellar Gaming Adventure: Starlight Casino Edmonton

Discover the stellar features of Starlight Casino Edmonton, where gaming dreams come to life:

Gaming Revolution

Experience a wide variety of gaming options, spread across two expansive floors:

Spacious Venue: Explore two floors spanning 120,000 square feet, (one of the biggest casinos in Alberta), offering an expansive environment for you to explore.
Diverse Options: If you're a fan of traditional table games, you'll have 32 tables to choose from, an 8-table poker room, and 777 slot machines, providing a wide range of experiences, regardless of whether you prefer poker, blackjack, roulette, or slots.
VIP Salons: VIP players are treated to exclusive private salons, offering an elevated and personalized betting experience.

Culinary Delights

Embark on a culinary journey at Starlight Casino with two distinct dining experiences:

MATCH Eatery & Public House:

Casual Charm: MATCH offers a casual dining experience with a charming ambiance.
Varied Menu: Enjoy a delicious menu featuring pub classics and innovative creations.
Beverage Selection: Sip on craft beers, wines, or handcrafted cocktails while immersing yourself in the lively atmosphere.

Halley's Club:

Vintage Elegance: Experience the ambiance of vintage elegance at Halley's Club.
Refined Dining: Delight in an exquisite dining experience with a specially curated menu.
Nostalgic Atmosphere: Enjoy exceptional flavors and service in an atmosphere reminiscent of a bygone era.

Gaming Thrills

Immerse yourself in a thrilling betting experience at Starlight Casino with a wide range of options to choose from:

Table Games: Test your table game skills and luck with 32 tables offering classics like blackjack, roulette, poker and more.
Poker Room: Engage in the excitement of high-stakes poker in the 8-table poker room.
Slot Machines: Try your luck on the 777 slot machines, offering a variety of traditional favorites and video slots. These slots come from the most reputable software providers, so you can rest assured of their fairness.

REPLAY Arena: Live-Action Digital Horse Racing

Experience the excitement of live-action digital horse racing at the REPLAY Arena:

Thrilling Races: Immerse yourself in the thrill of virtual horse races and place bets on your favorites.
Realistic Visuals: Enjoy the realistic visuals and interactive elements that bring the racing action to life.
Engaging Experience: Witness the excitement as the virtual horses compete to cross the finish line.

Exclusive VIP Experience

Elevate your adventure with exclusive VIP amenities and personalized service:

Private Salons: Enjoy enhanced privacy and a luxurious atmosphere in the exclusive private salons.
Personalized Service: Receive personalized attention and service tailored to VIP players' needs.
Luxurious Amenities: Benefit from a range of exclusive amenities designed to enhance your experience.

Embark on a stellar adventure at Starlight Casino Edmonton, where exceptional gaming, delectable dining, and VIP treatment await you.

A Taste of Luxury: Grey Eagle Resort and Casino

Just minutes from downtown Calgary lies a haven of luxury and entertainment: Grey Eagle Resort and Casino, Canada.

This premier resort destination in Calgary offers an exceptional experience, with the resort spanning across 84,000 square feet and featuring a wide range of amenities and entertainment options.

Dining Options

Buffet & Restaurant: Indulge in a sumptuous dining experience with an array of international dishes. From flavorful cuisines to delectable desserts, the Buffet & Restaurant at this resort offers a diverse selection to satisfy your culinary cravings.
Little Chief Restaurant: For those seeking refined cuisine in an elegant setting, the Little Chief Restaurant delivers an unforgettable dining experience. With carefully crafted dishes, premium ingredients, and exquisite presentation, this restaurant is perfect for special occasions or a sophisticated night out.

Entertainment Venues

The Stage Bar: Immerse yourself in live performances while enjoying delicious meals and beverages at The Stage Bar. From talented musicians to captivating acts, this venue offers a vibrant and energetic atmosphere for a memorable night out at the resort.
Blaze Bar: Experience a fusion of gourmet dining and live entertainment at Blaze Bar. Indulge in delicious dishes while being entertained by a variety of performances, including live bands, DJs, and other talented artists. This dynamic and stylish venue ensures an evening filled with excitement and enjoyment.

Luxurious Accommodations

Grey Eagle Resort, Calgary provides a range of luxurious accommodations that cater to the comfort and relaxation of guests. Whether you're staying for a night or an extended period, you can enjoy the following amenities:

Indoor pool: Take a refreshing dip in the resort's indoor pool, allowing you to unwind and rejuvenate after a day of excitement.
Outdoor hot tub: Immerse yourself in the soothing warmth of the resort's outdoor hot tub, offering a tranquil setting to relax and enjoy the surrounding views.
State-of-the-art fitness facilities: Stay active and maintain your fitness routine with the resort's state-of-the-art fitness facilities. Equipped with modern exercise equipment, you can work out and stay in shape during your stay.

Gaming Experiences

Grey Eagle Resort and Casino, Calgary offers a diverse range of options, ensuring there is something for every enthusiast:

Poker: Test your skills and strategy in exciting poker variants. Whether you're a beginner or an experienced player, the casino provides a thrilling poker experience.
Slots: With over 900 slot machines, Grey Eagle Resort and Casino caters to slot enthusiasts looking for an exhilarating experience. From classic favorites to the latest interactive slot machines, there are endless options to try your luck and chase the jackpot.
Baccarat: Engage in the elegance of baccarat, a classic and sophisticated table game that combines strategy and chance. Experience the thrill of this beloved game at Grey Eagle Resort.
Bingo: Join in the excitement of bingo and experience the anticipation of marking off your numbers as you get closer to a winning combination. Grey Eagle Resort offers a lively and engaging bingo hall for enthusiasts to enjoy.

Exclusive Gaming Experience

For those seeking privacy and an elevated experience, Grey Eagle Resort provides a high limit private room, separate from the rest of the floor. This exclusive space allows you to place your bets in a secluded setting, offering a more intimate and personalized atmosphere.

Whether you have a passion for bingo or roulette, a love for poker and blackjack, or enjoy the thrill of slot machines, Grey Eagle Resort and Casino is a nirvana that combines luxury, entertainment, and exceptional amenities to provide an unforgettable experience for its guests in Calgary.

Gaming Extravaganza at Pure Casino Edmonton

Welcome to Pure Casino Edmonton, where an electrifying betting experience awaits. Explore the various aspects of this dazzling destination:

Gaming Galaxy

Embark on a thrilling adventure with an extensive selection of table games and machines:

Table Games: Discover 34 poker and table games, such as blackjack and roulette, offering a range of classic and innovative options.
Slot Machines: Immerse yourself in the excitement of 860 slot machines featuring captivating designs and diverse gameplay styles.

Radiant Atmosphere

Experience the mesmerizing ambiance and architectural brilliance of Pure Casino Edmonton:

Neon-Lined Exterior: Be enchanted by the radiant allure of the neon-lined exterior, creating a visually stunning and dynamic entrance.
Renovated Architecture: Step into a newly renovated space that combines modern architectural elements with a warm and inviting color palette.

Gourmet Delights

Satisfy your culinary cravings with a delightful array of dining options:

Alta Kitchen: Indulge in an alluring assortment of seafood and Chinese dishes that will tantalize your taste buds.
Snax Pantry and Wok: Delight in Canadian cuisine and custom noodle bowls, offering a fusion of flavors and satisfying meals.
The Mezz: Experience live music and a sumptuous menu at the premier bar, providing an enticing blend of entertainment and dining.

Pure Rewards

Unlock exclusive benefits and rewards through the Pure Rewards system:

Discounts: Enjoy special discounts on various amenities, enhancing your overall experience.
Reward Ballots: Gain access to reward ballots, offering opportunities to win exciting prizes and experiences.
Free Play: Take advantage of free play opportunities, allowing you to extend your gambling adventures and increase your chances of winning.

Casino Extravaganza

Experience a perfect blend of sophistication and extravagance:

Casual Yet Classy: Enjoy a relaxed and welcoming atmosphere while indulging in the ultimate betting experience.
Coveted Destination: Pure Casino Edmonton stands as a sought-after destination within Edmonton's casino landscape, offering a memorable and captivating experience for all.

Gaming Paradise at Stoney Nakoda Resort & Casino

Explore the captivating features of Stoney Nakoda Resort & Casino, where gaming and nature converge:

Gaming Delights

Experience a wide range of options designed to cater to every enthusiast:

Slot Machines: Enjoy a collection of 250 themed slot machines, offering diverse gameplay and exciting slot themes.
Table Games: In addition to the slots, you can also engage in classic table games like poker, blackjack, roulette, and baccarat, providing thrilling challenges and opportunities to test your skills.

Winner's Edge Rewards

Unlock exclusive benefits and rewards through the Winner's Edge rewards program at this resort:

Discounts: Enjoy a 10% discount on menu items at the resort's dining establishments, adding extra value to your experience.
Contest Entries: Gain exclusive entries into contests for a chance to win exciting prizes and experiences.
Redeemable Points: Earn redeemable points that can be used for various amenities and rewards, enhancing your stay at the resort.

Tranquil Accommodations

Relax and unwind in comfortable and elegantly decorated rooms with stunning mountain views:

Room Selection: Choose from a variety of rooms tailored to different needs and budgets, ensuring a personalized and comfortable stay at the resort.
Neutral Palette: Enjoy a calming ambiance with rooms decorated in a neutral color palette, creating a serene atmosphere.

Dining Delights

Indulge your taste buds with a variety of dining options available at The Ridge:

The Ridge: Experience a warm and inviting atmosphere while savoring delicious meals from a diverse menu.
Culinary Variety: Enjoy a range of dining options, catering to different tastes and preferences.

Harmonious Blend

Stoney Nakoda Resort & Casino seamlessly combines natural tranquility with excitement the excitement of betting:

Nature's Beauty: Revel in the stunning beauty of the Canadian mountains surrounding the resort, creating a peaceful and serene backdrop.
Premier Gaming Destination: With top-notch betting options, comfortable accommodations, delectable dining, and friendly staff, Stoney Nakoda Resort & Casino has established itself as a premier destination in Alberta, Canada.
Other Great Casinos in Alberta
Other Cities with Casinos in Alberta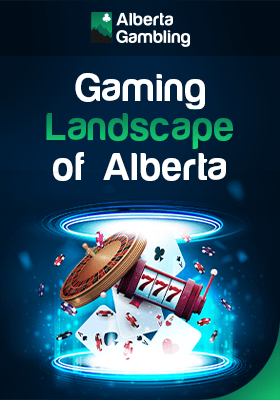 The Casino Landscape of Alberta Explained
From the iconic glitz of Calgary's casino floors to the atmospheric establishments of Edmonton, the thrilling world of casinos in Alberta, Canada, brings tons of excitement and opportunity.
However, stepping into this lively playground is not a simple matter. It's about understanding the guidelines that influence the landscape of gambling in Canada. So let's examine the legalities, popular betting options, and more.
The Legal Age for Gambling in Alberta
In Alberta, Canada, you are allowed to start rolling the dice at the age of 18. Unlike other regions in Canada, Alberta sets a slightly lower threshold, allowing individuals aged 18 and above to partake in these activities.
From poker and blackjack tables in Calgary, Canada to slot machines and roulette wheels in Edmonton, Canada, the rules remain the same across the region.
Navigating Alberta's Casino Operator Regulations
It is necessary for all casino operators in different Canadian provinces to make sure they comply with the relevant laws in the region. Licensing requirements and adherence to stringent board policies are just the first step.
Governed by the Alberta Gaming and Liquor Commission, betting in Alberta is exclusive to charitable causes.
Featuring 24 casino facilities teeming with a blend of electronic and table games, Alberta has it all. Charity-based casino licensing in Canada creates a symbiotic relationship between these facilities and charitable institutions, allowing them to conduct their activities while fulfilling their mission.
The Alberta Gaming and Liquor Commission strives to foster responsible gambling behaviors by offering an array of resources and tools for bettors in Canada, such as the GameSense program, designed to promote informed gambling decisions.
Rights and Protections in Alberta's Casinos
When it comes to casinos in Alberta, player rights and protections are just as important as having fun. It is the operator's responsibility to ensure players' rights are preserved through dispute resolution mechanisms and consumer protection measures.
One useful tool at the player's disposal is the province's Self-Exclusion Program, a platform that enables players to consciously step away from the allure of betting and racing entertainment centres.
Recognizing the significance of professional support in curbing gambling, this program acts as a firewall, helping individuals control their gambling habits by setting their own exclusion duration.
Furthermore, the province's casino operators are committed to combating illegal activities such as money laundering and terrorist financing. Abiding by the Proceeds of Crime (Money Laundering) and Terrorist Financing Act, casinos in Alberta shoulder the responsibility of maintaining a lawful and transparent environment.

A Look at Popular Casino Games in Alberta
From slot machines to the poker tables, the gaming portfolio in Alberta, Canada is diverse and thrilling. So, let's take a virtual tour through Alberta's most popular offerings, taking a closer look at what makes them so popular.
Slot Machines
Slot machines are undoubtedly a favourite among bettors in Canada. Slots play a major role in the total revenue generated by Canadian casinos. Slots also contribute significantly to their financial success.
According to a report from the Alberta Gaming and Liquor Commission, net sales for slot machines in 2021 decreased by 54.3% compared to the slot machine sales in 2020, due to pandemic-related restrictions.
However, slot machines typically feature a robust payout percentage of around 92.4%, so it's easy to see why they've made a resurgence as of late.
Ocean Princess by Playtech

Dive into the mesmerizing hues of the Ocean Princess slot by Playtech as you encounter crabs, starfish, and sea horses on the reels. With its captivating visuals and the guidance of a beautiful blonde mermaid, this slot offers an immersive experience that is sure to excite players.

Explore the depths of the ocean and discover the great payouts that await you. Look out for the princess' crown, which acts as a bonus symbol, adding extra excitement to your gameplay.

Mesmerizing visuals and guidance from a beautiful blonde mermaid.
Bonus symbol: Princess' crown adds excitement and extra rewards.
Dive into the ocean depths for great payouts and adventures.

Ugga Bugga

Transport yourself to an exotic world with the Ugga Bugga slot, a classic slot title by Playtech. Since its release in 2006, this slot has captivated players worldwide with its rich colors and captivating atmosphere.

Immerse yourself in the unique ambiance of Ugga Bugga and enjoy its impressive Return to Player (RTP) of 99.07%. Let the reels spin and see what riches await you in this exciting slot game.

Exotic world with rich colors and captivating atmosphere.
Impressive Return to Player (RTP) of 99.07% for exciting wins.
Spin the reels and uncover the treasures of Ugga Bugga.

Mega Joker

Get ready for a joker-themed slot adventure with Mega Joker. This Playtech slot features a unique gameplay mechanic where paylines are activated by wagering ten coins.

Keep in mind that this slot's Return to Player (RTP) of 99% is achieved when the supermeter mode is active, allowing you to bet up to 200 coins for even bigger wins. Experience the excitement of the Mega Joker slot and see if you can land the joker's jackpot for massive rewards.

Joker-themed slot adventure with unique gameplay mechanics.
Activated paylines with a wager of ten coins.
Supermeter mode: Up to 200 coins for bigger wins.
Table Games
Table games provide a classic betting experience in Alberta, Canada. Most establishments across Alberta offer a variety of table games, so purists always have something to check out.
Roulette

Roulette is a popular table game that offers thrilling gameplay and the chance for big wins. Here's a brief overview of the rules, gameplay, and layout of roulette:

Rules: In roulette, players place bets on where they think the ball will land on the roulette wheel. This roulette wheel consists of numbered pockets, ranging from 0 to 36. Players can bet on individual numbers, groups of numbers, or even/odd or red/black.
Gameplay: Once bets are placed, the dealer spins the roulette wheel in one direction and releases a small ball in the opposite direction. As the wheel slows down, the ball eventually lands in one of the numbered pockets. If the ball lands on a number or category that a player has bet on, they win.
Layout: The roulette table features a grid with numbers and various betting options. The wheel is usually placed at one end of the table, while the betting layout is on the other end. Players place their chips on the desired betting areas to indicate their bets.

Blackjack

Blackjack is a classic card game that offers strategic gameplay and the opportunity to beat the dealer. Here's a brief overview of the rules, gameplay, and layout of blackjack:

Rules: The goal of blackjack is to have a hand total that is higher than the dealer's without exceeding 21. Number cards are worth their face value, face cards (king, queen, jack) are worth 10, and the ace can be worth either 1 or 11, depending on the player's choice.
Gameplay: Players are dealt two cards face up, while the dealer receives one card face up and one card face down. Players then have the option to take additional cards (hit) to improve their hand or stay with their current hand (stand). The dealer follows a set of rules to determine their actions.
Layout: The blackjack table typically accommodates multiple players and features a semi-circular shape. The dealer stands behind the table and deals the cards. Each player has an individual betting area in front of them, and the layout of blackjack includes areas for additional bets such as insurance or side bets.

Baccarat

Baccarat is an elegant and sophisticated card game that offers simplicity and excitement. Here's a brief overview of the rules, gameplay, and layout of baccarat:

Rules: Baccarat involves comparing the hands of two participants, the player and the banker. The goal is to have a hand total closest to 9. In baccarat, face cards and tens have a value of zero, while other cards are worth their face value. If the total exceeds 9, the second digit of the total becomes the hand value.
Gameplay: Players place bets on whether they think the player or the banker will have the higher hand total or if it will be a tie. The dealer deals two cards to the player and two cards to the banker according to specific rules. The hand closest to 9 wins.
Layout: The baccarat table typically accommodates multiple players and features numbered areas for players to place their bets. The dealer stands at the center of the table and controls the gameplay. The layout includes sections for player bets, banker bets, and tie bets.
Poker Rooms
Alberta's poker scene is thriving, with a total of 108 poker tables spread across 19 poker rooms in the region. Poker variants range from NL Texas Hold'em and Limit Holdem to Crazy Pineapple and Pot Limit Omaha, among others.
One of the region's most notable poker players is Kevin Martin, a professional poker player from Calgary, Alberta. Martin has gained fame through his online poker live-streaming on Twitch, where he streams to tens of thousands of poker enthusiasts.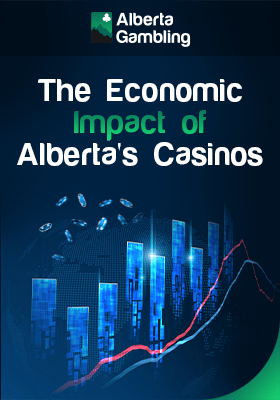 The Economic Effect of Alberta's Casinos
Alberta's casinos serve as significant economic powerhouses, creating jobs, generating revenue, and boosting tourism. This section will delve into the quantitative impact of these gambling establishments, exploring employment statistics, revenue details, and their influence on Alberta's tourism sector.
Revenue Generated from Alberta's Casinos
These establishments are significant revenue generators, contributing greatly to the provincial economy. This industry contributes $15.3 billion directly to the economy of Canada, with a large portion of this revenue supporting government programs and services.
The industry's investment in capital construction is nearing $10 billion, placing it on par with other major sectors in terms of economic contribution in Canada.
Job Creation in the Casino Industry
The casino industry is a major employer in Alberta, creating and sustaining 43,342 jobs, including direct employment in gambling operations and employment in professions that service and support this sector.
Employment opportunities range from Table Games Dealer and Casino Server to VIP Host and Facilities Assistant Manager, with salaries varying by position.
The Effect On Alberta's Tourism
Canadian casinos have a notable impact on Alberta's tourism industry, drawing numerous tourists and encouraging many visitors to partake in betting activities.
Notably, a larger percentage of non-immigrants (69.7%) in Canada reported gambling in the past year, compared with immigrants (51.9%). Indigenous people reported higher rates of gambling in the past year than non-Indigenous people (72.4% versus 64.2%), contributing to the vibrancy of Alberta's gaming scene.

Responsible Gambling in Alberta
This section discusses responsible gambling in Alberta, highlighting the importance of understanding the risks associated with it and exploring the various resources available for maintaining safe and healthy habits.
We will also recommend various strategies and programs casinos employ to promote responsible gambling.
The Risks of Gambling
Every spin of the slots or hand of poker has two sides – thrilling entertainment and potential risks. These risks pose significant challenges to individuals and communities, shaping the socio-economic landscape.
Addiction and its Impact
Gambling addiction is a significant risk associated with unchecked betting habits. Addiction can lead to financial hardships, strained relationships, and overall deterioration of mental and emotional well-being.
Socio-economic Consequences
The socio-economic consequences of gambling-related issues are substantial and impact communities. Financial strain on individuals and families can result from excessive indulgence, leading to debt and financial instability. Communities may face increased social costs, such as crime rates and strained social services, due to these problems.
In light of these risks, it is imperative that you gamble responsibly, and use the responsible gambling tools provided by Canadian casinos and third-parties to combat gambling addiction.
Tools for Responsible Gambling
There is an array of resources available, designed to foster responsible gambling, equipped with diverse tools aimed at aiding individuals in maintaining healthy betting habits. Here are a few invaluable support systems available in the region:
Alberta Health Services: Dedicated helplines such as Alberta Health Services' 24-hour Help Line, provide timely assistance to individuals struggling with problem gambling.
Northern Addictions Centre: Northern Addictions Centre in Grande Prairie Alberta offers specialized services like Gambling Stabilization and a 20-day Residential Gambling Treatment program for those grappling with severe issues.
Gamblers Anonymous: Gamblers Anonymous operates a fellowship where people with common gambling problems can share their experiences and strength, offering an opportunity for mutual recovery.
The Alberta Gaming, Liquor and Cannabis Commission (AGLC): The AGLC promotes socially responsible gambling by providing informative resources and implementing policies and regulations.
Self-help Tools: Numerous websites, including 'Brain Connections', 'Gambling, Gaming & Technology Use (GGTU)', 'Problem Gambling Resources Network', and others offer a wealth of information and self-help tools.
There are also collaborations with various organizations like the Responsible Gambling Council, Canada Safety Council, and Alberta Gaming and Research Institute that provide valuable information and support for problem gambling.
Alberta's Casinos and Their Responsible Gaming Initiatives
Canadian casinos take responsible gambling seriously, making conscious efforts to foster a culture of mindful play. Several proactive initiatives undertaken by operators highlight their commitment to promoting responsible gambling.
Self-Exclusion Program: This is an effective tool that allows individuals to exclude themselves voluntarily from all gambling and racing entertainment centres. This initiative, combined with professional support, has proven to be a fruitful way of curbing gambling issues.
'Deal Us In Casino Staff Training' and the 'Anti-Money Laundering (AML) Training': These employee training protocols equip workers in the industry with the knowledge and skills to identify problematic behaviours and patterns in bettors, and reduce the risk of money laundering activities within the premises.
In essence, Alberta's casinos play a crucial role in supporting responsible gambling, helping players enjoy their experience while maintaining a healthy balance.

Technology's Game-Changing Role in Alberta's Casinos
Gambling, both online and physical, has been revolutionized by technology. Casinos have been able to redefine player experience, increase operational efficiency, and enhance security measures, all thanks to this technological transformation.
This section will discuss the role of technology in Alberta's casinos, as well as exploring the rise of online platforms in Canada, the innovative technologies used here, and the pivotal role of security measures at these facilities.
The Emergence of Online Casinos in Alberta
Technology has ushered in a new era for the online casino industry in Canada: the rise of online platforms. The availability and popularity of online platforms have experienced significant growth among Alberta's residents, which has reshaped the traditional casino experience.
iGaming sites in Alberta, free from space constraints, offer a plethora of attractions, from poker and blackjack to innovative live dealer titles and themed slot machines. This abundance of choices and the elimination of waiting times significantly improve the player's experience.
Online platforms lack physical interaction, but the convenience and privacy they offer attract a different demographic of players, including introverts who prefer a more personal experience.
Regarding rewards, online casinos in Alberta provide bonuses that enhance the players' chances of winning, such as no-deposit bonuses, loyalty bonuses, and cashback.
Cutting-Edge Innovations in Casino Games
Technological advancements have significantly influenced the evolution of casinos in Alberta. The introduction of skill-based gaming machines (SGMs), virtual reality (VR) and augmented reality (AR) applications, as well as the integration of mobile platforms, have created a richer and more engaging environment.
Skill-based gaming machines: These offer a unique blend of traditional casino with the interactive and skill elements of arcade and video games. This innovation adds a new level of engagement to the experience, making it more immersive for the players.
VR and AR technologies: These have opened up new horizons for online platforms. These immersive technologies enhance the user experience by providing a more interactive and realistic environment.
VR technology, for instance, allows players to experience a three-dimensional casino environment, interact with other players, and even play poker in a realistic manner, thus bringing the physical casino experience right to the comfort of their homes.
These advancements showcase the potential of technology in redefining the experience in casinos. As the adoption of these technologies grows, it is expected to take the industry to new heights of innovation and player engagement.
Enhanced Security Measures in Alberta's Casinos
Alberta's casinos are heavily invested in implementing robust security measures to protect their customers. Be it the surveillance systems in land-based facilities or the cybersecurity measures in online platforms, the safety of the players is a top priority.
Land-based facilities are equipped with state-of-the-art surveillance technologies, which include numerous CCTV cameras and armed security personnel, to ensure the safety of the players.
On the other hand, iGaming websites prioritize cybersecurity measures to protect customer data from potential cyber threats.
Moreover, to combat money laundering and terrorist financing, casinos in Alberta adhere to the obligations as mandated by the Proceeds of Crime (Money Laundering) and Terrorist Financing Act (PCMLTFA) and associated Regulations.

Alberta's Vibrant Casino Culture
Casino culture is much more than a thriving industry. It's a vibrant community, a social hub, and a significant player in charitable endeavors. Alberta's casino community includes thrilling games, high-stakes tournaments, social bonding, and altruistic contributions.
Let's explore Alberta's casino culture and community, including the thrills of live events and tournaments, the captivating social aspect, and the philanthropic spirit reflected in this industry's charitable contributions.
Celebrating Casino Events and Tournaments in Alberta
From Edmonton to Calgary, there are numerous events that keep the spirit of gaming alive and exciting. The roll of a dice, the flip of a card, the spinning of a roulette wheel – these become much more than simple games when combined with the exhilaration of high-stake tournaments and events.
Pure Deepstack Tournament: Playing a hand in Alberta's vibrant poker scene, this tournament takes center stage 3/4 Sundays a month. Whether you are at Casino Edmonton on the 1st Friday, Casino Yellowhead on the 2nd Saturday, or Casino Calgary on the 2nd last Sunday, you're guaranteed an unforgettable experience.
The Alberta Poker Index: For 2023, two new categories – the Top Senior and Top Female Player of the Year were introduced, ensuring that every card dealt in a game over $225 doesn't go unnoticed.
Poker Tournaments in Calgary: Calgary boasts an array of prestigious poker tournaments. Cash Casino's 2023 Poker Tournaments, particularly the Annual Calgary Classic Poker Tournament, draws poker enthusiasts from Calgary, Edmonton, and all across Canada for a shot at the substantial prize pool.
Meanwhile, Pure Casino Calgary and Cowboy's Casino raise the stakes with their high-profile poker events, such as the Pure Poker Championship and the Cowboy's Poker Open.
Grey Eagle Poker Tournament: Grey Eagle, an around-the-clock poker haven, teases players with its poker tournament. Not just limited to poker, Grey Eagle Casino is also the venue for the thrilling MUAY THAI WORLD CUP 8, thus proving the versatility of entertainment that these establishment's provide.
Charity and Alberta's Casinos
At the heart of Alberta's casino culture lies a strong commitment to giving back to the community. In 2018, almost 20,000 charitable organizations benefited from this industry, raising a total of $347 million according to Alberta Gaming Liquor and Cannabis.
These Canadian casinos in Calgary, Edmonton, and across the province have shown their unwavering support to various charities, significantly impacting local communities.
So whether you're a seasoned player, a social butterfly, or a philanthropist at heart, casinos have something to offer everyone.
Beginner's Guide to Alberta's Casinos
As the crème de la crème of Canadian destinations, Alberta's casinos offer a splendid fusion of exhilarating games, high-octane entertainment, and a truly warm Canadian welcome.
Whether you're an avid gambler, an entertainment enthusiast, or a wanderlust traveler, this guide will help you plan your journey. We'll recommend the best times to visit, what to anticipate on your first outing, and invaluable tips to make your experience more enjoyable.
Understanding Casino Season in Alberta
Alberta's casinos are fun to visit all year round, but some periods are more attractive than others.
The June to August window is when we recommend you visit, though you will have to put up with slightly pricier accommodations. Although the weather may tip towards cooler temperatures, it is also accompanied by occasional rain.
While weekdays and weekends both have unique appeals, the real jackpot lies in aligning your visit with the events that take place all over the province. Imagine starting your evening at Blackjacks' Bike Night in Nisku, with the rumble of a thousand motorbikes, live music, and the lure of a delectable $7 buck burger.
Or perhaps you'd prefer a sweeter ride at the Sugar Burlesque Rodeo, where cocktails and cabaret performances promise a wild western night of entertainment.
Festivals like the Afro-Caribbean Festival or the Calgary Night Market add an extra dash of culture and diversity to your holiday. And all this is just a sneak peek into the excitement that awaits you!
Preparing for Your First Alberta Casino Experience
Stepping into Alberta's casinos is quite exciting. From the clink of the slot machines to the buzz of the roulette wheel, the atmosphere is infectious. However, there are a few guidelines to keep in mind before you set off.
Dress Code
Alberta casinos generally have a casual dress code, allowing you to dress comfortably while still looking presentable. Choose attire that is stylish and reflects your personal taste while adhering to basic decency.
Avoid clothing with offensive prints, slogans, or messages that may be deemed inappropriate. Remember to wear appropriate footwear, as some establishments may have specific requirements.
Be aware that certain events or areas within the facility may have a more formal dress code, so it's good to check in advance if you have any specific plans.
Legal Age of Gambling
The legal age for gambling in Alberta is 18 years old. If you appear to be under the age of 30, be prepared to present a valid identification document to confirm your age.
Acceptable forms of ID may include a driver's license, passport, or government-issued identification card. It is important to comply with age restrictions to ensure a safe and responsible environment.
House Rules
Maintain a respectful demeanor and follow the house rules. Refrain from excessive alcohol consumption, as it can impair judgment and impact your overall experience.
It is strictly prohibited to carry weapons or any dangerous objects onto the premises, including pocket knives. Management reserves the right to refuse entry or ask individuals to leave if they do not comply with the established rules and regulations.
Familiarize yourself with any specific guidelines or policies of the establishment you plan to visit to ensure a smooth and enjoyable experience.
Maximizing Your Alberta Casino Experience
What's better than a visit to an Alberta casino? Squeezing every ounce of fun out of it, that's what! Your adventure can be a memorable one with a bit of planning.
Budgeting
Set a budget for your visit to ensure responsible gambling.
Determine your spending limits for dining, entertainment, and playing.
Consider using prepaid cards or digital wallets for better financial control.
Game Selection
Familiarize yourself with the variety of offerings.
Choose ones that match your preferences and skill level.
Explore both table games and slot machines for a diverse experience.
Take a Break
Pace yourself and take breaks during your play sessions.
Enjoy the other amenities offered by the casino, such as dining and entertainment.
Use breaks to relax, refresh, and recharge for a more enjoyable experience.
Final Thoughts: Alberta's Casinos
Alberta's casinos blend history, entertainment, and economic prosperity, spanning Calgary to Edmonton. They feature innovative technologies, fair play, and a commitment to responsible gambling. The economic impact is substantial, contributing to Alberta's thriving economy and creating employment opportunities.
Beyond economics, Canadian casinos offer a unique culture, with thrilling games and mesmerizing entertainment. Each facility has its own charm, fostering a sense of community.
Experience the excitement, anticipation, and joy of gaming in Alberta. The vibrant casino culture awaits you. Whether in Calgary or Edmonton, it's time to join the action and be a part of this thriving world.
FAQ
What is the legal gambling age in Alberta?

The legal gambling age is 18 years old.

What are the top-rated casinos in Alberta?

Some of the top-rated casinos include the River Cree Resort, the Grey Eagle Resort, and the Deerfoot Inn and Casino.

How does Alberta regulate its casino industry?

Alberta regulates this industry through the Alberta Gaming, Liquor, and Cannabis Commission (AGLC), which oversees licensing, compliance, and responsible gambling initiatives.

What games are most popular in Alberta?

The most popular types in Alberta include slot machines, blackjack, poker, and roulette.

How do Alberta's casinos contribute to the local economy?

The casinos contribute to the local economy through job creation, tax revenue, tourism spending, and supporting other industries such as hospitality and entertainment.