Responsible Gaming at Alberta Online Casinos - A Detailed Review
Online gambling is one of the favourite pastime activities for Canadians, with statistics showing that more than 64% of Canadians aged 18 or older have engaged in some form of online gambling in the past year. Most Canadians have played some games of luck during their adult life, such as bingo, lotto, or a hand of poker.
The rapid growth of the iGaming industry has brought other popular forms of gaming, such as slots and sports betting, to the masses. Many see them as quite standard, harmless activities and to most people - they are. However, gambling can become problematic and downright dangerous to people who are suffering from a gambling addiction - which is why there are many responsible gaming organizations in Alberta and Canada, as well as worldwide.
Everyone who practices any form of gambling should remain aware of responsible gaming principles, which is why we've come up with this guide. In our guide, we'll discuss what this entails, how and where Alberta players can look for help if they suspect that they or someone they know is struggling, and how to capitalize on the tools available.
Responsible Gaming in Alberta: All You Need to Know
Thanks to all the measures taken by the authorities and responsible gambling organizations, most players are well aware of the dangers gambling addiction can pose and engage in gaming activities safely and healthily. However, sometimes it's impossible to see the dangers of addictive gambling before it's too late, which is why taking precautions is always recommended. You don't want to gamble on this one - so always make sure to gamble responsibly.
To put it simply, responsible gambling is a set of behaviours, practices, and rules that regulatory bodies promote and operators have to follow to prevent negative effects on players. Any form of gaming is all about fun and entertainment, so everyone should only gamble for their enjoyment and nothing else.
Fortunately for Alberta players, the Alberta Gaming, Liquor and Cannabis Commission, as well as the Canadian Gaming Association make sure to promote responsible gambling in Alberta. This means incorporating different Alberta responsible gaming practices and principles whenever possible.

Responsible Gaming Practices and Principles in Alberta
There are several responsible gaming practices and principles that both the regulatory body and operators in Alberta should follow. When it comes to online gaming, the rules indicate that the regulatory body must ensure the fairness and integrity of gambling operations at all times. Besides, it should prompt awareness of the dangers related to gambling and help individuals that struggle with gambling addiction - including minors.
On that note, the regulatory body makes sure to prevent underage gambling and encourage ethical marketing. Moreover, it ensures a safe, reliable, and secure online gaming environment at all times while promoting fair gaming practices and complete information privacy.
Ensuring the Fairness and Integrity of Online Gambling Operations

The regulatory body ensures the fairness and randomness of the games available at all legal Alberta casinos and sportsbooks. In other words, it makes sure that the games are not rigged. While many players still believe that the games are rigged, operators are obliged to display the RTP percentage (Return To Player) of every game that's available on their site. Moreover, some operators are further audited by third-party testing agencies to guarantee game fairness.

Preventing Underage Gambling

Contrary to many other provinces and territories across Canada, the legal gambling age in Alberta is 18. Both the regulatory body and operators work hard to prevent underage gambling by any means possible.

All players are required to verify their accounts by providing government-issued documents such as an ID, driver's license, and passport, as well as confirming their phone numbers.

Prompting Awareness of the Dangers Related to Gambling

All legally-operating gambling sites are obliged to prompt awareness of the dangers related to gambling addiction and offer gambling help. Moreover, the regulatory body makes sure that operators follow these practices and provides policies, regulations, tools, and resources to educate and inform Albertans on the matter.

The AGLC also encourages every player to use GameSense - a Canada-exclusive responsible gaming program that provides many tools and resources on addictive gambling help.

Helping Individuals Struggling with Gambling Addiction

Besides promoting awareness of the potential dangers gambling can bring along, the main purpose of programs offering responsible gambling help in Alberta is to help individuals struggling with gambling addiction.

All legally operating gambling sites must implement a self-exclusion program through which players can exclude themselves from gaming. Moreover, the regulatory body mandates that GameSense tools and resources must be displayed in every venue - including online gambling sites.

Implementing Anti-Money Laundering Procedures and Policies

The AGLC works hard to ensure the process of the Anti-Money Laundering program and has even developed an online AML training and certification course. All registered gaming workers must complete the online training course to be AML certified as a precondition of their employment.

Responsible and Ethical Marketing

Operators are encouraged to engage in responsible and ethical marketing. Although the ultimate scope of marketing is to sell the product or, in this case, to attract more customers, online gambling operators must not use misleading marketing campaigns and 'trapping' marketing techniques that stray away from responsible practices.

Ensuring Safe, Reliable, and Secure Online Gaming Environments

The operators, regulated and audited by the regulatory body, are obliged to ensure a safe, reliable, and secure online gaming environment for all players at all times. That includes performing a KYC check when it comes to money transactions to make sure that the money doesn't end up in the wrong hands, as well as modern encrypting services such as SSL to guarantee information privacy and security.

Promoting Fair Gaming Practices

The AGLC mandates that operators must promote fair gaming practices at all times. The regulatory body indicates that operators should not only comply with the regulations but encourage players to have fun and make informed choices about their gambling habits.

Promoting Information Privacy

Information privacy is of utmost importance in today's day and age, which is why operators must implement an encryption security protocol that provides privacy, authentication, and integrity to online communications.

Alberta Responsible Gaming – Who Is in Charge?
The Alberta government agency that regulates, oversees, and audits all gambling-related activities is the Alberta Gaming, Liquor and Cannabis Commission (AGLC). Besides gaming, the agency regulates alcoholic beverages and recreational cannabis markets.
Founded in 1996, the agency follows the Gaming, Liquor and Cannabis Act and the Canadian Criminal Code. All gaming activities in the province are regulated by the AGLC, and it is the only regulatory body that has the power to license third-party gambling operators.
Alberta Gaming, Liquor and Cannabis Commission

AGLC incorporates the unique charitable gambling model, which means that all revenue made from casino events, bingo, pull pickets, and raffles within the province are distributed back to Albertans. The agency earned $321 million in 2019 and 2020 alone, out of which over 71% was from casino events. The money is used to support programs and services for Albertans.

The AGLC's primary activity is to provide policies, regulations, program tools, and resources in a bid to educate and inform gamblers on responsible gaming in Alberta. Besides overseeing and regulating casino venues, casino sites, sportsbooks, lotteries, bingo rooms, and all other gambling venues, it operates the Alberta GameSense Info Centers.

GameSense

GameSense is an innovative and rather comprehensive program that's been invented and trademarked by the British Columbia Lottery Corporation, used by the AGLC under the license issued by the BCLC.

Essentially, GameSense is an information center that offers help regarding all forms of gambling to anyone that needs it. It combines well-known responsible gambling help recommendations with a number of interactive tools, exhibits, and guides meant to engage Alberta players at land-based venues and online gambling sites.

GameSense operates both online and offline. The GameSense Info Centers are interactive kiosks that are located on the gaming floor in all Alberta casinos, but you can also reach a GameSense Advisor online through the official website.
The AGLC recommends all players use GameSense to stay on the right track and avoid falling into the pitfall of problem or addictive gambling. You can engage with GameSense through the Alberta Gaming, Liquor and Cannabis Commission, by visiting the official website, or the regulator's social media pages listed below.
AGLC on YouTube - https://www.youtube.com/user/AGLCdotCA
AGLC on LinkedIn - https://www.linkedin.com/company/aglc/
AGLC on Twitter - https://twitter.com/AGLC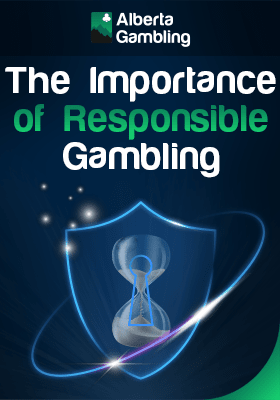 Why Responsible Gaming Policies Matter
Although responsible gaming habits are mostly self-imposed sets of rules that one must follow to keep themselves from the harmful effects of gambling, these policies help users in many ways. Perhaps most importantly, it lets users know that they're not alone.
A strong support system is crucial when in need, and many Alberta responsible gaming services even offer peer-to-peer support. Besides, these policies help prevent addictive gambling in the first place by providing guides and words of advice on how gambling works, how the games work, how to play for fun, and the warning signs that one might need help. Moreover, Canadian problem gambling policies also offer self-exclusion - a practice where players can exclude themselves from participating in gambling activities.
Why Legal Alberta Gambling Sites Must Promote Them?
All forms of gambling are legal in Alberta, and they're regulated and audited by the Alberta Gaming, Liquor and Cannabis Commission. It includes all casino venues, Alberta sports betting sites, online casinos, bingo halls, lotteries, VLT, and raffles. Alberta incorporates the charitable gambling model through Play Alberta, where all proceedings made by gaming in the province are distributed back to the community.
Regarding Alberta's gaming policy, the AGLC mandates that all operators must include some of the resources and tools that GameSense provides on their sites or casino floors.
In fact, every casino floor in Alberta has a GameSense Info Center kiosk, and all registered gaming workers must complete an online training course to be AML certified. For a gambling site to operate legally in Alberta and maintain a license from the AGLG, it must enforce responsible gaming practices too.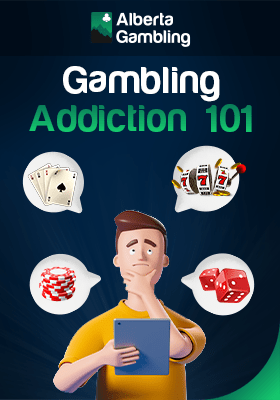 What is Gambling Addiction?
Although gambling addiction is often compared to substance abuse, such as the ones found in alcohol and drug dependence, there are some criteria such as chasing losses that are unique to gambling. The symptoms that make gambling addiction comparable to alcohol and drug addiction are the inability to quit and the increasing tolerance by increasing the amount gambled.
People suffering from gambling addiction often have other risk factors that predispose other addictive behaviours, such as previous psychiatric problems, a lack of community support, or difficult home life.
Oftentimes, people struggling with other addictions will turn to gambling as an alternative in an attempt to get their mind off the substances they've been abusing, or worse, as an attempt to earn quick money to buy substances.
Unfortunately, addictive gambling can be equally unhealthy and life-ruining. The first step towards battling gambling addiction is to admit that you have a problem and accept help willingly. Thankfully, gambling addiction is treatable, and help is available.
There are numerous tools and practices in place that offer addictive gambling help in Alberta, and if you suspect that you or anyone you know might become addicted to gambling, don't hesitate to ask for help.
Gambling Addiction vs Problem Gambling
In comparison to gambling addiction, problem gambling is a broader term that's used to describe different patterns of harmful gambling behaviour. A person with a gambling problem does not necessarily suffer from gambling addiction, but the different patterns may harm the person's relationships with their family, as well as their financial situation.
The term 'pathological gambling', albeit somewhat synonymous, indicates a mental health disorder of impulse control. Although problem gambling and gambling addiction, as well as compulsive gambling, are related, the former often represents the symptoms that indicate the illness, while pathological gambling or addiction is the illness.
Compulsive gambling, on the other hand, stands between the above-mentioned terms and is used to describe a condition when a person cannot control the urge to keep gambling despite being aware of the toll it takes on their life.
Physical Signs of Gambling Addiction
Contrary to popular belief, gambling addiction can cause different physical symptoms, and there are several signs to be wary of. As gambling addiction is closely linked to depression and anxiety, it can lead to sleep deprivation, which can lead to headaches, nausea, lack of appetite, insomnia, and even stomach issues.
Frequent Headaches

Gambling addiction is closely related to frequent headaches - mostly due to the lack of sleep and frequent adrenaline fluctuations. A large percentage of people suffering from gambling addiction have reported frequent headaches as one of the most common symptoms.

Nausea

The frequent headaches are often accompanied by nausea, mostly due to the emotional stress and fear related to gambling activities. The nausea symptoms are mostly present in the morning after a long gambling session or after a huge loss.

Lack of Appetite

Closely related to all the other physical symptoms of gambling addiction, a lack of appetite is one of the common symptoms as well. It's usually manifested throughout or after long gaming sessions, especially if the outcome is negative. Addictive gamblers often lose track of time and when they've last eaten while gambling.

Insomnia and Other Sleep Problems

One of the most common symptoms related to depression and anxiety is insomnia. Many gambling addicts suffer from insomnia and other sleep problems, which are closely related to the psychological signs of gambling addiction.

Stomach Issues

Stomach issues such as diarrhea and vomiting are closely related to nausea, and they're also common among people suffering from gambling addiction.
Psychological Signs of Gambling Addiction
Despite the physical symptoms, addiction is primarily a psychological issue that can cause new mental health issues, such as anxiety, high levels of stress, and depression. Although it often roots from some of these issues, it can worsen any previous conditions a person may suffer from.
Gambling addicts often experience some psychological symptoms such as anxiety, frequent mood swings, inability to focus, nervousness, rage, increased irritability, and feelings of guilt.
Anxiety and Agitation

Anxiety, depression, and agitation are closely related, and they're all some of the most common symptoms related to gambling addiction. They're some of the first symptoms correlated with problem gambling as well, and if in an early phase, these can be considered the first warning signs that a person might need help.

Very Frequent Mood Swings

Due to the nature of gambling, mood swings are an inseparable part of gambling. When a person is winning, their mood is elevated, but when a loss strikes, the mood immediately shifts. However, if the mood swings are too severe and too frequent, that might signal a gambling addiction symptom.

Concentration and Memory Issues

Memory issues and a lack of focus are closely related to agitation and stress, and they're common with addictive gamblers - especially after a long gaming session.

Poor Judgement

One of the biggest problems related to addictive gambling is poor judgment. Although a person might have good judgment at the beginning of a gaming session, the length of the session, the lack of concentration, and the frequent mood swings can lead to poor judgment - which is often demonstrated by chasing losses.

Nervousness and Defensiveness

The first step towards battling gambling addiction is admitting that you have a problem. However, the first step is also the hardest one, and many gamblers get defensive when they're forced to face the reality.

Increased Irritability and Temper

Another symptom closely related to stress, anxiety, and sleep deprivation, it's common for people suffering from gambling addiction to lose their temper easily and be easily irritated.

Feelings of Guilt

The feeling of guilt burdens many addicted gamblers, but unfortunately, it only comes after a long and unsuccessful gambling session.

Various Stress-Related Symptoms

Stress is the root of all gambling-related problems, and it's manifested through various signs and symptoms. Although many players start gambling to relieve stress, in some cases, it can lead to increased stress levels.
Social and Behavioral Signs of Gambling Addiction
Although the physical and psychological symptoms of addictive gambling are not one-fits-all and can differ from person to person, they're often hard to notice because they usually require the person struggling with such a condition to open up and seek help.
However, the behavioural and social symptoms of gambling addiction are usually easier to notice and present in all forms of gambling addiction. They include gambling away large amounts of money (usually outside of the person's planned bankroll), gambling for longer than planned, borrowing money to gamble, loss of control, social isolation, and denial.
Gambling Away Inheritance or Savings

Gambling addicts often resort to gambling away their savings or inheritance, or even worse, turn to loans from banks and even remortgage their homes to bet more or return previous loans. The people who suffer the most are the gambler's family, whose needs and financial matters are put off or ignored.

Gambling for Longer Than Planned

Gambling addicts often feel compelled to keep playing until they spend their last dollar - which is usually much longer than they initially planned.

Preoccupation with Gambling

In a later phase of gambling addiction, some gamblers can't think of anything else but gambling. It interferes with their ability to work, maintain a healthy lifestyle, or even eat and sleep.

Extreme Urge to Gamble and Loss of Control

Gambling addicts often lose control over their emotions and their urge to gamble. This is why peer-to-peer support is important and is often a part of many help services.

Borrowing Money to Gamble

One of the most disheartening problems related to gambling addiction is borrowing money to gamble. Many addictive gamblers borrow money from banks, usurers, their family and friends, or even sell their possessions to gamble.

Continuing to Gamble Despite the Harms

As with any other addiction, it's hard to stop, and many gambling addicts make repeated unsuccessful attempts to reduce their gambling behaviours. On the contrary, some believe that their luck will turn and continue to gamble despite being aware of the harm done.

Social Isolation

Self-isolation is a symptom closely related to depression and anxiety, but with gambling addiction, it's even worse when a person feels that they have to isolate themselves from their friends and family due to gambling-related loans.

Denial

As we said, admitting you have a problem is the first step towards battling gambling addiction. However, many gambling addicts believe that they have their gambling under control and deny that they have any of the symptoms listed above in the first place.

Where to Get Help? Alberta Responsible Gaming Organizations
The Alberta Gaming, Liquor and Cannabis Commission takes responsible gaming in Alberta very seriously and mandates that all legally operating gambling sites and venues have the policy in place.
Despite this, there are several independent organizations available to Albertans, including the Problem Gambling Resources Network Alberta, the AGLC GameSense, MyHealth Alberta, Alberta Gambling Research Institute, Our House Addiction Recovery, and the Alberta Health Services (AHS) Addiction Helpline.
Problem Gambling Resources Network Alberta

The Problem Gambling Resources Network Alberta (PGRN) is a non-profit and non-government organization that's been present since 1993 and is constituted under the Societies Act of Alberta.

It raises awareness, gambling addiction help, education, prevention, and treatment referrals to all Albertans struggling with gambling. It also works closely with Alberta Health Services to ensure that effective services are available for all Albertans.

AGLC GameSense

Trademarked by the British Columbia Lottery Corporation, GameSense is a program and service that's also used by the AGLC. It offers various interactive tools, guides, and exhibits, but it also offers active help to anyone struggling with gambling. Additionally, it hosts GameSense Info Center kiosks on all casino floors where players can talk to an agent.

My Health Alberta

MyHealth.Alberta.Ca is a service that offers trusted, easy-to-use health and wellness resources from Alberta Health Services. It's also partnered with organizations and health experts across Alberta, offering guides and advice on gambling, recognizing symptoms mentioned above, prevention, and where to look for help if you need it.

Alberta Gambling Research Institute

Funded by the Government of Alberta, the Alberta Gambling Research Institute is a consortium of the University of Calgary, the University of Lethbridge, and the University of Alberta, and offers players support while promoting university-level research into gambling.

Our House Addiction Recovery

The Our House Addiction Recovery Centre is located at 22210 Stony Plain Rd NW in Edmonton, Canada. It offers a residential addiction recovery program to men aged 18 or older through shared accommodations of its 30-room facility.

The program lasts for a year and includes different modules designed to equip residents with the tools for long-term recovery. The Centre offers outreach services to the people of Alberta including individual and family counselling as well as different courses, with the main purpose to reduce the effects of addiction and related mental health issues.

Alberta Health Services (AHS) Addiction Helpline

The Alberta Addiction and Mental Health Help Line is a confidential service that provides 24/7 support and information on mental health concerns and struggles with addiction, including problem gambling in Alberta.

The team consists of nurses, psychiatric nurses, social workers, occupational therapists, and psychologists, working towards a well-rounded service available to all Albertans for free with a toll-free line at 1-866-332-2322.
Other Responsible Gaming Organizations in Canada
Besides the Alberta-based organizations, there are also organizations that operate nationwide and offer gambling help in Canada, including the Responsible Gambling Council, the Partnership, the National Centre for Responsible Gaming, and the Responsible Gaming Network.
Responsible Gambling Council
The RGC is an independent non-profit organization that's been working in the prevention of problem gambling in Canada and globally for over 3 decades. They're dedicated to reducing the risks of gambling through innovation, awareness, and improved safeguards, as they promote safer gambling in communities around the world. The RGC website offers numerous informative articles and leaflets that aim to display the risks of gambling in a clear and informative manner with various tools that problem gamblers can use. Moreover, the Council recently launched an online gambling PSA in collaboration with thinkTV in an attempt to educate the public on the risks of online gambling in Alberta too.
Canadian Partnership for Responsible Gaming
Commonly known as The Partnership, this is one of the largest networks in Canada that works with several organizations in the country to advance responsible gambling and encourage safer play. All parties within the Partnership collaborate to build and share knowledge that challenges and influences decision-making within organizations and offers help for problem gambling in Canada.
National Centre for Responsible Gaming
The National Center for Responsible Gaming was established in 1996 and has since launched a field of study to explore gambling disorders. Moreover, it funded some of the most important research in the US and around the world on the matter and aims to help individuals and families affected by gambling disorders by providing first-class research and evidence-based education programs.
Responsible Gaming Network
RGN is a non-profit organization on a mission to raise awareness about the issue and provide genuine assistance to people who are dealing with gambling addiction. The site provides various online resources, such as a responsible gambling checklist, a list of treatment providers, as well as numerous articles on responsible gambling. Moreover, the RGN is a gaming encyclopedia and offers all the information one might need to make informed decisions and keep it fun and safe.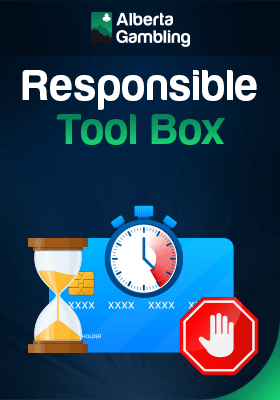 Tools Available in Alberta
All legally operating gambling sites in Alberta must have a set of responsible gambling tools available to their players. They include the ability to set deposit limits and betting limits, opt for self-exclusion, request a cool-off time, and impose session limits.
Deposit Limits
Casino operators allow users to set deposit limits, thus allowing them to be in control of their bankroll. Additionally, some casino sites impose deposit limits on players that might have a gambling problem, thus limiting the amount of money they can deposit to their betting account.
Betting Limits
Betting limits, or wagering limits, is a tool that allows players and/or operators to limit the amount a player can wager on a given day or a week. Once the player reaches their limit, they won't be able to continue wagering. Imposing betting limits is a beneficial tool because it allows players to manage their bankroll efficiently and protect any winnings they have made.
Self-Exclusion
A popular tool for gambling addicts, self-exclusion means an official exclusion from participating in online gaming. It can be done directly on the casino site or through a program or service, where players can choose the duration of the exclusion themselves.
It can last for a month, a few months, or a few years. With self-exclusion, the player's name and information will be submitted to all legally operating sites in Alberta, as well as the AGLC.
Cool-Off
Popularly known as time-out sessions, cool-off sessions are a more drastic measure when compared with setting deposit and betting limits, but less drastic than self-exclusion. They allow players to suspend access to their betting accounts at legal Alberta gambling sites for a limited amount of time - usually between one day and a month.
However, some sites offer cool-off periods of up to 6 months. During the cool-off time, players won't be able to log into their accounts, make transactions, or place any wagers.
Session Limits
Session limits enable players to specify how long they would like to be able to remain logged into their accounts at sports betting sites. Players can set up daily or weekly limits, indicating how much time they would like to be able to play at the casino site. When the time is up, the session will expire, and the player will no longer be able to log in to their account until the next day or week.
How Do Alberta Responsible Gaming Organizations Compare With International Organizations?
Canada is among the leaders when it comes to player help and raising awareness of the problem of addictive gambling. Many Canadian organizations, such as the Responsible Gambling Council, cooperate with the most successful problem gaming organizations in the world, such as the British BeGamble Aware, GamStop, GamCare, and Gambling Therapy, as well as the US Gamblers Anonymous.
Alberta Problem Gambling in Numbers
Over 80% of Albertans aged 18 or over engage in at least one gambling activity annually
Albertans wager over $23 billion on legal gambling activities annually
The AGLC generated around $1.7 billion in gambling revenue in 2018 and 2019
71 percent out of all charity funds in 2018-19 came from casino events ($347 million)
42 percent of all gambling sales in Alberta comes from online slots
There are 13,482 slot machines in 24 casino facilities in Alberta
How to Gamble Responsibly?
Gambling is all about fun. Although there's no booklet that you can read and follow to the letter, the most important thing to consider is to keep gaming as an entertainment-only activity. Don't chase your losses, manage your bankroll well, stick to your budget, and always keep track of the money as well as the time you've spent gambling.
Don't expect to win, and don't look at gambling as a means to earn money. Instead, focus on gambling as a source of entertainment and remember that the house always has a slight edge. Also, make use of all the tools at hand.
Gambling as a Source of Entertainment

Although negative emotions such as stress, frustration, anxiety, and even rage may arise while gambling, you must always remember that gambling should only be considered a fun time activity. The game should always remain an enjoyable activity, and you must stay in control of your urges and emotions. If you feel like it's slipping away, stop playing immediately.

Learn to Manage Your Bankroll

Bankroll management means being aware of your betting money at all times. Consider your bankroll budget as your household budget - always know where your money goes. Set a daily, weekly, or monthly entertainment budget, and stick to it. Also, you should learn how the different casino games work and wager as much as your bankroll allows you to.

Stick to Your Budget

A major part of learning to manage your bankroll is sticking to your budget. As said, once you set a daily, weekly, or monthly budget, make sure to stick to it. If you notice that you're running out of budget, slow down. And if you reach the limit of your budget, log out and stop playing.

Set Your Gambling Session Limit in Advance

The AGLC suggests every player uses their GameSense before they start playing, and it's the right thing to do so. Set your own gaming session limits in advance, and when the time runs out - log out and stop playing, even if you're winning.

Do Not Chase Losses

Chasing losses is trying to win back what you've lost. This is a unique trait of problem gambling, and it can only set you back even further. Never chase your losses. Instead, if you've reached your budget limit, stop playing until you can afford to do so.

Do Not Gamble When You Are Upset or Angry

Gambling can be stressful itself, but many people turn to it when they're upset or angry with other aspects of life - which is the wrong thing to do. If you feel that you're stressed, upset, or angry, stop gaming immediately and take a cool-off time.

Make Sure Gambling Does Not Interfere with Your Daily Life

If gambling starts interfering with your daily life, such as your family life, your sleep, or your work, you should consider taking a cool-off time or a self-exclusion.

Always Keep Track of the Money and Time Spent Gambling

Keeping track of the money and time you spend on gambling is an essential bit. Never spend more than you can afford, and if you notice that your gaming sessions take longer than expected, consider employing cool-offs and setting session limits.
AGLC Self-Exclusion Program for Players
If you come to a point when gambling is no longer entertainment for you, or you realize that you're just gambling too much, the AGLC has a self-exclusion program that can help you get back on track. The program lets players exclude themselves from all casinos in Alberta, including online casino sites that operate legally in the province.
How to Self-Exclude Yourself?
The AGLC self-exclusion program offers players to choose the length themselves, where the options range from as short as six months to as long as three years.
To self-exclude, participants can:
Walk up to any GameSense kiosk and speak with a representative
Go through AGLC, by visiting to one of their offices or calling 1-844-468-8034
Sign up for the self-exclusion program online by e-mailing AGLC first
Responsible Gaming at Alberta Land-Based Gambling Venues
All land-based gambling venues are mandated to promote responsible gaming. In fact, some casinos, such as the Deerfoot Inn Casino and Elbow River Casino collaborate with the AGLC to offer such services to their players. Additionally, all land-based casinos in Alberta feature a GameSense Info Centre kiosk on their casino floors where players can get information about responsible gambling.
Responsible Gaming FAQs
Where can I get information on responsible gambling in Alberta?

Numerous programs and services provide information on it, including the AGLC GameSense, which has Info Centre kiosks in every gaming venue as well as online. Other organizations that offer gambling help in Alberta include the Problem Gambling Resources Network Alberta, My Health Alberta, Alberta Gambling Research Institute, and Our House Addiction Recovery.

Is responsible gaming in Alberta taken seriously?

Yes. The issue is taken very seriously in Alberta, and the AGLC mandates that all legally operating casino sites and venues display information regarding responsible gaming and offer help to anyone that needs it.

Which organizations promote responsible gambling in Canada?

Several reputable non-profit and government-funded organizations provide services regarding responsible gaming in Canada, including the Responsible Gambling Council, National Centre for Responsible Gaming, Canadian Partnership for Responsible Gaming, and the Responsible Gaming Network.

Do Alberta players have to use GameSense?

Although Alberta players are not obliged to use GameSense, it's strongly recommended that they do so. Anyone over the age of 18 can use GameSense for free, including all its tools, courses, and guides.

Which responsible gaming tools are available to Albertans?

Albertans have some of the most popular problem gaming tools at their disposal, including self-exclusion, requesting a cool-off time, and setting deposit, betting, and session limits.