Delving into the history of gambling venues in this area, we will explore how these establishments have evolved over the years, rising as prominent landmarks within the city. Red Deer is home to three significant gambling establishments - Cash Casino, Jackpot Casino, and Red Deer Bingo Center. Each brings a unique offering, from the immersive gaming environment of traditional hubs to the infectious energy of a bustling bingo hall.
Throughout this guide, we delve deeper into their economic influence, analyzing how these places have left an indelible mark on Alberta's economic landscape. We will illuminate the visitor experiences, discussing how these establishments have seamlessly woven entertainment, dining, and gaming into a great experience.
Moreover, we will highlight the pivotal role in bolstering Alberta's tourism, acting as magnets for visitors seeking the unique blend of excitement and elegance.
This guide on AlbertaGambling.ca promises a comparative analysis of gambling establishments here and other Canadian casinos, offering insights that will equip readers with a broader perspective. As we navigate through the nuances of these entertainment hubs, we aim to present a well-rounded understanding of their commitment to ensuring a safe, fair, and thrilling gaming environment.
Join us as we delve into the realm of Red Deer's gambling scene and immerse yourself in the thrilling ambiance, intrigue, and charm.
List of Red Deer Casinos
6350 67 St, Red Deer, AB T4P 3L7

In Red Deer, Alberta, Cash Casino stands out with 500+ slots, VLTs, poker room, cash games, and tournaments. Dining adds to its allure.

Table Games
Slot Machines
Poker Tournaments
Restaurants
Events
Live Poker

4950 47 Ave, Red Deer, AB T4N 6P8

Discover Jackpot Casino Red Deer's diverse offerings - gaming, events, dining, lounge. A standout in Alberta's entertainment landscape.

Shows & Events
Slot Machines
Table Games
Restaurants
Lounge

4946 53 Ave, Red Deer, AB T4N 5J9

Discover Red Deer Bingo Centre's inclusive bingo fun, game offers, and accessibility. Diverse casino games for all preferences.
Map of the Best Red Deer Casinos

Unfolding the Historical Chapters of Red Deer Casinos
You can discover a fascinating evolution by diving into the history of casinos this place offers. The local gambling landscape has undergone numerous transformations since its early beginnings, becoming a significant part of the entertainment sector in the region. This piece explores the foundational years, their metamorphosis over time, and the promising outlook for the future.
The Birth of Casino Culture in This City
The starting point of casinos in this area can be traced back to 1995, a pivotal year marked by the inauguration of Cash Casino, a permanent fixture in the town. This establishment set the stage for the future expansion of the local industry, contributing significantly to the city's entertainment scene.
In 1997, a noteworthy development occurred with the introduction of Jackpot Casino, further bolstering the Alberta gambling culture. Since its inception, the establishment has become integral to the city's entertainment landscape, offering diverse gaming options and contributing to the overall economic vitality.
Charting the Course Over Time
A series of expansions and advancements characterize the journey these establishments went through. Over the years, both Cash Casino and Jackpot Casino have seen significant transformations in their infrastructure and offerings. They have continuously evolved to keep pace with changing industry trends and player preferences.
A landmark in the gambling narrative here came twenty years after their establishment, when the O'Chiese First Nation acquired Jackpot Casino. With a mission of community development and cultural preservation, this group has played a crucial role in moulding the trajectory of Red Deer casino culture.
The transition has resulted in job creation, infrastructure improvement, and cultural festivities, significantly enhancing the community's socio-economic fabric. As a part of their expansion efforts, they have also increased the number of gaming tables and slot machines.
Anticipated Developments
They continue to chart their growth trajectory with exciting plans and projects on the horizon. As the landscape of the local gaming industry continues to evolve, there are anticipations of further investments and enhancements in entertainment properties.
While specific details about future developments are yet to be unveiled, based on their past growth patterns and commitment to community development, one can expect continued improvements in gaming amenities and increased investments in the local community. Relevant announcements from the management and official statements will provide further insights into their expansion plans.
The journey of gambling facilities in this city, from humble beginnings to its current stature, reflects a dynamic evolution. With exciting future developments in store, more engaging chapters are to come.

Gambling Destinations
This section thoroughly overviews casinos and bingo halls in this city. These venues present various gaming choices, from timeless table games like blackjack, roulette, and poker to cutting-edge slot machines. Learn about their unique attributes, extensive amenities, and role within the vibrant community.
Cash Casino Red Deer Alberta

Centrally located in Red Deer, Cash Casino is renowned for its comprehensive offering of gaming experiences in a welcoming atmosphere. Their strategic positioning near the Calgary-Edmonton Corridor adds to the overall allure.

Key Features:

Established in 1995: A long-standing fixture of the entertainment scene.
Convenient Location: Proximity to local attractions such as golf courses and shopping centres, and equidistant between Edmonton and Calgary airports.
Gaming Variety: Over 500 slots and gambling machines, complemented by 19 gaming tables with a variety of popular games with solid payout rates.
Poker Room: Regular tournaments and special events to suit all players
Dining and More: The River and Embers Lounge provide a variety of dining options at unbeatable prices.

Operating hours extend from 9 am to 1 am from Sunday to Thursday, with extended hours until 2 am on Fridays and Saturdays.

Jackpot Casino in Red Deer

Located downtown, Jackpot Casino has grown from its inception in 1997 to become a trusted source of entertainment for both locals and visitors. As a member of the Chamber of Commerce and the Red Deer Downtown Business Association, it holds a significant place within the local community.

Standout Features:

Community Focus: A member of the O'Chiese First Nation family of businesses, emphasizing its commitment to the community.
Diverse Gaming Choices: Nearly 350 slots with varying themes and denominations, along with 19 video lottery terminals, each offering multiple gaming options.
Table Games: Eight tables for classic gambling experiences.
Slot Game Availability: Operational hours from 10 am until 3 pm, seven days a week, offering a mix of classic and new slot games, including progressive jackpots.

Table games are available from 4 pm daily, with hours extending until midnight from Monday through Thursday and until 2 am on Fridays and Saturdays.





The Effect of Red Deer's Casinos on the Local Economy
The economic significance of gambling houses here extends well beyond their bustling gaming floors. These establishments have become critical players in Alberta's economy, contributing to job creation, revenue generation, and community development. This section examines their substantial economic and social impact.
Improving Alberta's Fiscal Landscape
These establishments hold a pivotal role in Alberta's economy. They contribute a significant percentage of the province's total gaming industry revenue, although exact figures can vary year by year. These funds bolster Alberta's fiscal resources, helping to maintain a robust and resilient provincial economy.
Key Contributions:
Revenue Generation: They produce substantial revenue, adding to the economic vitality of Alberta.
Taxes and Fees: These entertainment venues pay a variety of levies, fees, and taxes to the provincial government, providing an additional stream of income to Alberta's coffers.
Supporting Employment
Casinos have significantly contributed to job creation, directly and indirectly. They offer diverse employment opportunities with a myriad of roles available across gaming, hospitality, administration, and security.
Job Opportunities:
Direct Employment: These gambling facilities employ many individuals in roles like Manager and Casual Security Guard.
Indirect Employment: Their presence indirectly supports a host of other jobs in the wider community, from roles in local supply chains to positions in associated hospitality and tourism businesses.
A Commitment to Community Enrichment
Gambling hubs in this city take pride in their engagement with the local community. For over two decades, they have formed strong partnerships and sponsored various initiatives, illustrating their commitment to the city's social and economic well-being.
Community Initiatives:
Major Contributor: Jackpot Casino, for instance, has contributed to the charitable casino and business community for the past 25 years.
Sponsorships and Partnerships: Some gambling venues engage in sponsorships of local organizations, events, and charities, further demonstrating their commitment to community development.
In conclusion, the gambling hubs here serve as more than just entertainment venues. They play an integral role in Alberta's economy, fostering employment, supporting community initiatives, and contributing significantly to the province's revenue streams.
Other Casinos in Alberta
Visit Other Cities in Alberta with Casinos

Red Deer Entertainment Hubs as Alberta's Tourism Magnets
Tourism in Alberta shines brightly, and all these venues for gambling add a unique sparkle to its allure. As prominent elements of the local travel industry, these entertainment hubs serve as dynamic tourist attractions, offering a blend of excitement, entertainment, and economic potential that is hard to resist.
A Pivotal Player in Alberta's Travel Tapestry
The significance of casinos in Alberta within the tourism landscape is undeniable. Attracting a steady stream of visitors, these establishments have used various marketing strategies to enhance their appeal. From dedicated campaigns to exclusive offers, they have crafted a compelling narrative that lures tourists and bolsters the travel industry.
Marketing Campaigns: These gambling hubs have undertaken numerous marketing initiatives to heighten their appeal to tourists, reinforcing their status as must-visit attractions.
Tourist Footfall: While concrete data may vary, many tourists visit this city with the explicit intent of experiencing its lively gambling scene.
An Access Point to Tourist Experiences
Casinos in this city have mastered rolling out the red carpet for tourists, offering unique promotions, packages, and incentives. These range from special discounts to exclusive events, providing a gamut of experiences that add an exciting twist to a tourist's itinerary.
Exclusive Deals: Tourists often enjoy a range of exclusive deals, including discounts, entertainment events, and unique amenities, during their visit to a casino in Red Deer, Alberta.
Seasonal Promotions: They usually ramp up their offerings during peak tourism seasons, introducing special packages or promotions to enhance their guests' experience.
Casino Tourism: A Promising Future
Casinos significantly contribute to the local economy and tourism industry by attracting tourists who partake in the exciting activities and premium amenities offered there.
Tourist Engagement: A significant proportion of tourists visiting Alberta engage in gambling-related activities, highlighting the sector's potential for future growth.
Future Developments: Efforts are ongoing to further enhance the tourism sector in the region, which could yield significant economic and social benefits.
Casinos here serve as a compelling component of the vibrant tourism scene. Their appeal to tourists—bolstered by creative marketing, enticing promotions, and the potential of tourism—suggests a promising future for the casinos and the province's travel industry.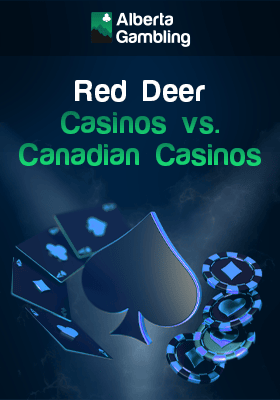 Red Deer Casinos: Making Their Mark in Canada
Canada's vibrant gaming industry is full of dynamic players. Nestled within this varied panorama, entertainment hubs here carve out a singular niche that distinguishes them from their provincial and national competitors.
Red Deer Casinos vs. Alberta's Gaming Giants
When it comes to dissecting the Alberta gaming sector, one quickly notices how entertainment hubs in this area offer a unique blend of gaming variety, a friendly atmosphere, and strong ties to their community. It's these factors that position them as intriguing alternatives to larger establishments.
Unrivaled Gaming Choices: With over 500 slots and gambling machines, Cash Casino rivals larger establishments found in Calgary. On top of this, they host 19 gaming tables, delivering a broad selection of entertainment to their visitors.
Poker Events Galore: The poker rooms are a hub for exciting tournaments and cash games. Events like the Last Friday of the Month tournament or the Saturday $325 Deep Stack tournament provide thrilling experiences for poker fans.
Embracing the Community: The Jackpot Casino, an esteemed establishment, exemplifies community involvement. Being a committed member of the Red Deer Downtown Business Association and the Chamber of Commerce, it goes above and beyond to foster community ties.
Adding to Canada's Entertainment Scene
Canada's gambling landscape is vast and varied. Amidst this, gambling venues in this area emerge as pivotal pieces in the puzzle, offering a distinctive gaming experience that earns them a place on the national stage.
Sprawling Casino Landscape: Across Canada's provinces, countless casinos vie for attention. Yet, these ones hold a distinctive appeal with their wide array of gaming themes, progressive jackpots, and community-centric philosophy.
Varied Offerings: Whether it's nearly 350 slots, eight tables, or 19 video lottery terminals, each offering multiple options to play, gambling houses here cater to a wide audience.
What Makes Red Deer Casinos Shine?
To understand these facilities' distinctive qualities, we must explore their exclusive gaming options, exceptional amenities, and captivating entertainment offerings. Visitor testimonials and expert reviews consistently underscore these features, painting a bright picture of what these casinos offer.
Gaming Selection: With a variety of games ranging from progressive jackpots to traditional table games, the casinos mentioned above cater to all types of gamblers and winners.
Commitment to Community: A defining characteristic of Red Deer entertainment hubs, especially the Jackpot Casino, is its strong community presence. Their engagement with local business associations embodies this commitment, making them cherished and valued.
All in all, entertainment establishments in this area confidently hold their ground in the crowded Canadian gambling scene. Their unique selling propositions, namely a wide gaming selection, recurring special events, and meaningful community engagement, continue to draw patrons, securing their ongoing success.

Ensuring a Trustworthy Gaming Environment
Safety, compliance, and customer satisfaction are paramount within the gaming industry. And these establishments are at the forefront in such areas, implementing rigorous measures to ensure a secure, fair, and enjoyable gaming experience.
Secure Gaming

The casinos in this town make no compromise regarding their visitors' safety and their assets' protection. They've implemented robust security measures to maintain a secure environment, a key aspect when considering the best casinos in Red Deer.

Cutting-Edge Technology: Cash Casino has adopted Passport Technology's ACM OwlTM solution, a self-service platform that delivers maximum cash to the entertainment floor while maintaining operational efficiencies. This technology also incorporates various social responsibility features, ensuring customer safety.
Vigilant Surveillance and Personnel: High-quality surveillance systems are in place to monitor premises around the clock. On-the-ground security staff further enhance the safety quotient.
Adherence to Standards: These places strictly follow industry regulations and standards, strengthening their commitment to providing a secure gaming environment.

Fair Play and Responsible Gaming

Their operations adhere to stringent compliance measures that ensure fair play and promote responsible gambling, which is integral to the gaming environment.

Regulatory Supervision: These entertainment facilities are regulated by Alberta's Gaming, Liquor, and Cannabis Commission (AGLC). The AGLC ensures that casinos comply with regulations, encouraging patrons to enjoy their gaming experience responsibly.
Responsible Gambling Initiatives: They also participate in the GameSense program, which provides patrons with resources and tools to promote healthy gambling behaviours. This initiative encourages gamblers to make informed choices.
Self-Exclusion Program: A Self-Exclusion program is in place for those who feel they are gambling excessively. This program serves as an effective step in helping individuals control their gambling activities.

Customer Service and Conflict Resolution

Casinos prioritize customer satisfaction by providing accessible support channels and effective dispute-resolution mechanisms.

Readily Available Assistance: Visitors can seek help or voice their concerns through various customer support channels offered here.
Transparent Dispute Resolution: For any concerns or disputes that may arise during a visit, the casinos have clear procedures in place for resolution, ensuring fair outcomes.
Feedback Mechanisms: Customer satisfaction ratings are monitored, and feedback mechanisms are in place. These tools enable the casinos to improve their services based on visitor experiences continually.

With these practices, gambling establishments here continually enhance their safe and fair gaming environment, creating a memorable and worry-free experience for all visitors.
In Conclusion: Red Deer Casinos
Reflecting upon the storied charm that comes with these gambling hubs, one is swiftly drawn to their pivotal role within Alberta's cultural and economic fabric. Their historical significance resonates through the local community, with stalwarts like the Jackpot Casino being integral community members for over two decades.
This heritage creates a distinctive allure, establishing casinos as more than mere entertainment hubs. Additionally, their economic influence is substantial, stimulating the province's economy through job creation, robust revenue, and sizable contributions to the Alberta gaming industry.
Complementing their economic prowess, Red Deer Casinos excel in delivering delightful visitor experiences, offering more than just gaming. Their entertainment options cater to diverse tastes, ensuring that each patron's encounter is unforgettable. Furthermore, their role as major tourism draws within Alberta must be considered. Through exclusive offerings and special promotions, these casinos have succeeded in enhancing the allure of Alberta's vibrant tourism industry.
Lastly, these facilities assert their distinctive appeal when juxtaposed with other Canadian casinos. Their unique gaming options, luxurious amenities, and engaging visitor experience set them apart within Canada's competitive casino landscape.
Beyond their engaging offerings, Red Deer Casinos prioritize safety and fairness, evident in their robust security measures, comprehensive compliance, and efficient customer support channels. They excel in offering secure, fair, and fun-filled experiences. All in all, Red Deer Casinos beckon locals and tourists, promising an immersive encounter that transcends mere gaming.
FAQ
What are the main casinos in Red Deer, Alberta?

The main gambling establishments here are the Cash Casino, the Jackpot Casino, and the Red Deer Bingo Center.

How do gambling establishments in this city contribute to Alberta's economy?

They significantly boost Alberta's economy through substantial revenue generation and the creation of numerous direct and indirect jobs.

How do Red Deer Casinos ensure a safe and fair gaming environment?

They implement strict security measures and adhere to regulatory standards to ensure fair play and responsible gambling.

How does the experience here compare to other Canadian casinos?

These gaming venues stand out among Canadian casinos for their unique gaming options, luxurious amenities, and safe, enjoyable gaming environment.

What is the role of Red Deer Casinos in Alberta's tourism industry?

Red Deer Casinos significantly influence Alberta's tourism industry, attracting many tourists with unique gaming experiences and special promotions.