This article explores the various facets of gambling, aiming to offer readers a thorough understanding of the topic.
In this comprehensive guide, readers can expect to gain insights into:
The historical context in AB, tracing its origins and evolution.
The current legal landscape that governs and shapes Gambling Legality in Alberta.
The various types of legal casinos available to residents and the distinct parameters surrounding each.
The economic footprint of this activity and its consequential impact on Alberta's economy.
Societal implications and the ripple effects of legal gambling on the population in Canada.
Engaging discussions and comparisons between AB gambling regulations and those in other Canadian provinces.
Exploration of online casinos, discussing Gaming Legality and the nuances of virtual casinos and platforms.
This guide is designed not as an endorsement or advertisement of gambling activities but as a factual resource. It seeks to empower readers with the knowledge required to make informed decisions concerning casinos. Whether you're a researcher, policy maker, or simply an interested citizen, this article offers an objective review of the legality of casinos and gaming in Canada, particularly in Alberta.

Historical Coverage of Casino Gambling in Alberta
The ebb and flow of the casino industry are as dynamic as the location itself. While the activity has deep roots in the region, its recognition, regulation, and reception have witnessed several shifts over the decades.
The Early Days and Attitudes Towards Gambling

The genesis of gambling in Alberta was intertwined with excitement, risk, and, at times, skepticism.

Several factors influenced the early attitudes and perspectives:

Alberta's Early Landscape: During the 1910s and 1920s, card games and betting, though prevalent, often found themselves cloaked in shadows, linked with illegal establishments.
Public Perception: Many early Albertans considered this activity synonymous with crime, corruption, and moral decay. Over time, especially by the mid-20th century, this perspective started to shift, with the region recognizing the potential revenue streams, particularly from lotteries.

Key Milestones:

1969 saw a monumental change with the amendment of the Criminal Code of Canada, permitting provinces like this one to have a say in regulating lotteries and casinos.
By 1975, AB witnessed the establishment of its first not-for-profit casino in Edmonton, courtesy of a service club.

Legalization Process and Initial Regulations

The Alberta's tryst with formal legislation about gaming has been marked by systematic processes aimed at providing a regulated, safe, and organized environment for the activity:

Governing Bodies: The Alberta Gaming Control Board set up in 1969, was instrumental in streamlining the early endeavors.
Evolutionary Steps: Steps in the evolution of the legalization and social acceptance of gambling. The "Great Alberta Million Dollar Lottery" in 1974 was a significant landmark, positioning lotteries as revenue generators for public purposes. The 1980s, characterized by the introduction of legalized horse racing, off-track betting, and charitable casinos, further fortified the province's casino infrastructure.

Evolution of Gambling Laws in Alberta

Gambling regulations in this region have been anything but stagnant. These laws' continuous adaptation and refinement can be attributed to changing societal needs, technological advancements, and economic priorities.

Regulatory Framework: The Gaming and Liquor Act of 2001 provided a robust foundation, overseeing casinos, charitable gaming events, and lotteries within AB.
Digital Era: The 2000s saw this province embracing digital trends, launching its online lottery platform in 2005 and kindling discussions around online casino regulations by 2015.
Recent Amendments: Bill C-218 in 2019, permitting single-event sports betting, hinted at the province's openness to diversify its betting offerings, aligning with federal regulations.

Over the decades, the state's approach to this activity has evolved from mere tolerance to strategic integration, always with an eye on societal well-being and economic prosperity.

Current Legal Landscape of Gambling in AB
In recent years, the casino world in this jurisdiction has witnessed significant evolution. With the blend of traditional games and the emergence of digital platforms, AB Gambling Legality has had to adapt to these shifts.
Governing Bodies and Regulatory Entities
Several governing bodies and regulatory entities are central to the oversight of this activity. Their primary function is to ensure that all gaming activities adhere to established regulations while prioritizing the interests of Albertans.
Alberta Gaming, Liquor, and Cannabis Commission (AGLC):
The Alberta Gaming, Liquor, and Cannabis Commission is the primary regulatory authority overseeing gambling, liquor, and cannabis within Alberta. The AGLC is responsible for licensing and regulating various entertainment avenues such as casinos, lotteries, and video lottery terminals (VLTs). The commission plays a pivotal role in enforcing responsible wagering practices, ensuring that all entities adhere strictly to the set laws and guidelines.
Alberta Gaming Research Institute (AGRI):
The Alberta Gaming Research Institute operates as an independent body, emphasizing research related to this activity and associated societal issues. In its mission to promote responsible behaviours, the AGRI collaborates closely with the AGLC. This partnership also aids in delivering evidence-based policy recommendations that influence the casino landscape in Canada.
Alberta Gaming Research Council (AGRC):
As an advisory entity, the Alberta Gaming Research Council works with the AGLC. Its main objectives include suggesting research directions and devising responsible gambling strategies. Furthermore, the AGRC is instrumental in conceptualizing and executing the public.
Detailed Look into Alberta's Gambling Legislation
The Alberta Gaming, Liquor, and Cannabis Act stands at the forefront of the region's legislation on gambling.
Here's a deep dive into its provisions:
The act governs not just wagering but also liquor and cannabis-related activities.
The AGLC, established under this act, oversees and regulates these activities.
Licensing, operation, and regulations of casinos ensure they function fairly and responsibly.
The core objective of this legislation is to maintain a balance. While providing entertainment avenues for Albertans, it's imperative to safeguard the public, uphold integrity, and mitigate negative social implications linked with this activity.
Legal Age and Restrictions
The country's laws dictate clear age restrictions and boundaries regarding gambling.
Individuals must be at least 18 years old to engage in casino gaming activities and horse racing.
For horse racing, while betting is permissible at 18, certain racetrack areas may impose stricter age restrictions.
As for online casinos, while regulations may vary, the legal age is generally consistent with other forms at 18 years old.
Regulatory bodies, operators, and relevant authorities ensure compliance with these age restrictions.
Safety Measures and Legal Protections
This Canadian region has instituted several mechanisms to ensure that gambling remains safe and enjoyable for its residents:
Education: Casinos are legally mandated to educate their patrons about the potential risks and harms of excessive playing.
Age and Identity Verification: Stringent verification processes confirm the age and identity of customers.
Self-Exclusion Programs: Allow players to restrict their access to casino activities for predetermined durations voluntarily.
Responsible Advertising: Misleading advertisements are prohibited, and advertisements focus on the entertainment value without glamorizing gaming.
Player Support and Assistance: Casinos offer helplines and on-site support for players in need, facilitating a confidential environment to address concerns.
Offline vs. Online Gambling Laws in Alberta
The province's laws differentiate between offline (land-based) and online casinos, primarily due to the unique challenges posed by the digital realm.
Offline (Land-Based) Casinos

The framework for offline or land-based casinos is primarily governed by the Alberta Gaming, Liquor, and Cannabis Act. All operators seeking to provide such services must obtain licenses from the Alberta Gaming, Liquor, and Cannabis Commission (AGLC). A significant emphasis is laid on promoting responsible behaviours.

Online Casinos

The regulations for online casino playing diverge somewhat, given the internet's borderless nature. While the age restriction aligns with the general legal stipulation, mandating that participants be at least 18, platforms might have diverse tools to foster responsible behaviours. Examples of these tools include deposit limits and options for self-exclusion, ensuring player safety.

The enactment of Bill C-218 was a significant step to counteract the burgeoning iGaming grey market. Before this, a considerable number of Canadians were accessing offshore casinos. The primary objective of the new regulations is to channel this revenue back into Canada. Given these shifts, brick-and-mortar casinos are now eyeing opportunities for online expansion.

Types of Legal Gambling
In Canada, wagering money on games is a popular pastime with a rich history spanning several decades. With the evolution of AB Gambling Regulations, the jurisdiction has established numerous establishments catering to the diverse preferences of Albertans. The province has a comprehensive system regulating various forms of wagering, ensuring transparency, fairness, and safety for all participants.
Land-Based Casinos and Gaming Facilities
Alberta, nestled in the heart of Canada, is not just known for its majestic Rockies and rich oil reserves. It also stands out as a vibrant hub for gaming enthusiasts, showcasing an array of gambling venues and diverse playing options.
The province's gaming landscape has significantly transformed since the first permanent, privately-owned casino opened in Calgary in 1980. The following year saw another addition in Edmonton. These paved the way for the growth of brick-and-mortar casinos across the province.
Here's a brief snapshot of what the Alberta gaming scene encompasses:
Alberta is home to a total of 28 licensed casinos.
Among these establishments, 24 can be described as Vegas-style casinos, whereas the remaining four are venues that focus predominantly on machine-based gaming.
The bustling cities of Edmonton and Calgary predominantly house most of these gaming establishments.
Further amplifying its gaming credentials, the province features approximately 6,000 video lottery terminals (VLTs) strategically distributed across over 1,200 venues.
In addition to casinos and VLTs, Alberta takes pride in hosting over 25 bingo halls, an impressive count of more than 80 keno facilities, and a sprawling network of over 2,500 ticket lottery centers.
These venues offer diverse games, ranging from slot games, VLTs, roulette, blackjack, poker, baccarat, red dog, craps, sic bo, to the intriguing pai gow tiles. Notably, it's worth mentioning that electronic gaming machines in the province, especially VLTs and slots, are mandated by Alberta's stringent regulations to maintain a generous 92% payout rate.
Notably, a substantial portion of the province's gambling proceeds contribute to charitable organizations within the province. This reinvestment ensures that much of the net gaming income directly benefits the local community, channelled into the General Revenue Fund to finance supportive initiatives for Albertans. Despite the rising popularity of online casinos in Canada, many Albertans still prefer the atmosphere and experience of land-based casinos.
Sports Betting and Fantasy Sports
Within the diverse field of gambling ecosystem, sports betting and fantasy sports have successfully created a distinct space for themselves. These segments are diligently governed by regulations that underscore the principles of fairness, transparency, and the paramount importance of participant protection.
To ensure responsible participation, individuals wishing to partake in fantasy sports must be at least 18 years of age. Additionally, both the prize pools and entry fees associated with fantasy sports contests are subject to stringent oversight, a move aimed at curbing any potential exploitation.
BetMGM is progressively establishing its dominance in AB on the sports betting front. This expansion strategy is bolstered by its already formidable reputation across North America. Meanwhile, FanDuel, which began its journey as a daily fantasy sports platform, has ventured into the broader field, now offering online casino games and sportsbook betting.
Their expansion efforts in Canada are particularly noteworthy, spearheaded by a new leadership team with a deep understanding of the Canadian regulatory framework.
Horse Racing and Off-Track Betting
Horse racing holds a cherished place in the province's historical tapestry. The Alberta Horse Racing Act meticulously governs horse racing and off-track betting, entrusting the Horse Racing Alberta (HRA) as the primary regulatory authority.
Esteemed tracks such as the Century Mile Racetrack and Casino, Rocky Mountain Turf Club, and Alberta Downs have consistently drawn considerable crowds during their respective racing seasons.
For those enthusiasts unable to attend the live races, Off-Track Betting (OTB) venues have emerged as a popular alternative. These venues, encompassing casinos and other sanctioned locations, allow for distant wagers on races. Notably, the Century Mile has emerged as a successor to Northlands Park and today stands as a comprehensive facility that offers a blend of live horse racing, OTB, and a casino replete with a diverse array of gaming experiences.
Lotteries and Bingo
In this province, the Alberta Gaming, Liquor, and Cannabis Act is the guiding framework for regulating lotteries and bingo. Under its watchful eye, the AGLC works diligently to ensure legal compliance across these gaming activities.
With their tantalizingly large jackpots, lotteries have become immensely popular in the province, drawing widespread interest from residents. On the other hand, bingo, a game integral to the ideals of fairness and responsible gaming, is predominantly organized by charitable and nonprofit entities.
The beauty of these charitable bingo sessions lies in their altruistic intent, as they channel their proceeds to fund various community projects and charitable causes.
Furthermore, both these gaming activities, lotteries and bingo, are deeply intertwined with responsible playing initiatives. This ensures that players have access to resources and vital information should they encounter any problems with this activity.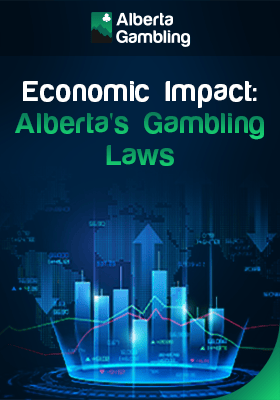 Impact of Gambling Laws on Alberta's Economy
The move towards expanding gambling for economic development might initially seem promising, but it holds potential consequences for the province's long-term economic health. As more capital is funneled into new ventures, other business sectors might suffer, facing reduced investments.
Consequently, as consumers spend more on betting and wagering, other businesses could see a decline in revenues, leading to potential job losses and other associated economic challenges. Additionally, with the rise of Responsible Gambling, there's an increasing focus on the socio-economic costs incurred due to serious issues within the population.
Revenue Generation from Gambling Activities
Diving into the Canadian casino sector, one finds varying contributions to the economy based on the different facets of this industry. Here, we will explore the nuances of these contributions, explore how the revenue generated is distributed, and shed light on recent trends and patterns in the Canadian gaming revenue landscape.
Different Contribution Levels: Various facets of the gambling sector contribute differently to the province's economy. Land-based casinos, for instance, reel in significant revenue from activities like slot machines, table games, and poker. On the other hand, lotteries, ranging from instant win games to raffles, spur the economy through ticket sales, with major ones boasting sizable jackpots, thus driving higher ticket sales.
Revenue Distribution: The revenue from gambling isn't just limited to immediate activities. It also encompasses gaming taxes, licensing fees, and other streams that ultimately go into the government's coffers. Notably, a chunk of the lottery proceeds assists the provincial government in supporting public services and programs.
Trends and Patterns: Gambling revenue in this region witnessed a surge in 2018, increasing by $4 million, amounting to $1.736 billion, primarily driven by video terminals. This contrasts with the slight decline in previous years, demonstrating the economic cyclicality and its influence on this activity.
Job Creation and Economic Growth
The casino industry plays a pivotal role in the AB employment landscape. Here, we look into the employment figures directly associated with the sector and illuminate its broader economic implications, highlighting how both direct and indirect roles contribute to the province's workforce and the overall economy.
Employment Statistics: The casino industry has been a significant employment driver. With a staggering 43,342 jobs linked to the sector, it encompasses direct employment in casino establishments, roles in related government and charity entities, and positions that cater to the needs of the casino sector.
Wider Economic Impact: The job opportunities created aren't limited to direct employment. The horse racing sector, for instance, offers jobs in race management, horse care, and event operations, thus indirectly supporting the provincial economy.
Impact on the Tourism Industry
Alberta's casino industry uniquely integrates wagering with broader entertainment experiences, showcasing a blend of tourism attractions and strategic partnerships that enrich the region's appeal.
Integrated Resort Complexes: Many casinos aren't standalone entities. They're part of broader resort complexes offering many amenities like hotels, eateries, entertainment venues, and shopping areas. Such integrated resorts appeal to tourists seeking a comprehensive entertainment experience beyond gambling.
Attracting Tourists: Certain casinos and gaming facilities have emerged as major attractions in their respective locales. Tourists don't just visit to play; they are often keen on exploring the wider tourism offerings of the region.
Synergies and Partnerships: Casinos frequently organize events, concerts, and shows, drawing locals and outsiders. Such events bolster the tourism appeal of a location, motivating tourists to prolong their stay.
Societal Implications of Legal Gambling
The ascent of legalized gambling in Canada is not just about casino lights or the excitement of a game; it paints a deeper societal story. Organizations such as AB Safe Gaming lead the way in dissecting the dual sides of this activity. Indeed, while revenue streams from these activities bolster governmental and community coffers, there's no overlooking the associated societal costs that critics are quick to highlight.
Gambling and Crime: A Nuanced Perspective
Central to the debate is the intricate relationship between gambling and crime. A meticulous study navigated this terrain, incorporating insights from self-reports of problem gamblers, police narratives, data from Statistics Canada, and records maintained by the Alberta Gaming and Liquor Commission (AGLC).
Reinforcing the values of AB Safe Gaming, the research arrived at an illuminating observation: crimes directly linked to this activity are marginal within the overarching crime framework and typically lean toward non-violent property offences. More notably, the shift towards legalized gaming has significantly curtailed illegal activities. Regarding AB's broader crime landscape, the legalization of this activity's influence remains inconspicuous.
Problems and Addiction in Alberta
For a multitude of Albertans, gambling is more than just a game; it's a thrilling dalliance with destiny. However, beneath the surface sheen of this popular activity lie the pressing concerns of problems with this activity and the severe extremities of addiction.
Understanding Problems and Addiction
Problems with this activity emerge when consistent betting begins to wreak havoc on one's day-to-day life, culminating in financial distress and personal and psychological upheavals. Meanwhile, the addiction or disorder isn't merely a phase but a recognized mental health condition. Individuals with this disorder grapple with an insatiable compulsion to gamble, regardless of the damaging repercussions.
Factors and Symptomatic Parallels
Many factors come into play, ranging from genetic predispositions and neurobiological aspects to psychological instigators and the sway of societal norms. The heightened ease of access to casinos, coupled with society's growing acceptance of wagering, further escalates the risk.
Intriguingly, parallels exist between the world of gambling issues and that of substance use disorders. Both manifest tell-tale signs like withdrawal pangs, overpowering cravings, and a persistent inability to curtail or abandon the activity. The likenesses extend to a neurological level, too; brain scans during playing depict a stimulation of the reward circuitry, mirroring patterns seen in substance addictions.
Social Stigma and Public Perception
While gambling is viewed by many as a legitimate form of entertainment, a pervasive social stigma surrounds those grappling with problems related to this activity. This stigma, identified as a primary obstacle to seeking help, remains a focal concern.
Globally, 20% of those battling with this activity seek assistance. The public's perception of wagering money swings between two extremes: some view it as a thrilling chance to win, while others are wary of its potential pitfalls. However, as awareness burgeons, efforts to dismantle this stigma and champion responsible gambling gain momentum.
Measures to Promote Responsible Gambling:
Alberta, alive to the challenges posed by gambling, has implemented several measures to encourage responsible behaviour:
GameSense: An initiative by Alberta Gaming, Liquor, and Cannabis (AGLC) that offers resources and tools to instill informed decision-making.
"Know Your Limits" Campaign: Spearheaded by the AGLC, this campaign aims to enlighten gamblers about setting boundaries.
Health Services Addiction Helpline: A lifeline that offers support and information to those navigating challenges related to this activity.
The combined efforts of these programs underscore this region's commitment to creating a safe gambling ecosystem, aligning with the tenets of AB Safe Gaming.
Tips for Responsible Gambling
To ensure this activity remains a source of joy rather than distress, consider the following guidelines:
Always have a predetermined spending limit.
Allocate specific time periods for playing and adhere to them.
View this activity as entertainment, not an income source.
Avoid chasing losses.
Engage in diverse hobbies to maintain balance.
Keep emotions at bay while indulging in playing.
Stay informed about game rules and odds.
Communicate about your habits with loved ones.

Comparing Alberta's Gambling Laws to Other Provinces
Gambling legality in Alberta and gaming legality are subjects of interest, given the province's unique position within Canada's broad legislative landscape.
Ontario vs. Alberta: A Comparative Analysis
Ontario and Alberta are two major provinces in Canada with significant contrasts in their gambling industries.
Legal Age

Ontario, along with regions like British Columbia and Saskatchewan, requires individuals to be 19 years of age to partake in casinos. In contrast, the AB has a legal age of 18, making it more lenient in this respect.

Licensing and Regulation

In Ontario, the Alcohol and Gaming Commission of Ontario, alongside the Ontario Lottery and Gaming Corporation, oversees the casino industry. This region is characterized by its liberal stance, underlined by regulations such as the Gaming Control Act of 1992 and the Ontario Lottery and Gaming Corporation 1999. With the introduction of the iGaming market, online casino accessibility has improved considerably.

On the other hand, this jurisdiction has the Alberta Gaming, Liquor & Cannabis Commission in charge. They permit only charitable and religious organizations to register as gambling service providers. The primary legislation guiding entities here is the Gaming, Liquor, and Cannabis Act. Moreover, this province hosts only one regulated online casino site, PlayAlberta.ca.

Notable Contrasts

While Alberta ensures that money played within its borders remains there through Play Alberta, Ontario has broadened its horizon by collaborating with the Alcohol and Gaming Commission of Ontario to introduce a new online gaming market with private companies.
Quebec's Unique Stance on Gambling
Quebec has always marched to the beat of its drum in matters of gambling regulation.
Distinctive Regulations: Quebec's concerns about online casinos were evident as early as 2000. By 2010, the government unveiled its intention to introduce a public online casino offering via Loto-Québec, resulting in the birth of Espacejeux, a regulated platform. This move aimed at providing a legal and secure space for gamblers, thereby addressing the province's concerns about residents engaging in this activity on out-of-jurisdiction sites.
Legal Implications: In a landmark 2018 judgment, Quebec's Superior Court struck down a section, citing its intrusion into federal jurisdiction. However, the possibility of an appeal remains open, awaiting further deliberations by the Court of Appeal of Quebec.
How Alberta's Legislation Stands Out:
AB's approach to gambling legislation offers distinctive features compared to other provinces.
Online Casino Scenario: While online casinos became legal in Canada in 1996, Alberta has its unique set of rules. Governed by the Alberta Gaming, Liquor, and Cannabis Commission, the province oversees both online and land-based establishments. Unlike other regions where the age is 19, the AB minimum age is 18.
Unique Offerings: PlayAlberta.ca, established by NeoPollard Interactive, stands as the sole licensed and regulated casino platform. From slots and table games to video poker and scratch cards, it has expanded its offerings to include sports betting as of September 2021.
Potential Impact: Alberta's progressive stance on the gambling age and the exclusivity of PlayAlberta.ca promise a unique landscape for gamblers within its boundaries. The province's leniency in permitting residents to use offshore online casinos and sportsbooks, even if they're registered outside Canada, could have ripple effects on the casino industry in the future.

Online Casinos: Global Context
The world of online casinos has seen immense growth and transformation in recent years. With technology propelling this evolution and the allure of convenient gaming, jurisdictions worldwide have been grappling with regulating and monitoring this domain.
A nuanced, province-specific approach to this industry becomes evident when considering casinos in this region. Indeed, while there are overarching trends, practices, and challenges with online casinos globally, there are also unique characteristics and issues to address when discussing it.
Rise of Online Casinos: A Global Perspective
Over the past ten years, the casino landscape has been radically transformed by the surge in online casinos in Alberta. This shift has been propelled by rapid advancements in digital technology, widespread adoption of smartphones, and evolving consumer behaviours.
In the year 2021 alone, the Canadian casino sector raked in a staggering $2.64 billion in revenue. A considerable chunk, close to $1.2 billion, was attributed to online casino platforms. Looking at global trajectories, the market is diversifying at an impressive rate.
The Canadian online casino sphere, in particular, is drawing the attention of offshore investors, underscoring its potential and appeal. Yet, as the industry continues to expand, it still needs its hurdles on the international front. The industry grapples with pressing concerns such as addressing problem behaviours, emphasizing and ensuring responsible playing practices, and adeptly maneuvering through the complex tapestry of regulatory frameworks.
Several trends have been observed on a global scale:
A shift in marketing approaches, emphasizing responsible playing, offering tools for users to manage their behaviour, and imposing stricter age restrictions.
An increase in live dealer games enhances players' interactive and immersive experience.
The emergence and rising popularity of crypto casinos allow for more secure, private, and rapid transactions.
A surge in esports betting, capitalizing on the dynamic and interactive nature of online gaming.
Alberta's Approach to Online Gambling
The province's approach to regulating online casinos aligns with Canada's perspective, emphasizing that gaming activities are only allowed when supervised by provincial bodies. Specifically in AB, registering as a casino is reserved exclusively for charitable and religious organizations.
They operate under the watchful eyes of the Alberta Gaming, Liquor, and Cannabis Commission. This Canadian region also claims PlayAlberta.ca, its sole regulated online casino website. Any operators keen on offering their services must abide by the Gaming, Liquor, and Cannabis Act. Here, virtually all forms of this activity - lotteries, raffles, sports betting, bingo, or online casinos - are legal and thriving.
Unique Features of Alberta's Gambling Scene
Much of the revenue generated from gambling pursuits is channelled toward charitable initiatives.
This money flows into the General Revenue Fund, from where it's strategically disbursed to a variety of charitable entities. Further highlighting the enthusiasm for this activity, statistics reveal that over 80% of its adult citizens participate in wagering annually. This widespread enthusiasm fuels an industry that generates a staggering 23 billion dollars annually.
Regulations for Online Casino Operators
For operators seeking to venture into the online casino market, stringent regulations have been laid out:
Operators must secure licensing from the Alberta Gaming, Liquor, and Cannabis Commission.
Player protection measures, responsible playing initiatives, and transparency in game operations are pivotal.
Advisory committees scrutinize online game development, ensuring alignment with regulatory requirements.
Non-compliance can result in penalties, making it imperative for operators to stay abreast of all regulatory nuances.
Popular Online Casino Platforms
Residents from this area have access to a selection of top-tier online casino platforms:
Top 5 Online Casinos:
Lucky Spins Casino: Renowned for slot machines.
Club Riches Casino: Known for bonuses and promotions.
Hellspin Casino: A favourite for new online game offerings.
Platin Casino: Preferred for live dealer games.
Neon54 Casino: Popular for jackpot slots.
These platforms are popular, licensed and regulated, ensuring that their operations align with market standards and regulatory requirements.
Future Prospects for Online Gambling in Alberta
The future of online gambling in this province appears promising, with potential avenues for growth and evolution:
Continued integration of technology, with AI and VR, possibly reshaping the online gambling experience.
Regulatory reforms may further open the market, attracting more international investors and broadening the gaming offerings.
Increased emphasis on responsible gambling, ensuring players have tools and resources to manage their playing habits.
Given the global trends, it's conceivable that Alberta will see further adoption of crypto casinos and a surge in esports betting.
Alberta, as part of the broader Canadian context, is poised to continue its journey in the online casino sector, balancing growth with responsibility. As industry experts keep a keen eye on this province, it remains to be seen how this jourisdiction will shape and be shaped by global gambling trends.
Conclusion
The article extensively explored the multifaceted gambling world in Alberta, delving into its rise, regulations, and prospects. Here's a concise recap of the critical insights shared:
Key Recap Points:
Alberta's structured approach to AB Gambling Legality balances entertainment and regulations.
The role of the Alberta Gaming, Liquor, and Cannabis Commission in overseeing and licensing casino operations.
The province's commitment to Responsible Gambling in Alberta, ensuring player protection and community welfare.
Alberta's vibrant online casino platforms reflect a blend of traditional and innovative gaming experiences.
In essence, Alberta has adeptly crafted a gambling environment that is not only legal but is also rooted in responsibility and community welfare. While the province hosts a diverse range of gambling activities, it is also pivotal in ensuring they remain transparent, regulated, and beneficial for all involved.
For readers eager to delve deeper into this realm, it's essential to remain updated on potential future developments. A great starting point would be resources like AlbertaGambling.ca, which offers much information on the subject. Staying informed ensures that one can enjoy the thrill of the gamble while being aware of the boundaries and responsibilities that come with it.
FAQ
What are the main gambling laws in Alberta?

These laws in Alberta are the Gaming, Liquor, and Cannabis Act, overseen by the Alberta Gaming, Liquor, and Cannabis Commission (AGLC).

How has the legal landscape of gambling in AB changed over time?

Over time, the province has transitioned from restrictive gambling regulations to a more open and structured approach, introducing licensed online platforms and expanding the range of allowed activities in this field.

How do Alberta's gambling laws compare to those in other provinces?

While all Canadian provinces have their own set of regulations, the province's laws are relatively flexible, allowing a wider range of gambling activities, though still under stringent oversight.

What impact does gambling have on Alberta's economy?

This activity significantly contributes to Alberta's economy, raising over 23 billion dollars annually, with a substantial portion funding charitable organizations.

What measures are in place to combat problems in Alberta?

Alberta promotes responsible playing with initiatives like age restrictions, player protection measures, self-exclusion options, and awareness campaigns to aid those facing gambling-related issues.