The variety of options in the casino Edmonton scene can be overwhelming, especially for those who are new to it. Whether you're a casual player seeking a fun night out, an avid poker enthusiast, or a seasoned high roller with a penchant for high stakes, there's undoubtedly an establishment that perfectly aligns with your personal style and preferences. Each establishment provides its own unique flair and portfolio of games, ranging from slots and blackjack to poker and roulette, alongside a range of betting options to accommodate all bankroll sizes.
Here at AlbertaGambling.ca, our primary goal is to offer an unbiased, comprehensive resource for the gaming community. We believe in empowering players with accurate, factual, and current information to help you navigate this vibrant gambling scene.
List of Edmonton Casinos
Map of the Best Edmonton Casinos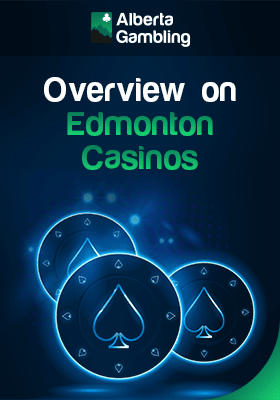 An Overview of the Edmonton Gambling Scene
Edmonton takes pride in having eleven notable establishments dedicated to a multitude of gambling activities. Out of these establishments, five are acknowledged as conventional casinos, six serve as bingo halls, and one of these five casinos also specialize in horse racing. The esteemed venues that contribute to Calgary's diverse gambling environment are:
Understanding the Edmonton Casino Landscape
Navigating the intricate ecosystem of Edmonton's gambling scene requires a solid understanding of its overall landscape. Being aware of the legal backdrop, the influence of tourism, and the standout establishments can enrich your gaming experience in the capital city.
The Legal Framework for Casinos in Alberta
Edmonton, situated within the vast expanse of Alberta - one of Canada's largest prairie provinces, operates under a comprehensive and progressive legal framework. This has seen Alberta make significant strides in legalizing and regulating various forms of gambling, making it a gambling-friendly region.
Alberta's provincial government and the Alberta Gaming, Liquor and Cannabis Commission (AGLC) oversee all forms of gambling in Alberta. This includes land-based platforms, lotteries, bingo, raffles, sports betting, and more. This model of regulation, known as the charitable gaming model, ensures that a considerable portion of the gambling proceeds is directed toward funding charitable organizations across the province.
Key points regarding Alberta's legal framework for casinos include:
Alberta is home to 28 different land-based casinos and a myriad of lottery kiosks, VLT venues, and bingo halls.
Charitable groups under Class A, B, and C licenses by the AGLC run bingo, lottery, and raffle events.
Alberta's minimum gambling age is 18, lower than most other provinces where the gambling age is 19.
The province also legally permits online gambling, operated under the auspices of the AGLC, provided it's carried out on regulated and licensed sites like PlayAlberta.ca.
An Overview of Casino Tourism in Edmonton
Casino tourism is a significant facet of Edmonton's vibrant tourism sector, with the city's array of establishments playing a crucial role in attracting tourists. As a pivotal part of the Canadian gambling landscape, these gaming hubs contribute significantly to the city's economy.
The precise economic impact of casino tourism is complex and multifaceted, encompassing direct revenue from the venues themselves and indirect revenue from associated tourism activities, such as hotel stays, dining, and shopping.
Top Casino Establishments in Edmonton
For an unparalleled experience, exploring the top platforms in Canada is a must. Each venue, with its unique atmosphere and game offerings, contributes to the overall vibrancy of the Canadian gambling scene. Here are a few taglines to spark your interest:
Grandeur Galore: Revel in the opulence and exciting game offerings of Edmonton's premier platforms.
Tradition Meets Innovation: Discover the unique blend of classic games and innovative gambling technology.
Entertainment Extravaganza: Experience the full range of entertainment, from live music to world-class dining, that top venues offer alongside their gaming experiences.
Every Player's Paradise: Whether you're a novice or a high roller, find the perfect place that suits your style and stakes.
The Heart of Nightlife: Immerse yourself in the electrifying nightlife that these establishments bring to the cityscape of Edmonton.
Gourmet Gambling: Enjoy top-tier dining options as you try your luck at the tables.
Sports Betting Bonanza: For sports enthusiasts, take part in the thrilling sports betting options available.
Stay tuned as we delve deeper into these top establishments in Edmonton in our forthcoming guide. Understanding the unique characteristics of these platforms will not only enrich your knowledge but can help you find a venue that matches your preferences and ensures a memorable experience.

Best Edmonton Casinos
In this section, we take a detailed journey into some of the most exciting venues in Edmonton. The intention is to provide you with a comprehensive perspective on the diversity of gaming experiences and added amenities these establishments have to offer.
PURE Casino

PURE Casino is more than just a gaming venue. It offers:

An Unparalleled Gaming Experience: With a sprawling 72,000 sq ft area filled with over 800 slot machines, 28 VLTs, 26 live-action table games, and a 24-hour, 12-table poker room, your entertainment is guaranteed.
Personalized Gaming: Tailored gaming experiences that align with your preferences.
Sporting Spectacle: An open concept with a sky stage for watching UFC and NHL events.
Delicious Dining Options: A variety of dining options, from the ALTA dining room to the lively Center Bar off the gaming floor.
The SOCIAL: A modern, sophisticated banquet and live music room, perfect for private events and free live entertainment.

Century Casino

Century Casino offers a unique blend of gaming and other attractions:

Variety of Gaming Options: Over 830 slots and 20+ table games cater to a wide range of gaming preferences.
High Limit Gaming Room: For a refined gaming experience, visit the high limit gaming room with a private salon.
Diverse Dining: Visit the unique Sports Bar and Lounge or the Mid City Grill restaurant for a variety of meal options.
Live Concert Entertainment: The Century Showroom is the place to be for live concerts, featuring bands across various musical genres.

PURE Casino Yellowhead

Casino Yellowhead brings vibrant and energetic gaming and entertainment under one roof:

Gaming Galore: Over 700 slot machines, 27 live-action table games, and a 24-hour poker room ensure non-stop gaming excitement.
Dynamic Entertainment: The Pearl Showroom is known for hosting a variety of live shows, making the establishment a preferred entertainment destination.

Century Mile Racetrack and Casino

Century Mile Racetrack and Casino is an exhilarating mix of gaming and horse racing:

Unique Gaming Options: With over 600 slots and VLTs, and electronic table games in the Replay Arena, this venue has something for everyone.
Horse Racing: A one-mile racetrack offering Thoroughbred and Standardbred racing year-round.
Gastronomic Delights: The Derby Restaurant and an array of bars cater to a variety of culinary preferences.

Starlight Casino

Starlight Casino brings Las Vegas-style entertainment to Edmonton:

Wide Range of Gaming: With 20 gaming tables, over 600 slot machines, a poker room, and an exclusive VIP room, Starlight Casino offers an immersive gaming experience.
Interactive Gaming: The Replay Arena, an interactive table games area, offers a unique gaming experience.
Diverse Dining Options: From Match Eatery & Public House, Atlas Steak + Fish, The Buffet, Chow, to Halley's Club, there are dining options to suit all tastes.
Edmonton Bingo Halls
Edmonton boasts a thriving bingo scene that captivates residents and visitors alike. Bingo halls in this bustling city offer a unique blend of entertainment and community, providing an exciting, social experience unlike any other. These venues are not just places to play games - they are social hubs where people meet, laugh, and enjoy the thrill of the game. Whether you're a seasoned player or a newbie, Edmonton's bingo halls deliver a vibrant atmosphere that keeps players coming back for more.
Castledown Bingo

Castledown Bingo, situated at 12222 137 Ave NW, Edmonton, AB T5L 4X5, Canada, stands as a beacon for bingo lovers. This modern facility is renowned for its wide variety of games and welcoming environment. With an impressive array of games including Balls, Paper, Cash Board Games, Half Time, Keno, Lottery Sales, and Nevadas, the hall ensures an exhilarating gaming experience for all.

Game offerings: Balls, Paper, Cash Board Games, Half Time, Keno, Lottery Sales, Nevadas, VLT
Amenities: Lounge, Alcohol

Here, you can enjoy bingo at your convenience 363 days a year, with an ample range of daily games to suit any schedule. Tuesdays are half-price, and Wednesdays spotlight the Player and Guest of the Week. Plus, the Bonanza Month-End Specials on the last Saturday of the month are not to be missed!

Fort Road Bingo

For a remarkable bingo experience, consider Fort Road Bingo at 13403 Fort Rd NW in Edmonton, Canada. This venue, known for its warm atmosphere and substantial prizes, caters to a loyal crowd of players, including both locals and visitors.

Seating capacity: 700
Number of Geckos available: 178
Promotions: Half-Price Gecko & Paper for Regular Games for Everyone on Tuesdays, Customer & Staff Theme/ Participation Day on Wednesdays, and Bonus Days on Mondays, Wednesdays, & Thursdays.

From early birds to evening events, the hall's schedule offers flexibility and fun. It's not just about gaming, though. The venue also boasts some of the best concessions in the city, perfect for a casual night out or a meet-up with friends.

Parkway Bingo

Parkway Bingo is an iconic bingo hall in Edmonton that offers an appealing blend of socializing and gaming. More than just an establishment in Alberta, Parkway Bingo is a social hub that brings the community together.

Pub offerings: Renovated washrooms, modern facilities, and fantastic food service from D & T Catering.
Game schedules: Matinee and Evening games with Cashier opening times at 11:00 AM and 5:00 PM respectively. Late Night games start at 8:00 PM with Early Birds starting at 9:50 PM.
Special events: Plenty of special events for seasoned players and newcomers alike.

Whether you're an experienced player or just starting, Parkway Bingo offers an experience that's as entertaining as it is rewarding.

West End Bingo

Last but not least is West End Bingo, another fantastic destination for bingo enthusiasts in Edmonton. With its wide array of games and enticing weekly specials, it offers a unique gaming experience for all visitors.

Pub offerings: Variety of games including Balls, Paper, Keno, 1/2 time bingo, and Lottery sales.
Game schedules: Start times for Evenings and Weekend Afternoons, with Bonanza Precall at 6:10 PM and 12:10 PM respectively.
Special events: Half Price Bingo on the first Sunday of every month and on Tuesdays. Buy 2 Dabbers and get 1 free on Wednesdays.

From its engaging atmosphere to its community-centred approach, West End Bingo delivers a fun-filled gaming environment that encourages social interaction while offering the chance for great winnings.

Understanding Casino Games and Etiquette
When it comes to having an enjoyable gambling experience, understanding the basics of exciting games and practicing good etiquette are vital. Whether you're a seasoned player or a first-time visitor, knowing the rules of the games and how to conduct yourself within a casino will enhance your experience and make for a smoother visit.
Popular Casino Games and Their Rules
Casinos in Edmonton offer an array of popular games to suit any player's tastes. These games range from classics like blackjack and roulette to more exotic options like Vegas 3 Poker and EZ Baccarat. Below, we delve into the fundamental rules, table limits, and variations of these favourite games:
Blackjack: This card game is played against the dealer, with the objective of having a hand value closer to 21 without exceeding it. The minimum bet in local venues is as low as $0.01, reaching up to a maximum of $1,000.
Roulette: Place your bet on a number, colour, or group of numbers, and if the ball lands on your choice after the wheel stops spinning, you win. Bet limits can vary, and the house advantage can be between 2.7% to 7.9%.
Vegas 3 Poker: A simplified version of poker where you play a three-card hand against the dealer's three-card hand. The best hand wins and the house advantage can vary.
Ultimate Texas Hold'em: Here, you play a traditional game of Texas Hold'em against the dealer. Your goal is to make the best five-card poker hand using your two cards and five community cards.
EZ Baccarat: In this version of baccarat, there's no 5% commission after every winning Bank hand. Instead, a three-card Bank hand totalling 7 wins, it's considered a push or "barred," and all bets are returned.
Free Bet Blackjack: This variation of blackjack allows players to double down and split for free. If you win the hand, you're paid as if you had placed an additional bet, adding an extra layer of excitement to the game.
Craps: A dice game where players place bets on the outcome of the roll. Players bet on either the "Pass line" or "Don't Pass line," determining if they'll win or lose with the first roll of the dice, known as the come-out roll.
Four-Card Poker: Players receive five cards to make their best four-card hand, while the dealer gets six cards for their four-card hand. The best four-card hand wins.
Understanding the house advantage or hold percentage for each game is also crucial. It can vary from 0.5% to 6% for blackjack, 1.1% to 14.4% for baccarat, 0.4% to 16.7% for craps, 2.7% to 7.9% for roulette, 4% to 12% for slot machines, and 8% for Video Lottery Terminal (VLT).
Essential Casino Etiquette: Dos and Don'ts
Proper casino etiquette is just as important as knowing the rules of the games. Appropriate behaviour not only helps maintain a pleasant atmosphere but also ensures that all guests enjoy their gambling experience. Here are some common etiquette guidelines:
Dress appropriately: Casual attire is generally accepted, but shoes and shirts are mandatory.
Respect age restrictions: Patrons must be at least 18 years old to gamble in Alberta, and IDs are checked for individuals who appear to be under 30.
Use electronic devices responsibly: Electronic devices, including cell phones, are not allowed at table games.
Maintain decorum: Abusive language, disorderly behaviour, and solicitation of other patrons will not be tolerated.
No outside food or drinks: The venues prohibit patrons from bringing in outside food or beverages.
Remember, each establishment has its own specific rules and regulations, and all patrons are expected to abide by them.
Strategies for Enhancing Your Gaming Experience
A strategic approach to casino gaming can significantly enhance your enjoyment at any gambling venue. Here are some strategies to consider:
Bankroll Management: Set a budget for your gambling activities and stick to it. This not only limits potential losses but also extends your playing time.
Understand the House Advantage: Each game has a different house advantage. Be aware of this to manage your expectations and strategize your play.
Maximize Rewards: Many establishments offer reward programs. Take advantage of these to earn points, freebies, or cashbacks.
Take Breaks: Gaming can be mentally taxing. Regular breaks can help you stay focused and prevent fatigue, which can lead to poor decisions.
By adhering to these strategies and rules, you're sure to enjoy a memorable and enjoyable experience in Edmonton, Alberta.

Delving into the World of Slot Machines
Slot machines hold a special place in the landscape of casino gaming. Their vibrant lights, engaging themes, and promise of high returns make them a popular choice among gamblers. In platforms in Edmonton, Canada, slot machines are no exception, occupying a significant share of the gaming floor and capturing the fascination of patrons.
Types of Slot Machines in Edmonton Casinos
In these establishments, you'll find a broad spectrum of slot machines, each offering a unique gaming experience:
Classic Slots: These machines are the traditional, 3-reel slot games, reminiscent of the original "one-armed bandits."
Video Slots: Modern video slots offer a range of reels, multiple paylines, and a variety of bonus features. These often feature high-quality graphics and soundtracks to enhance the gaming experience.
Progressive Slots: In these games, a small percentage of every bet goes towards a progressive jackpot. The jackpot continues to grow until a lucky player hits the winning combination.
Popular slot machine themes in the venues range from mystical and fantastical, to classic casino symbols, and even popular culture references. The average payout percentage for slot machines in Alberta Platforms stands at an inviting 92.4%.
Understanding Slot Machine Rules and Strategies
Playing slot machines may appear straightforward, but knowing a few strategic tips can elevate your gaming experience:
Bankroll Management: Decide on a specific amount you're willing to spend on a slot machine and stick to that limit. This strategy keeps your playtime under control and helps prevent significant losses.
Understand Paylines: Modern slot machines come with multiple paylines. The more paylines you play, the higher your chances of winning.
Utilize Bonus Features: Many slot machines come with bonus features like free spins or mini-games. Understanding these features can significantly increase your winnings.
High-Paying Slots in Edmonton Casinos
Several slot machines in Canada have a reputation for high payouts. Some standout options include:
Diamond Millions Multi Spin™: This machine offers three concentric wheels with the U-Spin™ feature. You can win credits, Free Games, or hit a wide area progressive jackpot that starts at $1,000,000!
Jackpot Junction: Offering three Mystery Prize tiers, Jackpot Junction gives players a chance to win up to $250,000 on any play via the Mystery Jackpot. The Jackpot Junction WAP top prize awards up to $250,000.
Alberta Gold: Comprising four different game themes (Cats, Hats and More Bats®, Eureka Reel Blast!®, Flower Fortune™, and Piggy Bankin®), Alberta Gold enthralls players with a variety of bonus features. These include the Lock It Link® feature and the Alberta Gold Wheel, which can award Free Games, cash prizes, or progressive jackpots. The Alberta Gold wide area progressive top prize begins at $20,000.
Slot machines offer a fun and thrilling gaming experience, and their rich variety ensures there is a game for everyone. Regardless of whether you are a high roller or a casual gamer, the establishments provide a slot machine that fits your preferences and promises an exciting time.

Exploring the Poker Rooms in Edmonton
The electric atmosphere of a poker room is undeniably one of the defining experiences of a casino. In Edmonton, Alberta, the poker scene thrives with a variety of games, tournaments, and poker rooms to suit every player. In this section, we will delve into what poker rooms offer to both the casual and the serious player.
Overview of Poker Games Available in Edmonton
The poker scene in the establishments is diverse and exciting. With a total of 108 poker tables spread across 19 poker rooms, players have plenty of options to choose from. Here are some of the poker variations offered:
NL Texas Hold'em: This is a popular variant where each player is dealt two private cards, and five community cards are dealt face-up on the "board".
Limit and No Limit Hold'em: These variations of Texas Hold'em have different betting rules. In Limit Hold'em, there is a set limit on how much a player can bet, while in No Limit Hold'em, players can bet any amount of their chips at any time.
Pot Limit Omaha: A version of poker where each player gets four private cards and must make the best hand using exactly two of them and exactly three of the five community cards.
Crazy Pineapple: A fun variant of Texas Hold'em where players are dealt three-hole cards instead of two. After the flop, players must discard one of their three-hole cards.
Seven-Card Stud: This game does not use community cards. Each player receives a mix of face-up and face-down cards over several betting rounds.
Additional games available include Omaha Hold'em, Dealers Choice, and Texas Hold'em. The table limits and tournament schedules vary depending on the game and the venue, accommodating a range of preferences and bankrolls.
Poker Tournaments and Events in Edmonton
Edmonton's poker scene is not just about cash games; the city also hosts vibrant poker tournaments that attract local and international players. One notable event was the WSOP Circuit Calgary, which took place in January 2022. Despite COVID-related delays, the tournament broke records, attracting players from all over the country and offering a staggering $1.8 million prize pool.
The platforms regularly host tournaments, providing players with varying buy-in options, thus accommodating all budget ranges. The thrill of these competitions is heightened by the potential for significant winnings and the chance to pit your skills against a diverse pool of players.
Top Tips for Poker Players in Edmonton
Enhancing your poker skills requires strategy and experience. Whether you're a seasoned player or a novice, here are a few tips to enhance your game:
Learn from the Pros: Watch professional poker players in tournaments, both live and on TV. Their strategies, risk assessment, and decision-making can provide valuable insights.
Bankroll Management: Never gamble more than you can afford to lose. Set a limit for each poker session and stick to it.
Table Etiquette: Respect fellow players and the dealer. Always follow the rules of the game and the poker room.
Poker in Edmonton offers a dynamic environment with a variety of games and tournaments, making it an attractive destination for players at all levels. Whether you're honing your skills at a cash game or competing in a high-stakes tournament, the poker rooms provide the perfect backdrop for an exciting poker experience.
Other Casinos in Alberta
Other Alberta Casinos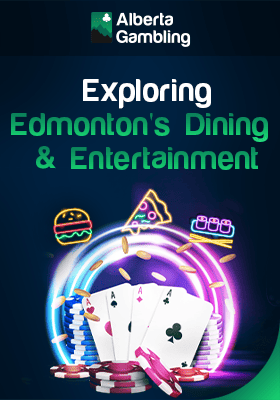 Beyond Gaming: Entertainment and Dining
The excitement in these establishments in Edmonton, Canada, extends beyond the gaming floors. These establishments are comprehensive entertainment complexes, offering world-class dining experiences, exciting live entertainment, and luxurious accommodations that add an extra touch of glamour to your adventure.
Top-Rated Restaurants
The culinary offerings in Edmonton's casinos add a delicious twist to your gaming experience. These top-rated restaurants cater to a variety of tastes:
The Mezz: Open late into the night, this sports bar features multiple large screen TVs and an open concept that allows patrons to enjoy their favourite pay-per-view sports while also keeping an eye on the casino floor action. Whether you're a sports fan or just in for the atmosphere, The Mezz makes your night out a memorable one.
Mid City Grill: This restaurant prides itself on its diverse menu, offering a blend of international culinary experiences and local favourites. Visitors can enjoy breakfast, lunch, or dinner in a comfortable setting.Bonus: Members of the Winners' Zone club can avail themselves of food specials and beverage offers.
Retro Kitchen & Bar: Open all week, this cozy, retro-themed venue is perfect for both small intimate gatherings and larger parties. Their tasty menu and large screens for sports enthusiasts make it a go-to spot for fun and relaxation. It's also available for private event bookings.
Entertainment and Event Options
Edmonton's establishments are vibrant hubs of entertainment, featuring live shows, concerts, and special events. Among these, the Pure Deepstack poker tournaments stand out, held several times a month in different locations, including Casino Edmonton on the first Friday of each month.
Other venues such as Pure Casino's Poker Room are known for hosting high-stake tournaments in a professional environment, attracting both seasoned and aspiring poker players. One of the anticipated events in 2023 is the Pure Poker Championship, offering a large prize pool and intense competition.
Moreover, the Alberta Poker Index introduces new tracking categories in 2023, namely, the Top Senior and Top Female Player of the Year. This points race is separate from the Pure Poker Tour and covers any event over $225 played in Alberta.
Luxury Accommodations at Casino Resorts
These resorts in Edmonton go beyond just gaming and entertainment; they provide luxurious accommodations for those seeking a complete resort experience. With a range of room types and world-class amenities, these resorts cater to your comfort and convenience. High-quality service, plush bedding, state-of-the-art facilities, and stunning views are among the features guests can enjoy.
Whether it's enjoying a sumptuous meal, watching a live show, participating in a poker tournament, or retiring to a luxurious room after a night of gaming, the experience at a casino in Edmonton extends far beyond the gaming floor. Indeed, these venues offer a comprehensive entertainment experience, making them a top destination for both locals and tourists alike.

Responsible Gambling in Edmonton
While the establishments provide numerous options for entertainment, they also prioritize the well-being of their patrons. This means placing a significant emphasis on responsible gambling. It's about more than just playing responsibly; it's about understanding the risks involved, knowing how to mitigate them, and where to seek help when needed.
Understanding the Importance of Responsible Gambling
Responsible gambling, or safer gambling, involves a series of initiatives put in place by the gambling industry to promote fairness, integrity, and awareness about the potential harms associated with gambling, including addiction. These measures are integral for individuals and the community to enjoy gambling as a recreational activity while mitigating the risk of gambling-related issues. They include:
Self Exclusion/Time Out: Customers can temporarily suspend their accounts.
Reality Check: Periodic reminders are sent to players, suggesting they take a break.
Time Limits: Customers can set time limits on their playing sessions.
Deposit Limits/Account Tracker: Restrictions can be put on deposit amounts.
Permanent Account Closure: Customers can permanently close their accounts if needed.
Credit Card Restrictions: Customers can request their banks to block internet transactions related to gambling.
These practices are pivotal in reducing the prevalence of problem gambling and promoting healthier attitudes towards gambling in the community.
Resources for Responsible Gambling in Edmonton
There are many resources available in Edmonton for those seeking help with responsible gambling. The Alberta Gaming, Liquor and Cannabis Commission (AGLC) plays a key role in promoting responsible gambling through their GameSense program, encouraging patrons at the best platforms to gamble responsibly and make informed choices about their gambling behaviours.
Among these resources, the Self-Exclusion Program stands out as an effective tool to help individuals control their gambling habits. By signing up for the program, participants can exclude themselves from all Alberta establishments, racing entertainment centres, and online platforms for a specified period. This initiative, combined with professional support, can be a valuable step towards healthy gambling habits.
Initiatives by Edmonton Casinos for Responsible Gambling
These venues are proactive in promoting responsible gambling. An important aspect of these initiatives is the GameSense program. GameSense aims to educate gamblers and provide them with responsible gambling tools and information to help them make informed decisions.
GameSense Info Centres are located at all Alberta casinos and racing entertainment centres, where AGLC GameSense Advisors answer queries about gambling, provide information about responsible play, and offer hands-on demonstrations about randomness, the real cost of plays, odds, and house advantage.
Furthermore, GameSense Advisors educate casino and racing entertainment centre staff on recognizing signs of excessive gambling and the services available to help reduce incidences of problem gambling. Such initiatives by establishments in Edmonton, Canada, ensure a safe and enjoyable environment for all patrons.
Promoting responsible gambling is a collective effort, involving not only the gambling industry but also the wider community. Through education, strict regulations, and the provision of resources, these platforms aim to create a safer and more enjoyable gambling environment for all.
Planning Your Casino Visit in Edmonton, Canada
Visiting a casino should be a fun and memorable experience. When planning your trip to the biggest platform in Edmonton or any other local establishment, there are a few things to consider to ensure your visit is as enjoyable as possible.
Best Time to Visit Edmonton Casinos
The optimal time to visit the venues in Canada depends on various factors such as crowd levels and special events. June to August are the busiest months for tourism in the area, which means platforms may be more crowded during this period. While the atmosphere might be lively, accommodations may cost more than usual.
On the other hand, if you prefer a less crowded environment, consider visiting during the middle-year months. These months offer comfortable weather and see fewer days of precipitation, which can make your visit more enjoyable. As for the time of the day, while some casinos operate 24/7, the evenings can offer a vibrant atmosphere with options to dine or enjoy drinks post-gaming.
Things to Consider When Planning Your Casino Visit
A visit to a casino involves more than just gaming. Here are a few key considerations to keep in mind:
Maintaining Good Etiquette: Good manners go a long way in a gambling venue. Respectful behaviour towards staff and other patrons ensures a pleasant experience for all.
Checking the Opening and Closing Times: The operating hours of an establishment can vary. Plan your visit accordingly, ensuring it aligns with the casino's opening times for the best experience.
Calculating Your Budget: Determine how much you're willing to spend before you go. Whether you're planning to spend $50 for the night or are willing to play with a more substantial amount, knowing your budget beforehand helps manage your spending. Remember, platforms cater to various budget sizes, and the goal is to enjoy the experience, not to break the bank.
Drinking Considerations: While it might be tempting to enjoy a few drinks while gambling, it's often best to avoid drinking before and during play. Alcohol can impair judgment and lead to reckless decisions.
Safety Measures in Edmonton Casinos
Safety is a crucial aspect to consider when visiting any gambling venue. Edmonton casinos have implemented several safety measures to ensure a secure and enjoyable environment for all visitors. This includes:
Security Protocols: The establishments have stringent security protocols to protect patrons. This includes trained security personnel and strict policies regarding inappropriate behaviour.
Surveillance Systems: State-of-the-art surveillance systems are employed to monitor the casino floor and other public areas within the establishment. This ensures a safe and secure environment for all.
Responsible Alcohol Service Policies: Edmonton casinos adhere to responsible alcohol service policies to ensure patrons consume alcohol in a safe and responsible manner. Staff are trained to recognize signs of intoxication and have the right to refuse service to anyone they believe is intoxicated.
By planning your visit well, you can make the most out of your experience in Edmonton, ensuring it is enjoyable, safe, and within your budget.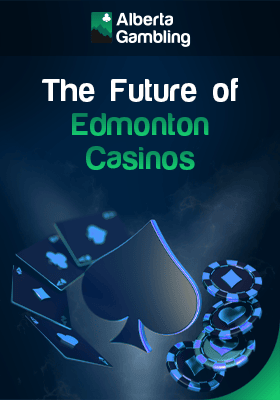 The Future of the Casino Industry in Edmonton
The future of the gambling industry is set to be defined by innovation, advancement, and economic growth. With emerging trends reshaping the sector and technology enhancing the gaming experience, the landscape of casinos in Edmonton is evolving.
Emerging Trends in the Edmonton Casino Industry
Innovative trends are transforming the casino industry, as operators strive to attract a new generation of players while catering to the preferences of seasoned gamers.
Virtual Reality (VR) Gaming: VR technology is beginning to infiltrate the casino industry, offering an immersive gaming experience that transports players into virtual casino environments. This innovative technology has the potential to significantly transform the gaming experience.
Mobile Gambling: As smartphone usage continues to increase, so does the popularity of mobile gambling. Many Edmonton casinos are tapping into this trend by developing mobile-friendly games and applications, allowing patrons to enjoy their favourite games at their convenience.
These trends, fueled by technological advancements, are reshaping the gaming experience, making it more personalized, engaging, and accessible.
Impact of Technology on Edmonton Casinos
The role of technology in the Edmonton casino sector extends beyond gaming innovations. It is also reshaping casino operations and offerings:
Mobile Applications: Many of these platforms have developed mobile applications, making gaming more convenient and enabling players to participate in their favourite games remotely.
Cashless Gaming Options: To enhance convenience and security, venues are integrating cashless payment options, including digital wallets and contactless card payments.
Data Analytics: Casinos are leveraging data analytics to understand player behaviour and preferences, enabling them to tailor their offerings to enhance customer satisfaction.
As these establishments continue to integrate technology into their operations, patrons can expect a more streamlined, engaging, and personalized gaming experience.
Economic Outlook of the Casino Industry in Edmonton, Canada
The casino industry plays a significant role in Edmonton's local economy, contributing to tourism, employment, and revenue generation.
Tourism: These establishments in Canada serve as popular tourist destinations, attracting visitors from across the globe. This influx of tourists contributes to the local economy, boosting sectors such as hospitality and transportation.
Employment: The Edmonton casino industry is a key employer in the region, creating jobs for thousands of residents and contributing to the local economy.
Revenue Generation: The revenues generated by casinos contribute to Edmonton's economy. This money is often reinvested into community projects and public infrastructure, benefiting residents and visitors alike.
Moving forward, the casino industry's contribution to the local economy is projected to increase as technological advancements attract more players, boost engagement, and subsequently, revenue generation. Thus, the future of this industry appears promising, underpinned by innovation, advancement, and robust economic contribution.
Conclusion
This comprehensive guide has offered a deep dive into the vibrant casino scene in Edmonton, providing key insights into responsible gambling initiatives, planning your visit, safety measures, and the promising future of the industry in this city.
As we've discovered, Edmonton is home to some remarkable casinos that prioritize responsible gaming while providing a fantastic gaming experience. Measures such as self-imposed limits, self-exclusion programs, and comprehensive support systems reflect the city's commitment to promoting safer gambling practices.
When planning a visit to one of the many establishments, key considerations include choosing the right time, observing proper etiquette, and setting a reasonable budget. Furthermore, casinos in this city have implemented robust safety measures, ensuring a secure environment for all visitors.
Looking ahead, the Edmonton casino industry is poised for exciting developments, driven by emerging trends like virtual reality gaming and mobile gambling. Technological advancements are enhancing operations and offerings, while the economic outlook for the industry is robust, with significant contributions to tourism, employment, and revenue generation.
In closing, we invite you to explore the diverse offerings of Edmonton's casinos, featured extensively on AlbertaGambling.ca. As you enjoy the thrill of the game, remember the importance of responsible gambling and make your experience memorable, fun, and safe.
FAQs
What are the best casinos to visit in Edmonton?

Edmonton is home to several world-class casinos, with River Cree Resort and Casino, and Starlight Casino being among the top choices. These establishments offer a variety of gaming options along with top-notch entertainment and dining experiences.

How is the casino experience in Edmonton different from other cities?

The casino experience stands out due to its emphasis on responsible gambling and the wide range of gaming options it offers. Additionally, Edmonton casinos often host unique entertainment events and offer a vibrant atmosphere that is both welcoming and enjoyable.

What are the legalities around casinos in Edmonton?

Casinos in Edmonton are regulated by the Alberta Gaming, Liquor and Cannabis Commission (AGLC), which ensures the integrity and fairness of gaming activities. This includes strict adherence to age restrictions, with only individuals aged 18 and above allowed to gamble.

What non-gaming amenities can you enjoy at Edmonton casinos?

Edmonton casinos offer an array of non-gaming amenities including high-end restaurants, bars, live entertainment, and sometimes even spa services and hotel accommodations. This makes for a comprehensive entertainment experience beyond the gaming floor.

What's the future of Edmonton's casino industry?

The future of the casino industry looks promising with the integration of advanced technologies like virtual reality gaming and mobile gambling. Moreover, the industry continues to contribute significantly to the local economy, indicating robust growth prospects.