The options for fun and excitement are abundant with a vast array of slots, VLTs, and table games such as blackjack, roulette, craps, baccarat, and others. Furthermore, some casinos go the extra mile by featuring exclusive poker rooms tailored for avid enthusiasts. These dedicated spaces offer a range of activities, including weekly Texas Hold'em poker tournaments and various other poker variations.
However, its stringent regulation and oversight match Alberta's vibrancy and variety. This guide is designed to provide an in-depth exploration of the labyrinth of Alberta's casino regulations. Readers will gain a thorough understanding of the province's legal framework, including the diverse forms of legal casino activity, age restrictions, and crucial responsible gambling measures that have been put in place.
In addition, this guide delves into compliance and enforcement, the current status and future trends of online betting, and the taxation rules applicable to winnings. The guide also provides information on resources available for those seeking support for casino-related issues and discusses the mechanisms in place to tackle crimes in this industry.
Throughout this comprehensive exploration of the Gaming Laws in Alberta, resources like AlbertaGambling.ca will be referenced to equip readers with a well-rounded understanding of the dynamics at play in the province's casino industry.

An Overview of the Gambling Regulations in Alberta Casinos
The casino landscape in Alberta is governed by a set of regulations that maintain the integrity and accountability of these activities within the province. These regulations, overseen by the Alberta Gaming, Liquor, and Cannabis Commission (AGLC), aim to ensure a socially responsible, transparent, and profitable gaming and liquor industry.
Understanding AB Gambling Regulations is fundamental for participants in these activities, whether they're operators, players, or simply interested observers.
The Alberta Gaming, Liquor, and Cannabis Commission (AGLC)
The Alberta Gaming, Liquor, and Cannabis Commission, commonly called the AGLC, regulate gambling activities in Alberta. Established in 1996 through the amalgamation of several provincial authorities, including the Alberta Liquor Control Board and the Alberta Gaming Commission, the AGLC has played a pivotal role in shaping the province's casino landscape.
The organizational structure of the AGLC comprises a board with up to nine independent members, who the Lieutenant Governor appoints to Council. These appointments are based on recommendations from the President of the Treasury Board and the Minister of Finance. The Lieutenant Governor designates a Chair in Council among these board members.
The key responsibilities of the AGLC span across various domains. As indicated in the MRD, the AGLC is in charge of:
Administering the Gaming, Liquor, and Cannabis Act
Conducting and managing provincial lotteries on behalf of the Government of Alberta
Ensuring the integrity and social responsibility of Alberta's gaming activities
Managing the liquor and cannabis supply chains within the province
Operating the online cannabis sales platform in Alberta
Generating revenue for the Government of Alberta
Through these duties, the AGLC plays a crucial role in ensuring the proper operation of gaming, liquor, and cannabis activities in this province.
The Gaming and Liquor Act
The Gaming and Liquor Act serves as the legal framework for the regulation of casino activities. This legislation, which guides the actions of the AGLC, sets the provisions and objectives for the operation of gaming and liquor activities in the province.
Details on the enactment date and any subsequent revisions or amendments to this Act can be found in official Alberta government records. The Act's main provisions cover the administration of gaming and liquor laws, the conduct and management of provincial lotteries, and the maintenance of accountability in Alberta's gaming activities.
Responsibilities of the AGLC and Other Regulatory Bodies
The AGLC's responsibilities for regulating betting in Alberta include administering the Gaming, Liquor and Cannabis Act, overseeing the operation of provincial lotteries, and ensuring the integrity of the province's gaming activities.
Additionally, the AGLC manages the liquor and cannabis supply chains within the area, operates the province's online cannabis sales platform, and generates revenue for the Government. Other regulatory bodies are involved in overseeing specific aspects of betting activities in Alberta.
For example, Horse Racing Alberta is a separate entity that governs all aspects of horse racing in the province. Collaboration between the AGLC and these other bodies ensures comprehensive oversight and compliance with regulations across all facets of the industry. These cooperative efforts are essential in maintaining the integrity of Alberta's betting activities.

Legal Forms of Gambling in Casinos
Alberta is known for its diverse options for gambling, including casinos, lotteries, and sports betting. Governed by Alberta Gambling laws, each form of playing games of chance is regulated to ensure fair, safe, and responsible gaming in the province.
Casino Gaming: Land-Based and Online

This province provides land-based and online casino gaming opportunities, each regulated under Alberta Gambling laws. The province houses several licensed casinos on indigenous reservations and within major urban areas. These establishments offer a wide range of playing options, including slot machines with a jackpot feature, blackjack, roulette, and poker.

Whether land-based or online, operating a casino in Alberta comes with specific requirements. Operators must secure a valid license from the AGLC and adhere to regulations regarding game integrity, advertising, and the prevention of underage betting. Additionally, online casinos must use secure and reliable software to ensure fair play.

Lottery and Charitable Gaming

Lotteries and charitable betting activities are integral to Alberta's casino landscape. These activities encompass a range of games, including raffles, bingo, and casino-style events, all managed by non-profit and charitable organizations.

Organizations must be registered with the AGLC to conduct these activities and follow strict guidelines. This includes using the proceeds from their activities for charitable purposes and ensuring games are conducted fairly and transparently. The AGLC regularly audits these activities to maintain compliance and protect the interests of participants.
Sports Betting, Horse Racing and Off-Track Betting

Sports betting, horse racing, and off-track betting are quite popular among Canadians. Specific bodies regulate each activity and must adhere to certain guidelines and regulations:

Sports Betting in Alberta: Wagers can be placed on a variety of sports events. Operators providing sports betting services must adhere to Alberta Gambling laws and regulations, ensuring fair betting practices and providing accurate, timely information to bettors.
Horse Racing Betting: This traditional form of betting allows individuals to wager on local and international horse races. Betting on horse races must comply with the Alberta Horse Racing Rules, ensuring the integrity of the races and the transparency of betting practices.
Off-Track Betting: Individuals can place bets on horse races at designated locations away from the racetrack. Off-track betting operators must provide bettors with accurate race information, uphold fair betting practices, and contribute a portion of their revenue to the development of the horse racing industry.
Through these regulations, the province ensures that these types of activities remain fair, safe, and responsible for all participants.

Age Restrictions and Identification Requirements at Casinos
In Alberta, following the legal age for participating in casinos and providing proper identification is important to ensure responsible gambling under Alberta Gaming Laws. The purpose is not just to ensure that the participants are of legal age but also to curb illicit activities such as money laundering and protect individuals who have self-excluded from activities.
Minimum Age for Betting in Alberta's Casinos

The Alberta Gaming, Liquor and Cannabis Act stipulates that individuals must be at least 18 years of age to participate in games of chance. This includes but is not limited to:

Casino Gaming
Lottery Participation
Sports Betting
Horse Racing

This age restriction applies uniformly across all forms of betting in Alberta, whether land-based or online, and no exceptions or variations are currently in place. As such, it's crucial that operators diligently enforce these age restrictions to ensure compliance with the Alberta Gaming Laws.

Accepted Forms of Identification

Regarding confirming a participant's age and identity, casinos in Alberta require certain forms of identification. Commonly accepted identification documents include:

Driver's License
Passport
Canadian Citizenship Card
Permanent Resident Card
Secure Certificate of Indian Status (SCIS)
Provincial/Territorial Identification Cards

These forms of identification serve three main purposes: to confirm the person is of legal age, to ascertain whether the person has self-excluded from casinos, and to verify the person's identity.

Verification Processes at Casinos

Casinos in Alberta implement stringent verification processes to ensure compliance with age restrictions. Often referred to as Know Your Customer (KYC) procedures, these are typically conducted during the onboarding process and can include:

Age verifications
ID Scanning
Database checks

A key component of these processes is the requirement for staff to verify proof of age whenever a person appears to be under 25 years of age. This often involves cross-checking a participant's details against government-issued identification documents.

Failure to enforce these age restrictions and identification requirements can result in severe consequences for establishments, including fines, regulatory sanctions, and potential criminal prosecution. These penalties underscore the importance of strict compliance with Alberta Gaming Laws regarding age restrictions and identification requirements for casino activities in the province.

Responsible Gambling Measures in Casinos
While being an enjoyable pastime for many, casino activities can, unfortunately, lead to problematic behaviours for a small proportion of participants. Recognizing this, numerous measures have been implemented to promote responsible behaviour and support those struggling with addiction problems.
Responsible gambling policies and programs aim to prevent and mitigate the potential harms associated with casinos. These include a range of initiatives designed to enhance consumer protection, improve community awareness and consumer education, and offer referrals to treatment and recovery resources.
Self-Exclusion Programs and Resources

Self-exclusion programs provide an essential support structure for those experiencing problems with betting activities. These programs, mandated by many international jurisdictions, offer individuals an avenue to avoid casinos voluntarily.

Although comprehensive research is still necessary to fully assess the effectiveness of such programs, self-exclusion strategies show promising signs. Despite being under-utilized by problem gamblers, self-exclusion programs often result in reported benefits such as decreased gambling, improved psychological well-being, and enhanced overall functioning.

Here are some of the features of self-exclusion programs in Alberta:

Periodic follow-up calls post-enrollment at approximately 10, 30, 60, 90, and 175 days.
Additional resources for excluded individuals and reduced barriers to program entry.
The Self-Exclusion Program is a critical first step in managing problem gambling.

Resources for help include:

GameSense Info Centre and speaking with a GameSense Advisor
Security staff members at any casino or racing entertainment center
AGLC offices or contact AGLC's Self-Exclusion Program Specialist

Problem Gambling Support and Treatment

Treatment for pathological gambling in Alberta is varied and multifaceted. Methods include psychoanalytic, psychodynamic, behavioural, cognitive, pharmacological, and addiction-based approaches, often combined in most treatment programs or counselling settings. The Alberta Gaming, Liquor and Cannabis (AGLC) collaborates with different organizations to assist individuals struggling with addiction problems.

Noteworthy statistics include:

66.2% of people reported engaging in some form of casino activity in 2018.
Only 0.6% of the population were identified as problem gamblers, with an additional 2.7% being at-risk gamblers.

Education and Awareness Campaigns in Casinos

In Alberta, multiple initiatives have been launched to promote responsible wagering practices. One of the notable campaigns is Responsible Gambling Awareness Week, which educates players and staff about the realities of this activity.

The awareness week is a collaboration between various stakeholders, including the AGLC, Alberta Health Services, Alberta Health, Alberta Charitable Casino Operators, and the Alberta Hotel & Lodging Association. This collaborative approach to promoting Responsible Gambling in Alberta ensures that every gambler is educated about their choices and, if needed, knows how to access resources such as the Self-Exclusion program for AB Safe Gaming.

Education and awareness efforts include:

The GameSense program, which offers resources and tools to encourage healthy behaviours in casinos.
Mandatory posting of GameSense resources in every venue, including VLT locations.
Charitable gaming events regulated by AGLC support thousands of community programs and services.

With these measures in place, the goal is to ensure that everyone partakes in casino activities responsibly and safely. These combined efforts towards education, treatment, and self-exclusion demonstrate a robust approach to addressing the challenges of problematic betting in Alberta.
Compliance and Enforcement
In Alberta, betting governance falls under the purview of the Alberta Gaming, Liquor, and Cannabis Commission (AGLC). This body enforces the Gaming, Liquor, and Cannabis Act, which lays down the primary regulations for operating entities within the province. Notably, the Act permits only charitable and religious organizations to register as service providers. In addition, there is only one regulated online casino website in the province, PlayAlberta.ca.
Licensing and Permitting Procedures
Alberta adheres to a charitable gaming model in which diverse entities interact. These include charitable organizations, private casino operators, bingo associations, horse racetrack operators, First Nations casino operators, private businesses running lottery kiosks and VLT lounges, and volunteers and employees serving at these establishments.
The AGLC is responsible for several key tasks, which include:
Licensing and regulating charitable gaming
Issuing licenses for establishments such as casinos, bingo halls, and VLT sites
Registering individuals who work in the gaming industry
Conducting inspections to verify that games are being run properly
Auditing charities to ensure they are using their gaming proceeds as intended
Providing information on responsible gaming through the GameSense brand
Investigating criminal activity
Owning and maintaining all slot machines, VLTs, lottery terminals, and electronic bingo
In line with Section 19(d) of the Gaming and Liquor Regulation (GLR), an applicant for a casino license must be a charitable or religious organization. The applicant must also demonstrate to the Board that the proceeds from the casino will be used for a charitable or religious object or purpose approved by the Board.
The licensing process in Alberta is further simplified by an online tool, which generates a customized list of necessary permits, licenses, and other requirements through a simple, four-step process:
The user inputs their location.
The user enters their business type.
The user provides generic information about their business.
The user receives a customized list of requirements specific to their business activities.
Inspections and Audits
To ensure compliance with all regulations, the AGLC conducts regular audits of the gaming records of charitable organizations. These audits, also known as AGLC Compliance audits, formally examine an organization's gaming records. The auditors verify that the organization has adhered to the standards, policies, and guidelines in handling gaming funds.
During an audit, an auditor investigates:
The deposition of funds acquired from conducting a casino event into the designated bank account.
The adherence to approved guidelines regarding the utilization of proceeds from the gaming event.
Whether these events, such as raffles, are conducted according to the applicable handbook policies
Whether an accurate and complete audit trail of documentation shows the amount and purpose of each transaction for receipts and disbursements.
After an audit, the organization receives a preliminary report identifying instances of non-compliance. If the organization refutes any or all of the findings in the final audit report, it can choose to proceed with a Board Hearing. Details on the hearing process can be found on the AGLC website under the Board Hearings and Procedures section.
Consequences for Non-Compliance
Non-compliance with AB Gambling Legality and regulations can lead to various consequences.
In Alberta, gambling-related incidents make up a minor portion of all crimes, and they typically involve non-violent property offences. However, it's important to note that increased legal betting availability has significantly decreased rates of illegal activities.
Individuals and businesses registered as gaming suppliers must adhere strictly to their permitted activities. Non-compliance with the contract terms entered with the provincial lottery corporation or other agent of the Crown can lead to significant legal consequences.
There are no firm residency requirements for registration, but the provincial regulators maintain the power to refuse registration based on their assessments of "honesty and integrity." Upon completion of an audit, if findings require a response, a Notice of Administrative Sanction letter for Non-Compliance with Policy may be issued to the organization.
The penalty could include a warning or a fine, a license condition(s), and/or gaming license(s) suspension. The organization might also be required to repay the bank account the amount of any gaming funds that were not spent in accordance with the policies, conditions, and guidelines. Severe deficiencies could delay or deny future gaming applications.

Online Casino Gambling in Alberta
Playing games of chance has been legal in Canada since 1996, with the province of Alberta having its unique regulations governed by the Alberta Gaming, Liquor, and Cannabis Commission (AGLC). Alberta is one of the largest prairie provinces in Canada and has made substantial progress in legalizing and regulating online casino activities.
The regulatory model in Alberta takes on a charitable aspect, with a significant portion of gambling revenue funnelled toward funding numerous charitable organizations. According to reports from the AGLC, between 2018 and 2019, over $1.4 billion of net gaming income was deposited into the General Revenue Fund, benefiting various programs for Albertans.
Legal Status and Regulation of Online Casinos

Online casinos in Alberta maintain a distinct legal status, intricately tied to the province's history and legislation. From the European settlers' introduction of games like cards and dice in the 1700s to the modern-day province-wide embrace of offline and online casinos, Alberta has generally experienced a love-hate relationship with betting. All forms of gambling, including casinos, racetracks, bingo halls, and lotteries, are now under the jurisdiction of the AGLC.

Online betting in Alberta is only legal through the PlayAlberta.ca platform, which the AGLC regulates. The Alberta Gaming, Liquor and Cannabis Act is the main legislation overseeing all aspects of betting in Alberta, including the casinos' obligations under the Proceeds of Crime (Money Laundering) and Terrorist Financing Act (PCMLTFA) and associated regulations.

Popular Online Casino Platforms in Alberta

Although PlayAlberta.ca is currently the only licensed and regulated online casino in Alberta, several offshore casinos have also gained popularity among Canadians from this area. JackpotCity Casino and Spin Casino, each generating $7.1 million in revenue, and Ruby Fortune Casino, generating $22.6 million in revenue, are among the popular platforms. Despite the existing Gaming Laws in Alberta, residents are allowed to use these unlicensed platforms.

Player Protection and Security Measures at Casinos in Alberta

Player protection and fair gaming practices are high priorities for the AGLC. The commission enforces stringent security measures and ensures operators' compliance with regulations for the welfare of Alberta's casino community.

Measures in place include high-grade encryption protocols, responsible gaming tools, and stringent anti-fraud systems. The AGLC's responsibilities extend to administering the Gaming, Liquor, and Cannabis Act, managing provincial lotteries, and enforcing the Criminal Code (Canada) concerning gaming. This control ensures that the industry meets all Gambling Laws in Alberta, fostering a safe and transparent betting and wagering environment.

The AGLC also controls the manufacture, import, sale, and use of liquor and cannabis, contributing to the overall regulation of Alberta's entertainment and recreational sectors.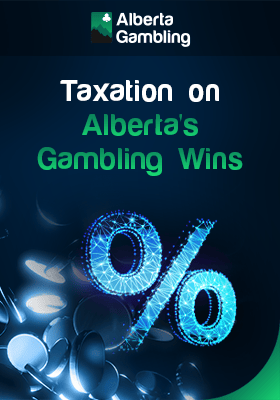 Taxation of Gambling Winnings
The taxation of casino winnings in Canada, specifically in Alberta, is regulated by provincial legislation. The country's diverse and vibrant gaming industry is overseen by provincial governments, with a prominent presence in several regions
However, regardless of the location, Canadians are expected to maintain accurate records of their casino activities, keeping their documentation of winnings comprehensive and updated. Alberta laws play a critical role in these record-keeping and tax-related requirements.
Reporting Requirements for Casino Winnings
Canadian citizens who earn significant income from casinos must report their winnings to the appropriate tax authorities. The taxation policy varies based on the nature of the gambling activities:
Lottery winnings, slot machine rewards, and roulette proceeds are considered windfalls and remain untaxed, given that they are primarily based on chance, not player skill.
Betting on sports is generally not taxed due to the little control bettors have over the outcome. However, consistent success in sports betting may invite taxation due to the perceived talent and profit anticipation.
Based on the circumstances, earnings from skill-based games like poker or blackjack can be classified as either windfalls or income. For instance, professional gamblers whose net profits are expected are taxed, treating their time spent in casinos as a business.
However, there's a threshold for reporting winnings made in casinos, bingo halls, or similar places. All winnings below the defined limit are exempt from tax, while earnings exceeding the limit are subject to tax. The reporting process involves several specific forms or procedures that individuals must complete to report their earnings accurately.
Taxation Laws and Procedures
Alberta's taxation laws for winnings in betting establishments primarily focus on the gambler's nature. For recreational gamblers, winnings remain untaxed, but professional gamblers are required to pay taxes. This distinction is crucial to the taxation procedure in Alberta. Furthermore, if winnings accrue interest, it becomes taxable, requiring declaration via a T5 form. Non-compliance could lead to severe fines.
It's noteworthy that casino-related activity is typically not taxed as it's not considered a regular source of income. Also, this activity is not seen as a business for most Canadians, and they don't make a living from their winnings.
Exceptions and Exemptions
Alberta's taxation policy on casino winnings has certain exceptions and exemptions. For instance:
Poker: Because poker is as much a game of skill as it is of luck, the taxation rules for poker winnings are different. If a trained poker player regularly gains profits, those winnings are treated as business income and thus taxed.
Gambling on platforms like bet365: Winnings made by amateur gamblers on platforms like bet365 are not taxable in Canada. However, professional gamblers are taxed according to Canadian law regardless of platform.
In essence, the laws in this province are designed to maintain a fair and transparent tax policy for casino activities, making exceptions for different circumstances while ensuring that professional gamblers pay their fair share.

Future Trends and Developments in Alberta's Gambling Industry
Indulging in casinos in Alberta is set for significant changes as the industry adopts new technologies and faces a shift in consumer behaviour. With a backdrop of steadily falling revenue, increasing competition, and stricter regulations, the casino industry is expected to undergo a revolution driven by new technologies and evolving consumer preferences.
Gambling in Canada Industry Trends (2018-2023)
Between 2018 and 2023, the Canadian casino industry saw a gradual decline in revenue, with an average compound annual growth rate (CAGR) of -3.9%. The industry reached an estimated $14.2 billion in revenue in 2023, with profits projected at 12.8%.
At that time, gambling in Canada was subject to legal restrictions, allowing it solely through specific provisions of the Criminal Code of Canada and under the oversight of authorized provincial authorities. During this period, the industry's landscape was shaped by four types of gaming organizations: commercial, charitable, government-owned and operated, and private companies under contract with provincial gaming authorities.
Strict regulations allowed the provinces to control the number of establishments in the industry. The legality and policies around betting strongly influenced the industry's trends, including the highly concentrated nature of Alberta's gaming industry under Allberta Gaming Laws.
Gambling in Canada Industry Outlook (2023-2028)
From 2023 to 2028, the Canadian gaming industry anticipates experiencing stiffer competition. Consumers are gradually moving away from traditional casinos towards other forms of interactive entertainment, such as live shows and concerts.
Furthermore, technological advancements at home provide an array of sophisticated entertainment activities, creating a significant threat to casinos that rely on their capacity to attract consumers for weekend getaways or night outs.
Increased competition from the United States challenges Canadian casinos that rely on American visitors. These changes signal the need for innovation and adaptation within the industry to retain and attract new customers.
Emerging Technologies and Innovation
Emerging technologies and innovations present opportunities and challenges for the casino industry. Some of the notable trends include:
Blockchain: The casino industry has embraced blockchain technology and cryptocurrencies, leading to increased adoption. Cryptocurrencies offer players anonymity and income source protection, while service providers value their non-reversible nature, which reduces fraud risk.
Virtual and Augmented Reality: Technological advancements like virtual and augmented reality have the potential to revolutionize online and mobile gaming, providing more immersive experiences for players.
Artificial Intelligence (AI): Using AI to analyze data on player behaviour can create unique, tailored gaming experiences, promoting a more personalized approach.
However, the rise in technology-driven betting also comes with challenges. Adopting technologies such as blockchain has a potential dark side, including increased anonymity that could facilitate money laundering and make player protection against excessive gambling near-impossible.
In light of the shift towards online and mobile gambling, the industry will also need to pay increased attention to responsible gambling. This includes measures like gaming tools to help users control their experiences and stricter age restrictions.
Furthermore, the popularity of live dealer games and esports betting, along with the rise of crypto casinos, underscores the importance of technological adaptation for the future.
As more gaming establishments accept payments through cryptocurrencies, the industry is increasingly shifting toward blockchain technology. This change fosters anonymous and instant payments, enhancing user privacy and gameplay. However, the difficulty in tracking crypto payments also challenges regulation and oversight.
In conclusion, the future of the casino industry is bright, but it will also need to navigate the challenges posed by emerging technologies and changing consumer preferences. Adaptability, innovation, and a commitment to responsible gaming will be key to sustaining growth and profitability in the years ahead.
Legislative Updates and Proposed Changes
Recently, there have been a series of legislative updates and proposed changes in Alberta that are particularly noteworthy. Alberta Gaming, Liquor & Cannabis (AGLC) has closely observed and supported the passage of legislation that would legalize single-event sports wagering in Canada.
This includes Bill C-13 and Bill C-218, introduced by the Minister of Justice, the Attorney General of Canada, and a Member of Parliament, respectively. This legislation could pave the way for new opportunities for players aged 18 and older and broaden the options available on the online casino website, PlayAlberta.ca.
In the words of AGLC's Acting President and CEO, these legislative changes could offer "legal age Albertans new and unique options on their favourite sporting events," enhancing the range of betting options available. This includes game outcomes, point spread, and performance-based wagers. Previously, certain single-event wagers were not permitted under existing laws.
Another significant legislative development is the Red Tape Reduction Implementation Act, enacted between 2019 and 2023. These acts, including Bills 9, 21, 80, 62, 48, 22, and 25, have aimed to reduce bureaucratic hurdles, foster economic growth and job creation, and improve service delivery across various ministries.
The amendments have been made to speed up approvals, eliminate outdated requirements, and reduce administrative burdens, particularly influencing the AB Gambling Regulations.
Social and Economic Impact Studies
Several social and economic impact studies have been conducted on the casino industry in this province. One such study focused on the geographic distribution of betting opportunities, using census divisions to examine the spatial impact.
The study concluded that the province successfully distributed opportunities across different regions, such as lottery and Video Lottery Terminals (VLTs). The allocation of Alberta Lottery Fund (ALF) dollars across these divisions was also noted, with the distribution favouring less populous rural areas.
Another study developed a Socioeconomic Impact of Gambling (SEIG) framework to assess the effect of casinos across six domains: economic and financial, tourism and recreation, employment, health and well-being, legal and justice, and community.
The study adapted the framework to reflect the unique features of the industry. Despite certain limitations, such as space and time constraints, the study aimed to identify and assess the most crucial socioeconomic impacts of casino activity in Alberta.
In conclusion, the AB Gambling Regulations, along with these social and economic impact studies, play a significant role in shaping the betting and gaming sector in Canada.

Gambling Addiction and Support Resources
While playing games of chance can provide a source of entertainment and fun, it may lead to addiction and numerous related challenges for a small fraction of the population in Alberta. This section addresses the critical issue of problem gambling, an aspect of the industry that often gets overshadowed by the glitz and glamour of casinos and online betting platforms.
Identifying Problem Gambling Behaviors
This activity becomes problematic when it overshadows other aspects of life, interrupts relationships, causes financial distress or leads to illegal activities. Recognizing the early signs of problem gambling is essential for timely intervention and management.
Common indicators of problematic casino activity include:
Excessive time spent playing casino games, often at the expense of family, friends, or other interests.
Placing increasingly larger and more frequent bets to chase the thrill.
Accumulating debts, being secretive about money, or borrowing money to cover expenses.
Dependency on the 'big win' to solve financial or other problems.
Difficulty in cutting back or stopping, despite making promises to do so.
Being dishonest or evasive about this behaviour.
Experiencing emotional highs and lows tied to outcomes.
Preferring playing casino games over family events or seeking new places to gamble.
Early intervention is crucial in managing this activity. Maintaining a balance in life, setting time and money limits for gaming, and engaging in other activities such as hobbies, clubs, or sports groups are useful preventive strategies.
Treatment Options and Support Services
Alberta offers several support resources and treatment options for individuals struggling with addiction. The Gambling Stabilization Program, accessible at 780-538-6303 or walk-ins, offers a 20-day intensive program designed for adults experiencing severe gambling addiction impacting their lives significantly.
This program is suited for those aiming to abstain from casino entertainment and are ready to participate actively. Services provided include nursing services, clinical assessment, treatment planning, and referrals to other services, offering a safe environment for individuals to stabilize from distress caused by this activity.
Helpline and Counseling Services
In addition to treatment programs, Alberta provides helpline and counselling services to support individuals with addiction. The Addiction and Mental Health Help Line offers round-the-clock, confidential assistance to individuals in Alberta dealing with addiction, and mental health issues. The service provides support, information, and referrals to address their concerns.
This helpline, staffed by a multidisciplinary team comprising nurses, psychiatric nurses, social workers, occupational therapists, and psychologists, is readily accessible to all Albertans.
In conclusion, fostering Responsible Gambling in Alberta is key to ensuring a healthy balance between entertainment and safe practices in the industry of placing games of chance. The multiple resources available are geared towards maintaining AB Safe Gaming and minimizing the impacts of problem gambling, thus supporting the overall well-being of Albertans.
Understanding Gambling-Related Crimes and Fraud
The impact of gambling is multifaceted, resonating with individuals, families, and communities alike, regardless of whether a disorder is present. However, there lacks a universally accepted definition of gambling harm.
This limitation, coupled with insufficient proxy measures like problem gambling symptomology, restricts the comprehensive understanding of the repercussions. These constraints thus hinder the pursuit to combat challenges of this kind from a public health perspective.
Illegal Gambling Operations and Penalties

Illegal gambling operations in Alberta present a persistent challenge. While citizens are largely free to bet, restrictions exist on certain activities, like horse racing and single-game betting, which were only legalized in 2021. Violations of these prohibitions are considered illegal activities, hence falling under the purview of Alberta's gambling laws.

Violators of these laws face stringent penalties to deter illegal activity of this kind. Cooperation between the government, law enforcement, and regulatory bodies, such as the Alberta Gaming, Liquor and Cannabis (AGLC), ensures effective identification, investigation, and deterring unlawful betting activities. This collaboration seeks to prevent an array of crimes, including money laundering, theft, and fraud, and protect minors..

Money Laundering and Fraud Prevention

Regarding AB Gambling Legality, Alberta enforces stern measures to prevent money laundering and fraud, which are grave threats to global safety and financial integrity. With the AGLC playing a crucial role, these measures include robust anti-money laundering (AML) and anti-terrorist financing (ATF) policies, comprehensive legislative statutes, and stringent reporting requirements.

Efforts to combat money laundering and fraud involve cross-sector cooperation at multiple government levels and significant involvement from financial institutions. Alberta's framework for preventing these crimes is built on integrity, transparency, public consultation, and accountability.

Alberta's preventive measures are essential to the AGLC's Anti-Money Laundering Program, developed in response to the Proceeds of Crime (Money Laundering) and Terrorist Financing Act (PCMLTFA) requirements. This program ensures consistent and accurate reporting of critical casino transaction information, thus enhancing the AGLC's ability to detect and prevent illicit activities.

Reporting Suspected Criminal Activities

Under Gambling Laws in Alberta, mechanisms are in place for reporting suspected betting-related criminal activities. These procedures include audits, financial reviews, and inspections conducted by various branches working within the Alberta Gaming industry.

If any suspicions of non-compliance with the PCMLTFA and its Regulations arise, individuals are encouraged to complete and submit a voluntary information record (VIR) form. FINTRAC, Canada's financial intelligence unit, handles these reports, and investigations ensue if deemed necessary.

Protecting whistleblowers is a key feature of gambling laws, facilitating a safe environment for reporting criminal activities. This comprehensive approach to reporting is part of a larger collaboration between regulatory bodies and law enforcement agencies, which strive to maintain the integrity of Alberta's gambling industry and protect its citizens from harm.
Conclusion
In summary, the dynamics surrounding gambling in Alberta, governed by Gaming Laws in Alberta, are monitored and regulated by the Alberta Gaming, Liquor & Cannabis (AGLC). This organization holds an indispensable role in maintaining the integrity and fairness of Alberta's gaming industry through various means, including:
Licensing and regulation of gaming activities
Establishing comprehensive frameworks to prevent money laundering and fraud
Conducting regular audits and maintaining compliance requirements
Collaborating with law enforcement agencies
AGLC's continuous endeavors to refine regulatory frameworks and increase industry awareness form the bedrock of a secure and transparent environment, embodying the essence of AB Safe Gaming.
Furthermore, Responsible Gambling in Alberta is given high priority, facilitated by using responsible gambling messages as a tool for informed choices and appropriate behaviour promotion. Given the varying levels of risk across different groups of gamblers, AGLC underscores the need for customized responsible gaming messages and targeted tools to minimize harm.
As part of these initiatives, AlbertaGambling.ca strives to understand the unique characteristics of various betting cohorts and seeks qualitative feedback to enhance the use of responsible gambling tools. By doing so, the AGLC aims to safeguard the interests of consumers while preserving the integrity of Alberta's gambling sector.
In conclusion, readers are encouraged to stay abreast of any updates or changes to gambling laws in Alberta. They should not hesitate to seek help or support if required, reflecting the importance of informed choices and responsible gaming practices.
FAQs
What are the legal forms of gambling in Alberta?

This includes land-based casinos, racetracks, Video Lottery Terminals (VLTs), and various table games. Additionally, certain casinos offer dedicated poker rooms with tournaments and daily cash games.

How can I access support for gambling addiction in Alberta?

In Alberta, support for addiction can be accessed through various helplines, counselling services, and online resources. AlbertaGambling.ca is a significant resource, providing various tools and information to support individuals struggling with problems in this field.

Are online gaming platforms in Alberta regulated?

Yes, iGaming platforms in Alberta are subject to regulations set by the Alberta Gaming, Liquor & Cannabis (AGLC). These regulations ensure the safety, fairness, and integrity of online gaming experiences for all players.

What are the consequences of non-compliance with gambling regulations?

Non-compliance with gambling regulations can result in severe consequences, including fines, loss of privileges, and potential criminal charges. All participants, operators, and stakeholders must strictly adhere to the rules.

How are gambling winnings taxed in this province?

In Alberta, winnings from this activity are generally not subjected to taxes. However, professional gamblers may need to report their winnings as income and specific tax rules apply to large lottery winnings.